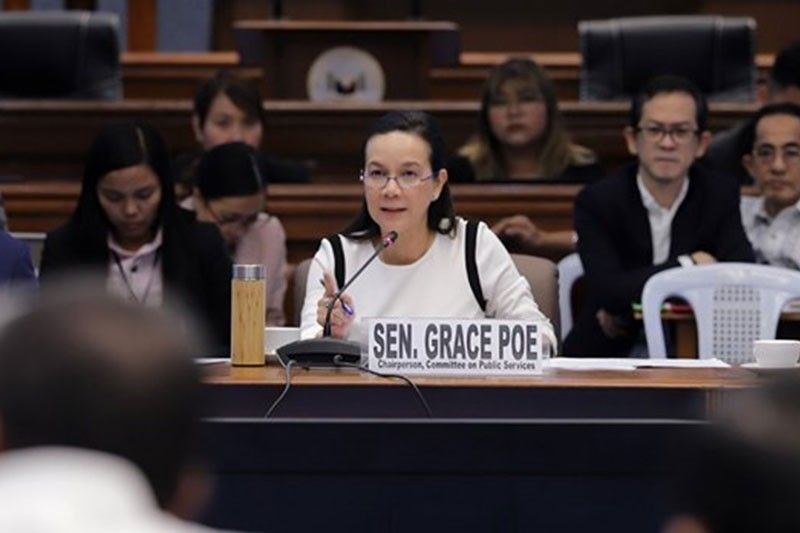 In this Sept. 9, 2019 photo, Sen. Grace Poe leads the Senate Committee on Public Service hearing on the provincial bus ban.
Senate PRIB/Joseph Vidal
Poe shrugs off Duterte's 'atribida' remark
MANILA, Philippines — President Rodrigo Duterte's supposed remarks against her will not distract Sen. Grace Poe from doing her job.
Last month, the president said he "cannot do anything about the traffic in EDSA because of an 'atribida' lady."
Duterte did not identify whom he was referring to but Poe had blocked his 2016 request to Congress for emergency powers to address the traffic crisis in Metro Manila.
In an interview with ANC's "Headstart" Thursday, Poe herself admitted that the president was most likely referring to her.
"The president's mind is a mystery to me. Just a few months ago he called me a fine, courteous lady, which is the exact opposite of being impertinent or 'atribida,'" Poe said.
"It doesn't really affect me at this point because I cannot get distracted with what I have to do," she added.
DOTr bats for emergency powers anew
Earlier this week, the senator led the Senate inquiry into the provincial bus ban along EDSA. In the same hearing, Transport Secretary Arthur Tugade reiterated the adminstration's request for emergency powers in solving the traffic issue.
Poe, meanwhile, stressed that she should not be blamed for the worsening traffic congestion in Metro Manila as it is an administration issue and not a legislation problem.
The senator pointed out that Duterte has the power to consolidate the Department of Transportation (DOTr), the Department of Public Works and Highways and the Metropolitan Manila Development Authority to come up with a traffic plan.
"That's all I've been asking for — a traffic plan and [for] transportation — which they did not submit," Poe said.
While the DOTr had submitted a list of projects for emergency powers that would bypass requirements like bidding and fast-track procurement, Poe noted that the projects were not linked to easing traffic congestion.
Some of the listed projects were setting up fences in Subic and the acquisition of facial recognition software for employees, according to the senator.
"He tried to present his case but once again, he failed to make a point why emergency powers is actually needed," she said.