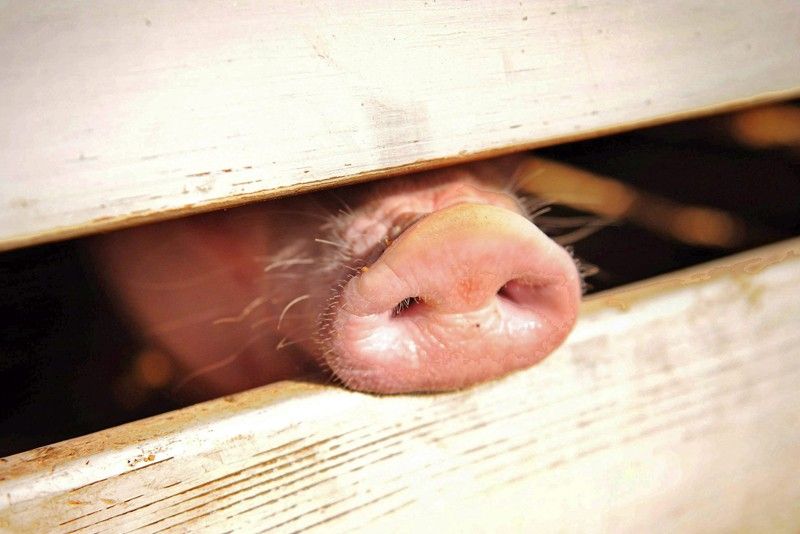 The Department of Agriculture said yesterday that 14 out of 20 blood samples from dead pigs in Bulacan and Rizal sent to a laboratory in England tested positive for ASF.
AFP
Government confirms 1st cases of African swine fever
MANILA, Philippines — The recent hog deaths in Bulacan and Rizal were caused by African swine fever (ASF) virus, as confirmed by laboratory results from the United Kingdom, the Department of Agriculture (DA) announced yesterday.
In a press conference, Agriculture Secretary William Dar said 14 out of 20 blood samples sent to the OIE (World Organization for Animal Health) reference laboratory in England were positive for ASF.
Dar said these were results only of the Polymerase Chain Reaction test. He emphasized they have yet to receive results of the viral isolation test that will reveal the virulence of the ASF strain.
He said a total of 7,416 pigs have been depopulated in the affected areas of San Jose, Macabud, San Isidro, San Rafael and Mascap, all in Rodriguez, Rizal; Cupang in Antipolo, and Guiguinto in Bulacan.
Dar said the DA is verifying reports of possible ASF cases in other areas, but declined to identify these areas.
When asked how the virus could have been carried to farms, the DA suggests it may have been through food scraps from hotels and restaurants, or by pork products brought home by overseas Filipino workers.
Voltaire Basinang, provincial veterinarian of Bulacan, claimed that one of the blood samples that tested positive for ASF was taken from a dead hog in the town of Guiguinto.
Last Sept. 9, Bulacan Gov. Daniel Fernando ordered Basinang to investigate the mysterious deaths of several hogs in Malolos city and the towns of San Miguel and Guiguinto.
Blood samples of the dead animals were sent to the Bureau of Animal Industry (BAI) for analysis to determine the cause of death.
As this developed, Basinang said the provincial veterinary office has been conducting strict monitoring and surveillance on the swine industry in Bulacan where blood samples are taken from different piggeries to be analyzed by the BAI, while backyard raisers are advised to stop feeding their swine with "kaning baboy" or swill, which is food scraps mixed with water.
Meanwhile, Mac Dormiendo, external relations officer for Luzon of San Miguel Pure Foods Co. Inc. issued a public statement assuring the public that their products are not affected by ASF and are safe to eat.
San Miguel Foods (SMF), the food division of San Miguel Food and Beverage that carries popular meat brands Purefoods and Monterey, claimed their farms and facilities follow strict animal health and biosecurity protocols.
"We also secure the required permits from the Bureau of Animal Industry and the National Meat Inspection Service (NMIS) before any of our products are distributed. Our hogs are also 'grain-fed' with grain feeds produced from the state-of-the-art feedmills of the company," Dormiendo said in the statement.
While ASF does not pose any danger to humans, it is very infectious to pigs and can spread easily from one farm to another if not properly managed.
Dar assured the public that the DA is on top of the situation and is implementing measures to address the issue.
He said the DA, through its Crisis Management Task Force for Swine, is enforcing the 1-7-10 protocol to manage, contain and control suspected swine disease.
Additionally, the DA has also issued three administrative orders to address the issue, such as guidelines in securing a certificate of farm disease-free status in outbreak areas, which enables owners to get the needed certification from the BAI declaring that their farms are disease-free.
Administrative orders on the revised guidelines on the local movement of swine, pork, pork products, and pork byproducts outside of disease outbreak areas, as well as veterinary quarantine movement protocols during animal disease outbreaks or emergencies, were also issued.
Dar said a national task force for swine disease, to be headed by the DA, would also be created in a bid to quarantine the disease.
Malacañang expressed confidence that the DA will handle the situation effectively.
"Just like any other sudden foreign disease that affects the swine industry, the DA will undertake the measures necessary to secure the public for their safety," presidential spokesman Salvador Panelo said in a press briefing.
The agriculture secretary said the DA will strengthen collaboration with industry stakeholders, LGUs and other partners to protect the local animal population against emerging diseases, and ensure safe meat and products for Filipinos. – With Ramon Efren Lazaro, Michelle Zoleta, Alexis Romero, Sheila Crisostomo