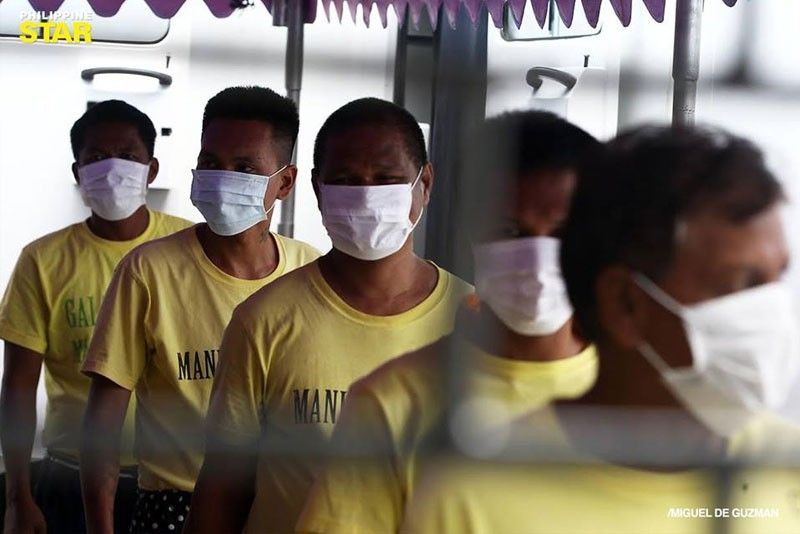 The President said he handed the convicts to the Marines because he was fearful that they would be killed by De Lima's "henchmen."
File
Palace defends De Lima witness transfer
Alexis Romero
(The Philippine Star) - September 9, 2019 - 12:00am
MANILA, Philippines — There is nothing irregular in the transfer of high-profile convicts who testified against Sen. Leila de Lima to the Philippine Marines headquarters, Malacañang said, after the move was described by some senators as a reward for the inmates' statements against President Duterte's vocal critic.
Duterte revealed last Friday that he had ordered the transfer of high-profile convicts, including those who linked De Lima to the alleged illicit drug trade inside the national penitentiary, to the Philippine Marines headquarters at Fort Bonifacio.
The President said he handed the convicts to the Marines because he was fearful that they would be killed by De Lima's "henchmen."
De Lima, who has been in jail for more than two years on drug-related charges, has described Duterte's order as "insanity in its most diabolical form" and claimed that the directive was intended to perpetuate the "biggest lie" – her supposed involvement in narcotics.
Some senators have also questioned Duterte's order, with opposition Sen. Francis Pangilinan calling it a "reward" to ensure that the convicts would continue to testifying against De Lima.
Sen. Panfilo Lacson, meanwhile, labeled the transfer as a "privilege" while Sen. Franklin Drilon said transferring the convicts may require the permission of the court.
"There is nothing insane, as described by Sen. Leila de Lima, nor is it irregular, and neither unusual in ordering high-profile convicts who are witnesses in the case against the aforesaid senator to be transferred in a marine facility in Fort Bonifacio. Neither is the transfer an indication of a reward, as some senators unfairly and amusingly suggested," presidential spokesman Salvador Panelo said in a statement issued Saturday night.
"Some quarters may wish to obfuscate or misconstrue the President's action. But let us be clear: the high-profile convicts remain in a detention facility under the control of the Bureau of Corrections without any VIP treatment. In other words, no special or unusual considerations are granted to them," he added.
Panelo said Duterte's directive is similar to the witness protection program, where witnesses are given security for their safety.
"Security is the primary consideration for said transfer and such reason, the Palace firmly believes, is legally valid given that their lives are under threat because of their testimonies," the presidential spokesman said.
Panelo said De Lima, who has been accused of being a drug coddler and receiving money from convicted drug lords, may have earned "henchmen" during her stint as justice secretary.
"We also have to understand that Senator De Lima served the Department of Justice as its head for almost six years. There is no denying that the detained senator has accumulated sympathizers or henchmen during her tenure therein who may derail the unmasking of the truth about the illegal drug trade in the New Bilibid Prison," he said.
Panelo also argued that Duterte's directive was well within his powers as Chief Executive.