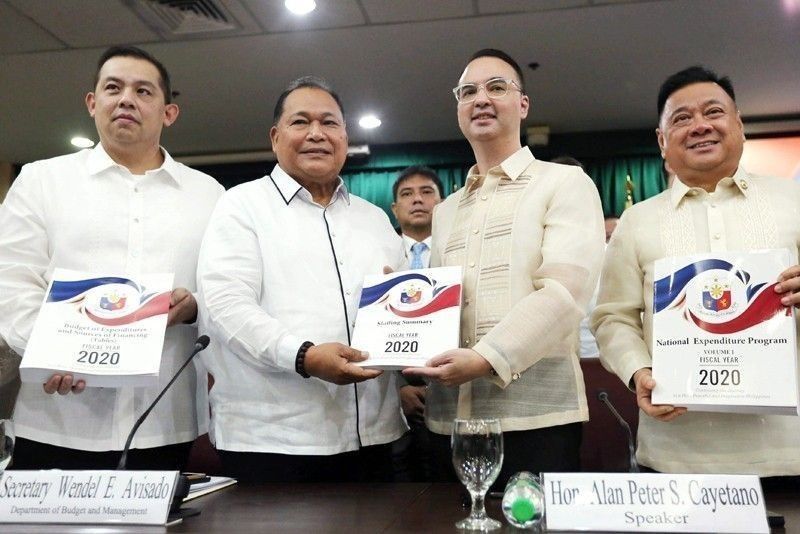 In a message to his colleagues yesterday, Speaker Alan Peter Cayetano congratulated them for finishing the appropriations committee hearings on the budget proposal on Friday.
File
House to tackle P4.1-trillion budget on Tuesday
Jess Diaz
(The Philippine Star) - September 8, 2019 - 12:00am
MANILA, Philippines — The House of Representatives will start tackling the proposed P4.1-trillion national budget for next year on Tuesday.
In a message to his colleagues yesterday, Speaker Alan Peter Cayetano congratulated them for finishing the appropriations committee hearings on the budget proposal on Friday.
"Together, we were able to thoroughly discuss the national budget in record time. We have partnered with the executive department to implement President Duterte's vision towards a safe and comfortable life for present and future generations of Filipinos," he said.
"As we start plenary deliberations next week, the end result would be a progressive and responsive 2020 budget with no pork, no parked funds and no delays," he said.
Among the last agencies the appropriations committee chaired by Davao City Rep. Isidro Ungab heard on Friday were the Office of the President, Department of Environment and Natural Resources, Department of Agriculture and Presidential Communications Operations Office.
On Friday, appropriations committee vice chairman Rep. Romeo Momo Sr. of party-list group Construction Workers Solidarity clarified his previous statements that the more than 300 congressional districts have been allocated from P800 million to P5 billion in infrastructure funds next year.
Based on the figures of Momo, a former public works undersecretary, members of the House of Representatives would have at least P240 billion for their districts in 2020.
Cayetano earlier said legislative districts would be allocated P400 million to P500 million in infrastructure projects, or from P120 billion to P150 billion for all House members.
Momo was among four party-list guests in the weekly Party-list Coalition news forum on Wednesday.
"I was asked if there are districts with bigger allocations. I told them yes, because what is in my mind are all the allocations in the district, including foreign assisted and those with big tickets projects under the multi-year obligational authority," he said in clarifying his statements.
He said there were no "congressmen's initiatives" and that all the projects in congressional districts and their funding are part of the proposed P535-billion budget for the Department of Public Works and Highways for next year.
During the forum, Momo and another forum guest, Niña Taduran of ACT-CIS, were asked if they had proposed projects to agencies. The two of them said, "Yes, some were accommodated, others were not."
The 2013 ruling of the Supreme Court striking down the Priority Development Assistance Fund (PDAF) as unconstitutional does not prohibit lawmakers from recommending projects to agencies before the annual budget is enacted.
What it bars are lump-sum funds in the budget at the discretion of senators and House members, and post-budget enactment meddling by lawmakers.
Momo also told the Wednesday forum that there was no way for congressmen to add more infrastructure funds to the P4.1-trillion 2020 national budget President Duterte has submitted to Congress.
A feud erupted early this week when deputy speaker and Camarines Sur Rep. Luis Raymund Villafuerte proposed the withdrawal of the budget bill filed by the committee on appropriations chaired by Davao City Rep. Isidro Ungab.
Ungab later told reporters that the planned withdrawal was intended to make way for insertions in the proposed outlay.
Villafuerte admitted that at least 60 House members were not happy with the amount of infrastructure the President recommended for their districts for next year, since they lost P95-billion worth of pork barrel allocations inserted by the House at the last minute in the 2019 budget.
The allocations were deleted from the 2019 budget after the President, upon the recommendation of the Senate and the DBM, vetoed them.
The dissatisfied lawmakers apparently wanted to recover the lost funds by adding them to the proposed 2020 budget.
Before the presidential veto, then appropriations committee chairman and Camarines Sur congressman Rolando Andaya Jr. released a list of pork barrel allocations.
Topping the list was the district of Davao del Norte Rep. Pantaleon Alvarez with P8.4 billion, while at the bottom was the lone district of Basilan with P400 million.
Momo also said the country is running out of skilled and non-skilled construction workers.
"This is the reason why we have an influx of workers from other countries like China, South Korea and even Japan," he said.
He said contractors have been complaining about the difficulty of recruiting laborers and skilled workers.
"There is now a lack of skilled workers like carpenters, masons, painters, electricians, welders and pipefitters," he added.
Momo pointed out that President Duterte's massive "Build, Build, Build" infrastructure program would suffer if the problem of the lack of construction workers was not addressed.
"For next year, the Department of Finance estimates that more than P900-billion worth of projects will be undertaken under the program. Those will require a lot of laborers and skilled workers," he said.
Projects of other agencies will require manpower as well, he said.
He cited the school building program of the Department of Education and the Department of Public Works and Highways.
Momo said if there are 60,000 programmed classrooms and each room required two painters, a total of 120,000 painters would be needed.
"Where will you get that big number of painters? What about the labor requirements of the private sector?" he asked.
He said many skilled Filipino workers are abroad and could be enticed to go home with compensation and working conditions offered to their foreign counterparts.
Foreign workers receive higher salaries and are given free lodging, he said.
As a long-term solution, Momo proposed that government agencies like the Technical Education and Skills Development Authority (Tesda) should offer enhanced skills training to Filipino workers.
"I have already proposed this to Tesda," he said.
He added that the private construction sector should do likewise.