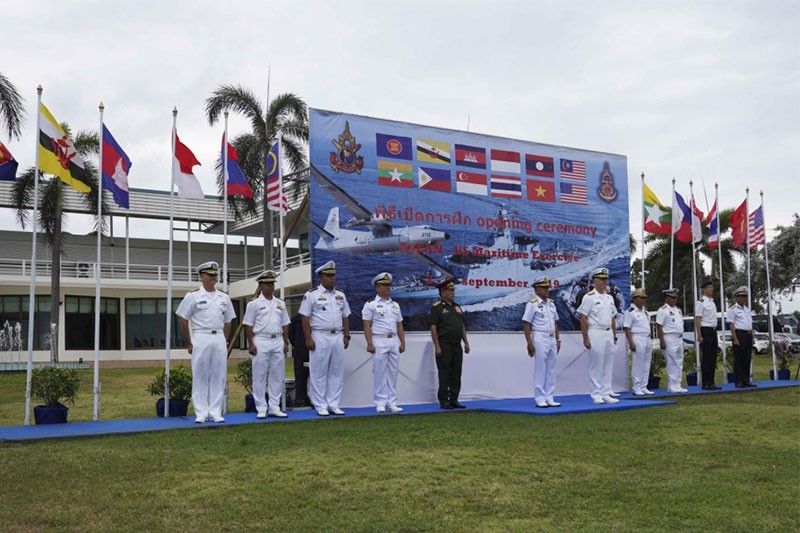 Senior representatives from the US Navy and the maritime forces of ASEAN member states stand together on stage during the opening ceremony for the ASEAN-US Maritime Exercise at Sattahip Naval Base in Thailand.
US Navy/Mass Communication Specialist 1st Class Greg Johnson
US, ASEAN maritime drills 'not directed to anyone'
MANILA, Philippines — Amid Beijing's latest actions in the disputed South China Sea, Washington maintained that the inaugural ASEAN-US maritime exercise "is not focused or dedicated against or towards anyone else."
China has been deploying survey ships, coast guard vessels and warships on the waters of other South China Sea claimant states, including Vietnam and the Philippines.
US Navy Rear Adm. Murray Joe Tynch III, commander of the logistics group in the Western Pacific, stressed that the first-ever ASEAN-US Maritime Exercise, or AUMX, is focused on strengthening skills that would be applicable throughout international waters for maritime security.
"It's to enhance the skills of ASEAN and the US working together," Tynch said in a telephone press briefing Tuesday.
The US Navy official added that the joint exercise of 11 countries seeks to build capacity, as well as relationships.
"So, the concept of the AUMX this year is to enhance situational awareness and interoperability for all of ASEAN and for the US as well," Tynch said.
The navies of the US and Southeast Asian countries officially kicked off the AUMX in Thailand on Monday.
Eight warships and four aircraft from seven countries, in addition to more than a thousand personnel from Brunei, Cambodia, Indonesia, Laos, Malaysia, Myanmar, the Philippines, Singapore, Thailand, the United States and Vietnam.
The Philippine Navy had sent offshore patrol vessel BRP Ramon Alcaraz and its crew to participate in the naval drills.
The US Navy and the Royal Thai Navy will be leading the exercises, which will consist of pre-sial activities in Thailand, Singapore and Brunei.
The ASEAN and US joint maritime forces will also go through international waters in Southeast Asia, such as the Gulf of Thailand and the South China Sea. The drills will then end in Singapore.
Thai Navy vessel HTMS Krabi (OPV 551) will serve as the headquarters, where representatives from the participating countries will be aboard.
During the exercises, the participants will undergo scenarios designed to reinforce interoperability in visit, board, search and seizure; maritime domain awareness; division tactics and maritime asset tracking.