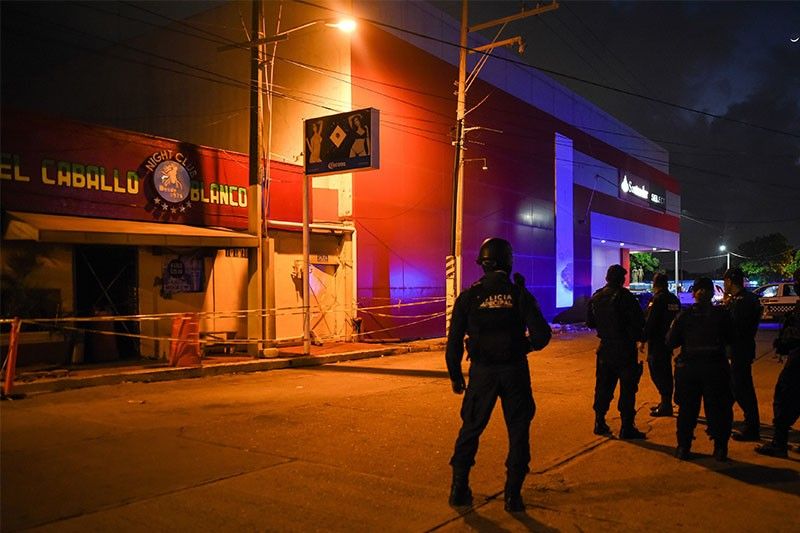 Police officers stand guard outside Caballo Blanco bar (White Horse bar) where 25 people were killed by a fire in Coatzacoalcos, Veracruz State, Mexico, on August 28, 2019. At least 25 people were killed and 13 badly wounded in a fire which broke out Tuesday night at the bar as is being investigated as an attack, authorities said Wednesday. The state of Veracruz is a flashpoint in the bloody turf wars between Mexico's rival drug cartels.
AFP/Victoria Razo
2 Filipinos killed in Mexico bar arson
(Philstar.com) - August 30, 2019 - 11:59am
MANILA, Philippines — Two Filipino seafarers are among those killed after an attack at a bar in Mexico's southern port city of Coatzacoalcos earlier this week.
The Department of Foreign Affairs confirmed the death of the two Filipinos, who were among the at least 26 killed in the arson attack.
The Philippine Embassy in Mexico is coordinating with authorities and the agency of the Filipino victims for the repatriation of their remains.
"The DFA extends its condolences to the families of the Filipino seafarers, and the Embassy stands ready to provide further assistance if needed," the DFA said in a statement released Friday.
Veracruz Gov. Cuitlahuac Garcia released a statement to the media, saying the attack on the bar was a result of a dispute between gangs in the area.
"The devious crime of a few moments ago in Coatzacoalcos will not go unpunished," the governor of Veracruz state said in a tweet.
Citing reports, The Los Angeles Times said Molotov cocktails had been thrown into the bar.
Images carried by local media showed a wrecked interior with chairs overturned and debris littering the floor, and emergency vehicles and police outside the building.
Veracruz is one of the most violent regions of Mexico. Drug trafficking routes to the United States pass through it, and bloody battles frequently erupt between rival drug gangs. — Patricia Lourdes Viray with Agence France-Presse