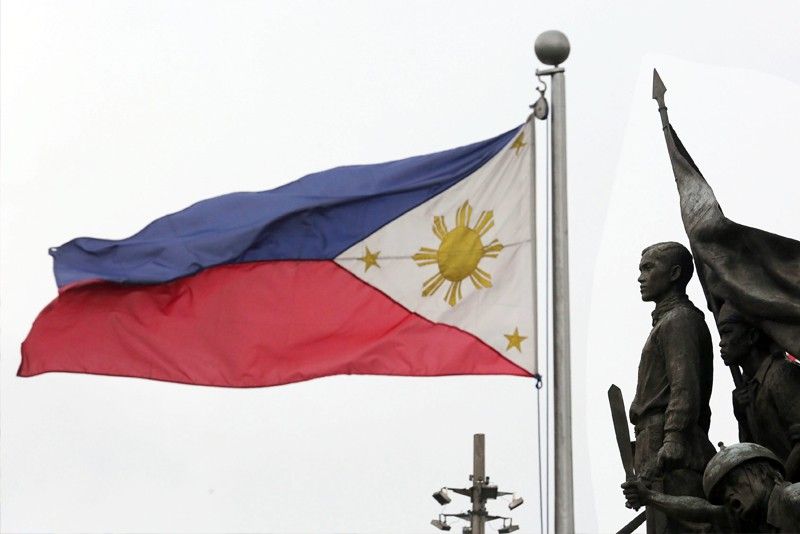 A Philippine flag flies at the Bonifacio Monument in Caloocan City a day before the celebration of the National Heroes' Day where the country pays homage to the efforts of known and unknown Filipino heroes.
Michael Varcas
Duterte to lead Heroes' Day rites at Libingan
MANILA, Philippines — President Duterte is expected to lead the commemoration of National Heroes' Day at the Libingan ng mga Bayani today.
In a statement, the National Historical Commission of the Philippines (NHCP) said the President would lead the flag-raising and wreath-laying ceremonies during the event.
The theme of this year's commemorative program is "Pagkilala sa Bayaning Pilipino: Matapang, Magiting at Makabayan."
Duterte will deliver a message during the event, which honors the sacrifices of men and women who fought for the Philippines' independence.
Army chaplain Col. Raul Ciño will lead the invocation while Taguig City Mayor Lino Cayetano and NHCP chairman Rene Escalante will deliver speeches during the program, which will also be attended by representatives from various agencies, local governments and non-government organizations.
The celebration of National Heroes Day began during the American colonial period, according to the Official Gazette website. The Philippine legislature, then dominated by pro-independence Filipino leaders, first enacted the holiday into law through Act No. 3827 on Oct. 28, 1931. The law declared the last Sunday of August of every year a national holiday, the government's official website said.
In 2007, former president Gloria Macapagal-Arroyo signed Republic Act 9492, which moved the celebration to the last Monday of August.
"Our national heroes are often portrayed as a pantheon of distinct and powerful personalities who have managed to get their names published in our history books by virtue of their words or actions. But National Heroes Day specifies no hero," the Official Gazette said.
"The law that put into practice the celebration does not name a single one. And this lack of specifics offers an opportunity to celebrate the bravery of not one, not a few, but all Filipino heroes who have braved death or persecution for home, nation, justice and freedom," it added.