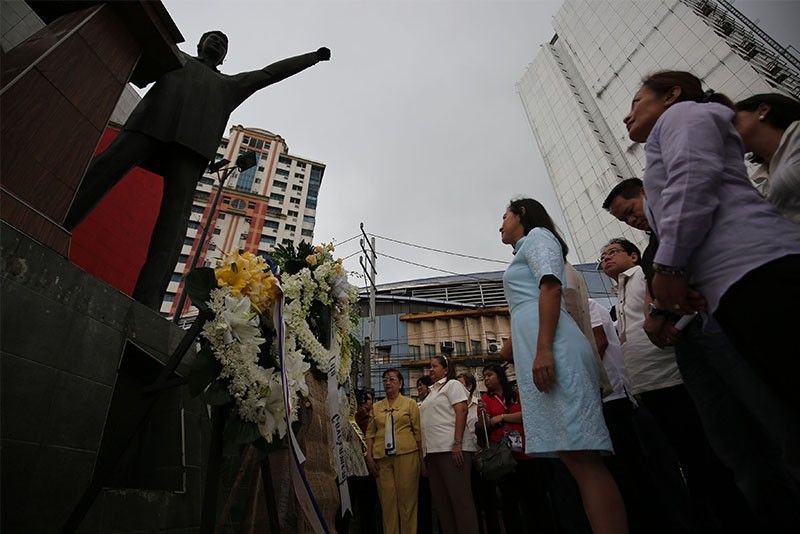 In this Aug. 21, 2019 photo, Quezon City Mayor Joy Belmonte and Vice Mayor Gian Belmonte offer flowers at the monument of the late Ninoy Aquino in Timog corner Quezon Avenue.
The STAR/Michael Varcas
On Ninoy Aquino Day, Duterte tells Pinoys to safeguard freedom, democracy
MANILA, Philippines — President Rodrigo Duterte on Wednesday reminded Filipinos to remain committed in safeguarding people's freedoms as the country celebrates the heroism of opposition figure Benigno "Ninoy" Aquino Jr.
In a presidential message, Duterte said Aquino's example should guide the nation in uplifting the vulnerable sectors of the society and in ensuring that Filipinos continue to enjoy freedom, democracy and the rule of law.
Duterte also reminded government workers to "serve with honor, integrity and purpose."
"His (Aquino) sacrifice altered the course of our nation's history and still continues to ignite the spirit of heroism among our people," Duterte said.
"Despite our gains in these past three years, there is still a lot that needs to be done if we are to completely eradicate poverty, corruption and injustice that had plagued our nation even during Ninoy's time," he added.
Aquino, an opposition senator and prominent critic of the Marcos administration, was assassinated at the Manila airport on his return from political exile in the US on Aug. 21, 1983.
After his death, his wife, Cory, entered politics and became the first woman president of the Philippines who served from 1986 to 1992.
Cory led the bloodless, military-backed "People Power" revolution that toppled the 21-year dictatorship of Ferdinand Marcos, whom Duterte considers the country's best president.