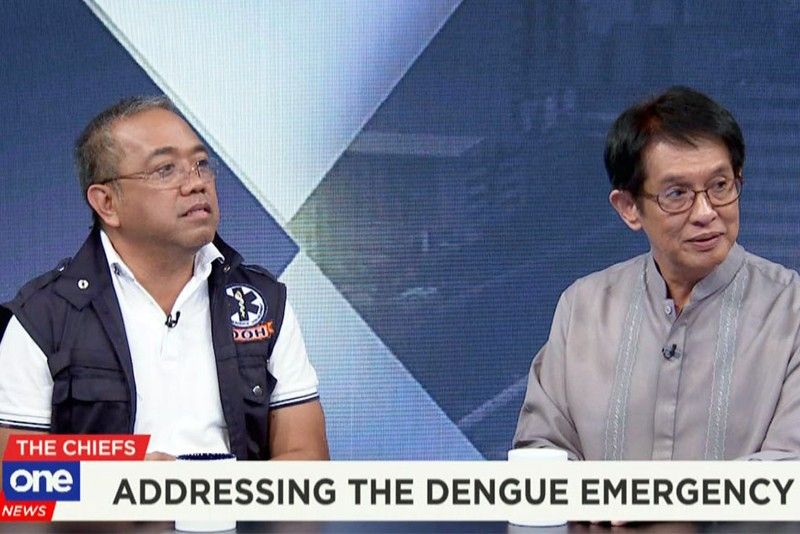 Eduardo Janairo (right), head of the National Dengue Task Force, and DOH Epidemiology Bureau director Ferchito Avelino face 'The Chiefs' on Monday on Cignal TV's One News.
Dengue task force: No to revival of Dengvaxia
MANILA, Philippines — The National Dengue Task Force will not recommend the restoration of the certificate of product registration (CPR) for Dengvaxia, citing evidence that showed the vaccine is not effective in preventing dengue infection.
"In Calabarzon, there are patients who were vaccinated but still developed dengue. So what's the use of bringing back Dengvaxia?" said Eduardo Janairo, task force chairman and Department of Health (DOH) regional director for Calabarzon.
The task force was created last month by Health Secretary Francisco Duque III to harmonize the monitoring and granting of medical assistance to all vaccinated individuals in the Calabarzon, Central Luzon, National Capital and Western Visayas regions for five to 10 years.
DOH Epidemiology Bureau director Ferchito Avelino also said he would not recommend a revival of the mass immunization using Dengvaxia, although he said individuals could avail themselves of the vaccine if they wanted.
Janairo pointed out to "The Chiefs" on Cignal TV's OneNews channel last Monday that about 833,000 individuals, mostly students in public elementary schools, were given the vaccine.
The Calabarzon region registered a total of 172,000 vaccinees, 26 of whom have developed dengue in the past week alone. Another data from DOH-Calabarzon showed that a total of 98 Dengvaxia vaccinees have acquired dengue since January this year.
For Janairo, the 26 cases already disprove the claim that Dengvaxia can prevent future dengue infection as he stressed that seven out of that number even received the complete cycle of three doses of the vaccine.
Aside from this argument, he cited another factor to be considered in deciding whether or not Dengvaxia should be allowed again—the indication that it should not be given to those who have not had previous dengue infection.
"There is no way to identify the persons who have had infections in the past and that's the reason we cannot give that vaccine again," Janairo said, adding that the parents of vaccinees, in previous meetings, have expressed strong objection to the return of Dengvaxia in the Philippine market.
Last February, the Food and Drug Administration had permanently canceled the CPR of Dengvaxia after its manufacturer, Sanofi Pasteur, failed to submit post-marketing surveillance on the products. However, Sanofi Pasteur appealed late last month.
Eliminate breeding sites
Avelino said one of the best strategies to combat dengue is to eliminate all possible breeding sites of the Aedes aegypti mosquitoes.
He added that it is not enough to remove water from a container, for instance, because mosquito eggs are "viable" or can survive for up to one year.
"The eggs have glue-like sticker so, if you remove the water, you also have to scrape (the inside of a container). Otherwise, the eggs will remain there and if you put water again, the eggs will live again," he claimed.
Avelino urged the public to be watchful if their children are manifesting dengue symptoms so that appropriate management can be applied immediately. Just like other viral types of infection, dengue is characterized by severe joint and muscle pains, nausea and vomiting.
"But what will make you suspect that you are having dengue is when you feel well on the second day ... If you have the sudden spike of fever and then become well on the second or third day, think otherwise," he said.
He stressed the importance of monitoring patient's temperature for five days through blood testing using NS1 to validate if it is dengue or not.
In Bataan province, Mariveles town Mayor Jocelyn Castañeda yesterday urged local officials to implement measures to prevent a dengue outbreak following a report that 120 of 500 Chinese workers at the GN Power coal-fired power plant were hospitalized last May and July.
She told The STAR that the town government is doing its best to eradicate the mosquitos in 18 barangays after more than 400 residents, including the Chinese construction workers, got sick.
Rosanna Buccahan said the Chinese workers were treated at the Pampanga Medical Specialist, a hospital in Lubao, Pampanga.
Her office has ordered the intervention investigation procedures, environment sanitation, three-cycle fogging operations, and other health-related operations at the lodging sites of the plant's Chinese and Filipino workers.
Earlier, provincial board member Godofredo Galicia Jr., who chairs the committee on health, reported the situation in Bataan is not alarming but Mariveles is something "that the provincial government should raise concern" about. – With Raffy Viray