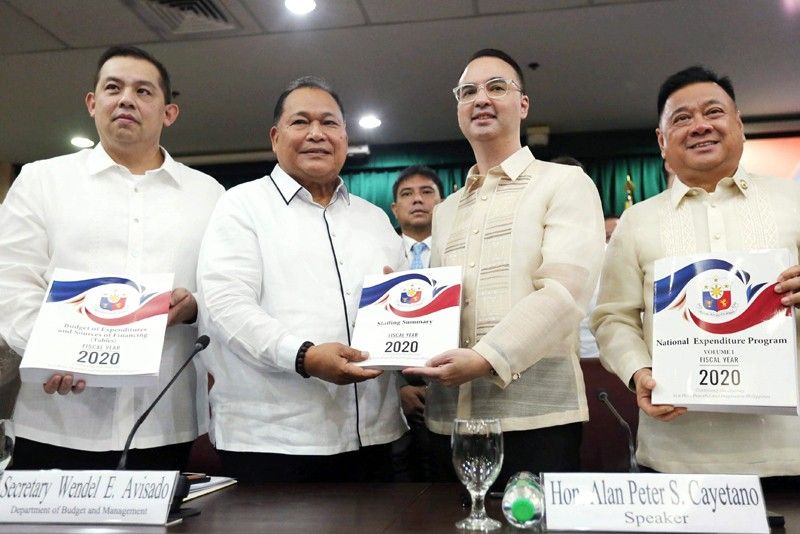 The government is increasing its funds for poverty alleviation and health care programs.
P4.1-trillion budget submitted to Congress
Edu Punay
(The Philippine Star) - August 21, 2019 - 12:00am
MANILA, Philippines — Social services will remain the top priority of government next year, at least based on the size of its share in the proposed P4.1-trillion national budget submitted by the executive branch to Congress yesterday.
Over P1.525 trillion or 37.2 percent of the proposed budget – the biggest in the country's history – will be allocated for social service programs of the administration of President Duterte.
Just like in previous years, the Department of Education (DepEd) gets the biggest budget among the government agencies at P673 billion or P14 billion higher than the P659.3 billion this year.
The government is also increasing its funds for poverty alleviation and health care programs.
The Department of Social Welfare and Development and the Department of Health (DOH) will get P195 billion and P166.5 billion in funds next year, respectively, from P173.3 billion and P141.4 billion this year.
These funds will cover the P108.8-billion allocation for the Pantawid Pamilyang Pilipino Program (4Ps) as well as the full implementation of the Universal Health Care law, including the P67.4-billion allocation for the National Health Insurance Program of the Philippine Health Insurance Corp.
As part of social services, the proposed budget also includes an allocation of P641.6 million for the newly created Department of Human Settlements and Urban Development.
"The needs of the poorest citizens are very important to President Duterte," Speaker Alan Peter Cayetano stressed after receiving the proposed budget from the Department of Budget and Management (DBM).
Malacañang expressed hope the budget would get approved on time.
"We can always hope that it will pass on time because any delay will again affect our economy. And I am sure the members of Congress know that," presidential spokesman Salvador Panelo said yesterday.
"We are always hopeful whether Congress is dominated by allies of the President or not, because after all as we said repeatedly members of Congress should know exactly what is good for the Filipino people being representatives of them," Panelo said.
Infrastructure projects under Duterte's Build, Build, Build program are also a priority in the proposed budget, getting P972.5 billion in allocations.
The Department of Public Works and Highways will get the second highest budget among agencies, at P534.3 billion to cover its network development, asset preservation and bridge programs.
The Department of Transportation, on the other hand, will be given P147 billion next year to cover big ticket projects, like the P106.7-billion rail transportation plan. The agency's budget almost doubled from P76.1 billion for this year.
"This budget will renew our push for real change by sustaining investments in public infrastructure and human capital development, namely healthcare, education and poverty alleviation," acting DBM Secretary Wendel Avisado explained during the submission ceremony.
Avisado revealed that they prioritized the poor, farmers, senior citizens and children across Luzon, Visayas and Mindanao in the 2020 budget, which he said would address the gaps in national growth and progress and will realize the promises of the administration.
The other agencies with the biggest budget allocations for 2020 are Department of the Interior and Local Government with P238 billion, Department of National Defense with P189 billion, Department of Agriculture (P56.8 billion), judiciary (P38.7 billion), and Department of Environment and Natural Resources (P26.4 billion).
The proposed budget also includes P70.6 billion for the Bangsamoro Autonomous Region in Muslim Mindanao, P10 billion for the Rice Competitiveness Enhancement Fund under the new Rice Liberalization Act and P622.3 million for the National Task Force to End Local Communist Armed Conflict, the administration's nationwide anti-insurgency program.
It also covers P1.255 trillion for government personnel services and P451 billion for debt services.
The P4.1-trillion proposed national budget for 2020 is 12 percent higher than this year's P3.662-trillion.
The cash-based budget for next year is equivalent to 19.4 percent of the country's gross domestic product, which amounts to P21.17 trillion.
No pork
Cayetano said the appropriation for next year does not include pork barrel. "This budget makes sure that each area in the whole country will have development funds. So there's no need for grabbing of funds or to have CDF (Countrywide Development Fund), PDAF (Priority Development Assistance Fund) or whatever you call it, even if it was legal today. We all know the SC has struck it down as unconstitutional," Cayetano stressed.
The speaker revealed that all programs of lawmakers have already been integrated in their respective implementing agencies. This arrangement was agreed upon with concerned Cabinet secretaries.
He explained that under the current system, proposed road projects are submitted to the DPWH by district engineers and regional directors after coordination with the congressmen in their respective areas.
Cayetano said the DPWH has assured all districts of getting infrastructure projects via an "equitable distribution" scheme or according to the needs of each area.
He said he could not recall exact amounts involved but the DPWH had assured each district of at least P400 million in infrastructure projects.
The House leader said lawmakers would just be given a chance to raise concerns regarding their respective projects during budget deliberations.
He also said there would be no "parking" funds or the realigning of budget allocations to areas beyond jurisdiction of district congressmen.
"We will not allow any parking. The parking of funds, the way I understand it, that's corruption. And our agreement here in Congress is that we will fight corruption. There will be no cover-up," he stressed.
House majority leader and Leyte Rep. Martin Romualdez also stressed that Congress will "pass a constitutionally compliant national budget for year 2020."
"We will comply with the Supreme Court ruling that outlawed any form of pork barrel. Line item budgeting system will be strictly observed to ensure transparency and accountability in the disbursement of public funds," he said.
Upon receipt of the proposed appropriation, Cayetano vowed to expedite budget proceedings to enable lawmakers to meet their self-imposed deadline for the House passage of the budget in October.
"We will work day and night... We will be asking the members of the House to work overtime," he said.
Cayetano revealed that members of the majority are set for a caucus today even if it's a non-working holiday. He also said lawmakers will start budget hearings tomorrow.
"Instead of starting the sessions at 3 p.m., we will be staring the sessions at 5 p.m. so that we can have four hearings a day," he bared.
"As partners for change, we also expect a less tedious budget hearing because there will be less parochial concerns brought up in all departments," Cayetano added. – Christina Mendez