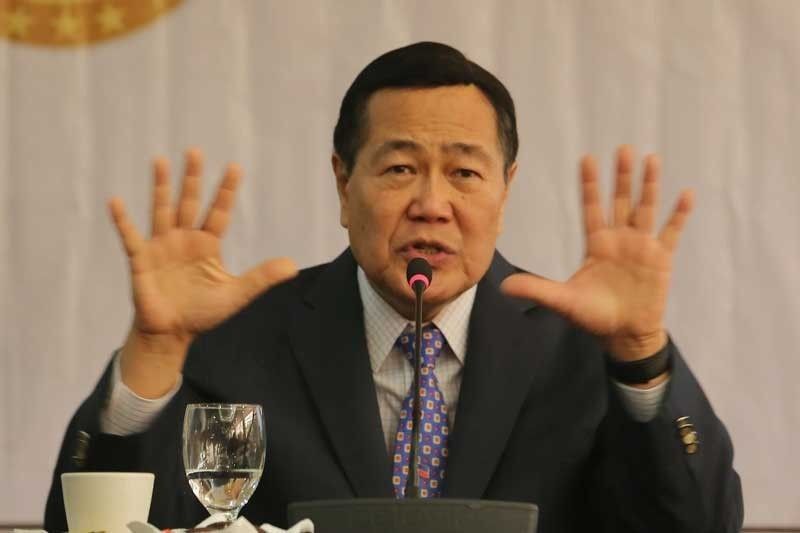 In a text message sent to reporters yesterday, Senior Associate Justice Antonio Carpio said "Yes I am declining because there are only 8 days left from the vacancy to my compulsory retirement."
Michael Varcas/File
Antonio Carpio declines final CJ nomination, three justices accept
MANILA, Philippines — Three Supreme Court (SC) justices have accepted their nominations for the position of chief justice while three others, including Senior Associate Justice Antonio Carpio, have declined their nominations.
Justice Secretary Menardo Guevarra, ex-officio member of the Judicial and Bar Council (JBC), said Associate Justice Diosdado Peralta and Associate Justice Estela Perlas-Bernabe, both 67 years old, are among those who have been automatically nominated and accepted their nominations.
SC Associate Justice Andres Reyes Jr., 69, who was nominated by retired SC justice Jose Perez and retired Court of Appeals (CA) justice Sesinando Villon for the position of top magistrate, reportedly accepted his nomination.
Should they be appointed, Peralta and Bernabe would lead the SC until 2022, the year they turn 70––the mandatory retirement age for justices.
Reyes, meanwhile, would only serve for seven months since his 70th birthday is on May 11 next year.
Associate Justice Jose Reyes Jr., President Duterte's fifth high court appointee last year, is also vying for the chief justice post. The 68-year-old is a graduate of the San Beda College of Law, like Duterte.
By tradition, the five most senior SC justices, next to the chief justice, are automatically nominated. They are Peralta, Bernabe, Carpio, and Associate Justices Marvic Leonen and Alfredo Benjamin Caguioa.
Carpio, Leonen and Caguioa have already declined their nominations.
Carpio said he declined his final nomination as chief justice as he would be retiring on Oct. 26.
If he is selected as the next chief justice, he would only serve the post for eight days since it is expected that the incumbent Chief Justice Lucas Bersamin would end his term on Oct. 18, when he turns 70 years old.
In a text message sent to reporters yesterday, Carpio said "Yes I am declining because there are only 8 days left from the vacancy to my compulsory retirement."
Carpio has been bypassed for the position of chief justice four times: during the appointments of the late Renato Corona in 2010, ousted Ma. Lourdes Sereno in 2012; and of Teresita de Castro and incumbent Chief Justice Bersamin last year.
With Carpio no longer a contender, this makes Peralta the most senior among the three candidates for the chief justice post.
Associate Justice Francis Jardeleza was not included in the automatic nomination because he is due to retire on Sept. 26, ahead of Bersamin.
Yesterday at 4:30 p.m. was the deadline set by the JBC in accepting nominations for the position of chief justice.