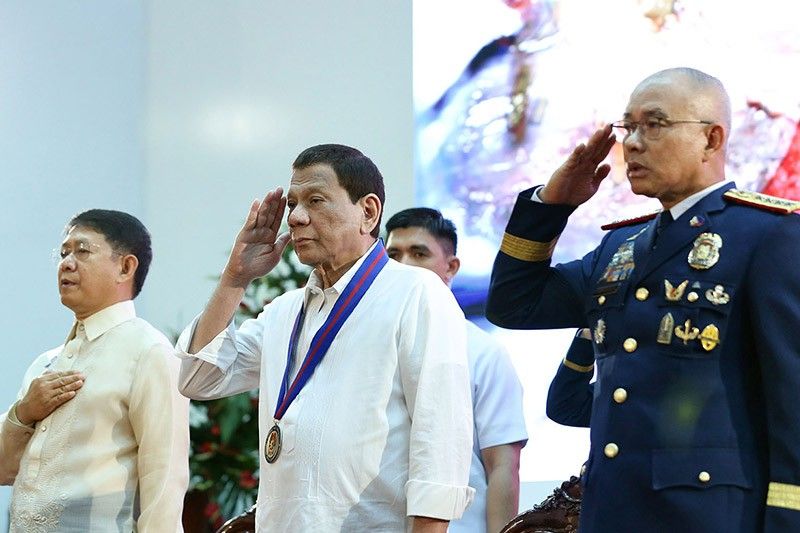 President Rodrigo Duterte sings the Philippine National Anthem during the 118th Police Service Anniversary at Camp Brigadier General Rafael Crame in Quezon City on Aug. 9, 2019. With the president are Interior and Local Government Secretary Eduardo Año and Philippine National Police chief Oscar Albayalde.
Richard Madelo/Presidential Photo
Duterte to lead decommissioning of 40,000 MILF fighters
MANILA, Philippines — President Rodrigo Duterte is expected to witness the launch of the decommissioning of Moro Islamic Liberation Front fighters next month, a key component of the group's peace deal with the government.
The decommissioning is part of the normalization process of the peace talks, which would transform former combatants to productive members of society and conflict-hit areas into progressive communities, presidential peace adviser Carlito Galvez said.
"The public launch of the decommissioning process will be on September 7 and will be attended by no less than President Duterte," Galvez said in a press briefing Tuesday.
"The era of war is gone. We are now ushering a new age of genuine and sustainable peace throughout Mindanao," he added.
READ: Bangsamoro region's normalization 'on track' — Palace
The launch of the decommissioning of the combatants will be held in Maguindanao.
The normalization phase, which is anchored on the 2014 comprehensive peace agreement between the government and MILF, will cover the decommissioning of 40,000 fighters and their weapons. At least 30% or 12,000 combatants will be decommissioned this year. The government aims to complete the decommissioning process by March next year.
Under the Normalization track, MILF combatants, their families and communities will be given a comprehensive socio-economic package which includes social protection package, sustainable livelihood programs, capacity-building training, health benefits and educational assistance. The process also seeks to transform six government-acknowledged MILF camps into peaceful, productive and resilient communities.
READ: Former MILF fighters start training for Joint Peace and Security Teams
The normalization is being implemented simultaneously with the political track of the peace deal, which includes the ratification of the Bangsamoro Organic Law and the establishment of the Bangsamoro Autonomous Region in Muslim Mindanao.
"As the president has emphasized, we need to invest in the future of our children. The sincere implementation of the Bangsamoro peace agreement is one of the best ways for the next generations not to experience the wrought of armed conflict that besets parts of Mindanao for years," Galvez said.