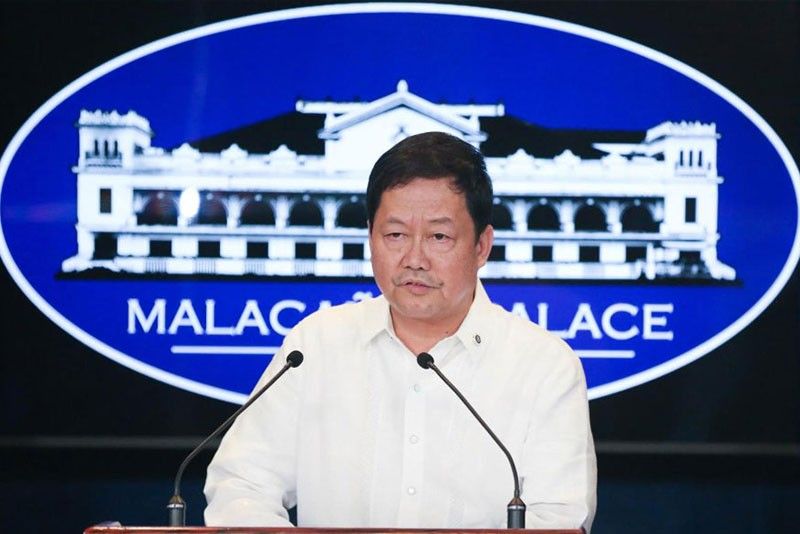 Justice Secretary Menardo Guevarra said that while they follow the regulations provided under Republic Act 3019 the Anti-Graft and Corrupt Practices Act and RA 6713 or the Code of Ethical Standards, there are still gray areas.
Pcoo.gov.ph
DOJ chief wants CSC guidelines on accepting gifts
MANILA, Philippines — Justice Secretary Menardo Guevarra yesterday urged the Civil Service Commission (CSC) to issue guidelines on policies allowing public servants to accept tokens or gifts.
Guevarra said that while there are existing laws concerning this matter, there are still gray areas that the CSC should address.
"If I may suggest, the CSC commissioners may have to set specific guidelines that will determine if a government worker or a public official is exceeding the bounds of ethics. It should be the CSC that sets the guidelines," Guevarra said.
He was reacting to a statement of Presidential Anti-Corruption Commission (PACC) Commissioner Greco Belgica that a gift worth P100,000 could be considered "insignificant," and that value is a case-to-case basis.
Guevarra said that while they follow the regulations provided under Republic Act 3019 the Anti-Graft and Corrupt Practices Act and RA 6713 or the Code of Ethical Standards, there are still gray areas.
"It is difficult to give specific guidelines because according to the law, it would depend on the local customs and traditions of the place where the gift-giving happens. So it is really a relative term, unless of course the Civil Service Commission would give an exact or precise definition, let's say no gift exceeding P1,000 in any occasion. Right now there is no such rule, so the concept is flexible, very relative," Guevarra said.
"While some may say a P100,000 gift is excessive, I cannot really make a judgment on that until the actual situation presents itself," he added.
Guevarra said a small leeway could be given to public officials for as long as the token is not intended to influence them.
"The culture and traditions in the country should also be considered since Filipinos occasionally give gifts to friends, who happen to be government officials. So for many situations, this would not mean anything. It is just a sign of friendship, a sign of gratitude except if the real purpose is to influence the official," he said.
Bribe, definitely
Bayan Muna Rep. Carlos Zarate said a P100,000 gift to a government official or employee "is not an insignificant amount and is definitely a bribe."
"Even a much smaller amount, say P1,000, is a bribe. P1,000 given every day amounts to P30,000 a month. P100,000 given 10 times is P1 million. If that is not bribery and corruption, I don't know what is," Zarate said, citing the Code of Conduct for Public Officials and Employees.
Zarate was also commenting on Belgica's statement in an interview on "The Chiefs" on Cignal TV's One News.
Belgica on Friday cited a scenario, wherein a government worker at the airport returns a lost bag he found containing P1 million.
"The owner gives the worker P100,000, that is not corruption because he did not expect or did not ask from the owner that amount of money," Belgica said.
He said if he was the government employee, he would consider the P100,000 "insignificant," as he gets the same figure as his monthly salary.
He clarified he would not accept the money if someone would offer it to him.
Zarate said Belgica's statement and President Duterte's recent declaration that policemen could receive gifts "could promote bribery and corruption in the bureaucracy."
'Not allowed'
Also reacting to Belgica's statement, an official of the Department of the Interior and Local Government (DILG) insisted that government workers are not allowed to receive gifts of monetary value.
Undersecretary Jonathan Malaya said the DILG complies with existing laws that prevent government employees from accepting gifts.
"We respect his opinion but we stand by the policies of the DILG," Malaya told The STAR yesterday.
Malaya cited the Anti-Graft and Corrupt Practices Act, which exempts gifts of small or insignificant value given as a mere token or gratitude of friendship.
He said among the gifts that could be considered nominal or of insignificant value are food items given during public events. He said government workers should decline cash rewards even if these were given out of gratitude.
Malaya said government employees who have shown honesty and competence are commended by their agencies.
Gratitude and bravery
Sen. Panfilo Lacson said there is a need to revisit the laws to draw a line between gratitude and bribery in government service.
He said gratitude and bribery laws such as RA 6713 and RA 3019 have no clear definition of what is nominal.
"If the present laws were implemented to the letter, how many people would be left in government?" he added.
Lacson said RA 6713 allows a public official or employee to accept gifts of nominal value as a souvenir or mark of courtesy.
He, however, noted that without the needed refinements, it may be impractical to interpret and implement the current laws to the letter.
He said the present anti-graft laws should be refined to make these more attuned to Filipino culture.
"Our laws should take into account Filipino values such as utang na loob, as there are Filipinos who may be offended if their gesture of gratitude is declined," Lacson said.
"To be clear: revisiting the law is not about providing excuses for accepting gifts. This is about making our laws implementable and more attuned to our Filipino values," he added.
Lacson cited his experience in 1981 when he, an officer of the Philippine Constabulary (PC) at the time, led a team that rescued Robina Gokongwei from kidnappers.
The grateful Gokongwei family offered him and his team a hefty reward, which he declined as he did not want his men to develop the mentality of not helping complainants who could not afford to give reward.
After he declined the reward, the Gokongweis donated mobile patrol vehicles to the PC to show their gratitude.
The donation was coursed through then PC chief Maj. Gen. Fidel Ramos.
"The donation was carried in the inventory of government properties owned by the command," Lacson said, adding he was not issued any of the donated vehicles. - With Cecille Suerte Felipe, Emmanuel Tupas