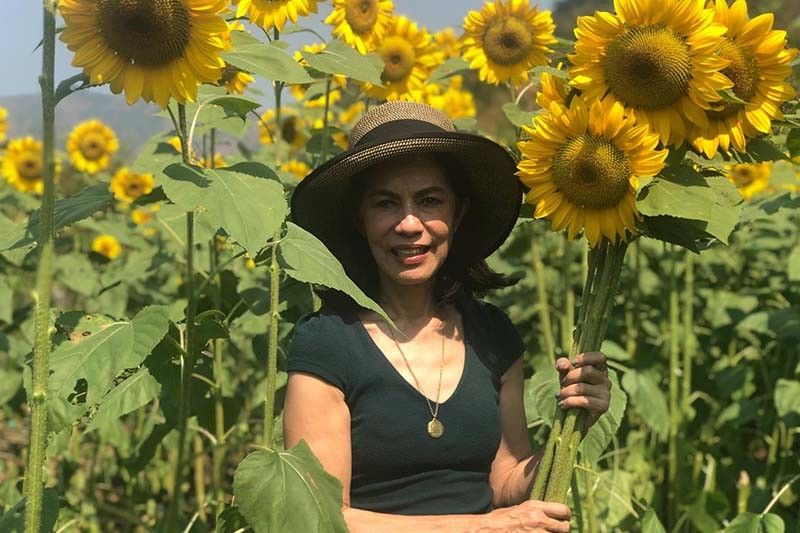 Former Environment Secretary Gina Lopez passed away at the age of 65. The photo shows Lopez surrounded by sunflowers in Tublay, Benguet, according to her Facebook page.
Gina Lopez Facebook page
Advocates, activists found 'rare ally' in Gina Lopez
MANILA, Philippines — Environmentalist groups lost one of their staunchest fighters when Gina Lopez passed away on Monday.
Lopez, an heiress who chose to be an advocacy leader, succumbed to brain cancer at 65.
The outpouring of condolences and messages of sympathy following the announcement of her death showed how much her life had affected and impacted advocacy groups.
Free Mali
PETA (People for the Ethical Treatment of Animals) Asia remembered Lopez as an "animal lover, Earth warrior, and activist."
"One of her greatest dreams was to see Mali the elephant free from loneliness and suffering at the Manila Zoo," it said in its Facebook page.
In a PETA Video, Lopez spoke of how she believed Mali should be transferred to a sanctuary because putting a huge animal, like an elephant, in a confined area like a zoo is cruelty.
"We hope to people will emulate her example by following their hearts to do what's right, fighting for the environment and animals by standing up for them, speaking up for Mali, who deserves to live in freedom and happiness at a sanctuary," it added.
Pasig River rehabilitation
Pasig River Rehabilitation Commission fondly called Lopez a Pasig River Champion.
The commission attributed Pasig River's win at the inaugural Riverprize in 2018 to Lopez's works when she headed PRRC from 2009 to 2016.
"She initiated the expansion of the rehabilitation of the Pasig River into its tributaries by recovering and developing waterways into environmental preservation areas which led to the improvement of the river system's quality," PRRC said.
Other than leading efforts for rehabilitation of Pasig River, Lopez also played a huge role in the reforestation of the La Mesa Watershed.
RELATED: Public memorial service for Gina Lopez to be held at La Mesa Eco Park
Fish pens for small fisherfolk
Pamalakaya recalled how Lopez stood with small fisherfolk when she was Environment secretary.
"During her time in the DENR, we had supported her campaign to dismantle vast tracts of fish pens in Laguna de Bay to let the lake unwind from pollution and congestion caused by big-fishing firms," Pamalakaya said.
The move also helped small fisherfolk to "benefit from traditional fishing grounds."
The fishing sector mourns the passing of former environment secretary Gina Lopez, a staunch environmental advocate who stood with the people in our fight against large-scale mining, reclamation, and other destructive, profit-driven activities. pic.twitter.com/sbWPalTwSW

— Pamalakaya Pilipinas (@pama_pil) August 19, 2019
Mining
Sandugo – Movement of Moro and Indigenous Peoples for Self-Determination mourned the loss of a "rare ally."
The group noted that while Lopez's stint as an Environment secretary was short, she was able to weave into the public consciousness that environmental advocacy transcends preservation of mountains and forests.
"She understood that the business of extracting wealth is complicit in the uneven distribution of it," Sandugo said.
"Generations of indigenous peoples have defended ancestral lands against the encroachment of large-scale mines and other forms of development aggression, but the concentrated power, wealth, and resources of big business and their allied politicians have made it an uphill struggle. Gina Lopez was a rare ally," it added.
Environmental coalition Alyansa Tigil Mina thanked Lopez for ordering the conduct of a mine audit and suspending mining projects when she headed DENR.
The group quoted an unnamed labor leader who said that Lopez was a rare case as she was "an oligarch" who waged a battle "against her own class."
Environmental advocacy through education
SEED Network expressed deep sadness for the loss of Lopez who they fondly called as "face of Mother Earth."
SEED is a group that pushes environmental advocacy through education.
The group attributed Lopez as the brave and passionate woman behind Math Tinik, Sineskwela, Bayani, Hiraya Manawari.
Sineskwela is a TV show focused on teaching children about science.
"She shared her experiences and advocacies not only to youth and students, but also with the organizations and communities fighting for the rights of our environment," it added.