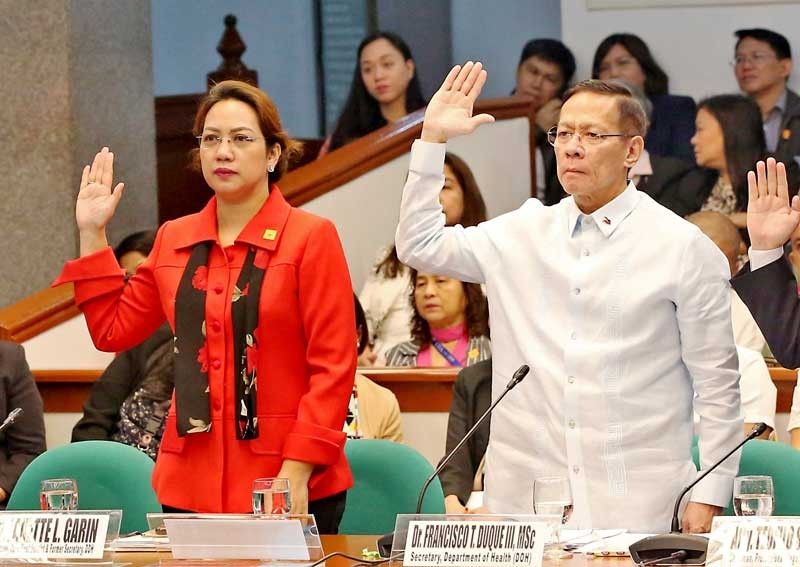 Health Secretary Francisco Duque and his predecessor Iloilo 1st district Rep. Janette Garin take their oath before testifying at a Senate hearing on the alleged multibillion-peso anomalies in PhilHealth yesterday.
Ernie Peñaredondo
PhilHealth 'mafiosi,' Duque deny anomalies
Paolo Romero
(The Philippine Star) - August 15, 2019 - 12:00am
MANILA, Philippines — Members of an alleged "mafia" in the Philippine Health Insurance Corp. (PhilHealth) were identified at a Senate investigation yesterday, but they said they were being framed by corrupt officials in the state insurance firm.
At the joint inquiry of the Senate Blue Ribbon and health committees into alleged multibillion-peso anomalies in PhilHealth, former officials pointed to seven suspended executives and one dismissed official as allegedly part of a mafia responsible for siphoning payments to the agency in connivance with certain hospitals.
Former PhilHealth president Roy Ferrer and Dr. Roberto Salvador, former member of the agency's formal economy sector, told the inquiry that the alleged mafia was behind the bleeding of billions of agency funds for the past several years through various schemes like overpayments and "ghost" claims.
The two former officials, whom President Duterte asked to resign last June, identified Dennis Adre, regional vice president for Region 12; Datu Masiding Alonto Jr., RVP for Region 10; William Chavez, RVP for Region 7; lawyer Jelbert Galicto, RVP for Caraga; lawyer Valerie Anne Hollero, assistant corporate secretary; lawyer Khaliquzzaman Macabato, RVP for the Autonomous Region in Muslim Mindanao; Dr. Miriam Grace Pamonag, former RVP of Region 12; and Paolo Johann Perez, RVP for Region 4-B.
Salvador said Pamonag is already dismissed but did not say why.
"So this 'mafia' the definition we use is a closed group of people in a particular field having control or influence," Salvador told the inquiry led by Senators Richard Gordon and Christopher Go, chairmen of the Blue Ribbon and health committees, respectively.
The inquiry was prompted by the privilege speech of Sen. Panfilo Lacson, who said PhilHealth lost about P153 billion in overpayments and fraudulent claims in recent years.
Salvador claimed the individuals were bragging about them being responsible for the ouster for former PhilHealth chiefs Paulyn Jean Ubial and Celestina dela Serna.
He said the individuals have been with PhilHealth for 10 to 20 years and resisted being reshuffled. They were well known to previous and present top officials.
It was Senate Minority Leader Franklin Drilon who asked about the existence of the so-called mafia in PhilHealth and asked its president, Ricardo Morales.
"I will be admitting hearsay, your honor," Morales replied.
When asked the same question, Ferrer said: "I don't have proof your honor, I only have suspicions."
Those tagged by Ferrer and Salvador strongly denied the allegations, saying the reason they were perceived as having "influence" was because they have been consistent in releasing position papers in the agency to point out weaknesses and irregularities that gain strong support among the rank and file.
They said they were being harassed with successive "ludicrous" and "ridiculous" administrative charges on alleged misdemeanors that occurred several years ago to prolong their suspension for months.
Hollero said the administrative cases may have been filed because of efforts to have numerous unattended cases and missing board resolutions acted upon.
Alonto said his region has the highest number of cases filed against erring hospitals found to be filing fraudulent claims, among others.
Chavez, on his part, said he recommended the suspension of the accreditation of the Perpetual Succor Hospital in Cebu for collecting an average of P30 million a month from PhilHealth arising from alleged fraudulent claims.
His recommendation was heeded by the board and upheld by the Court of Appeals (CA) when the hospital went to court.
However, when the hospital officials made representations with Ferrer, the board overturned its own decision and the CA ruling and instead simply fined the hospital P100,000, Chavez said.
In a joint statement, they said the alleged "PhilHealth Mafia are career employees who have consistently stood up against flawed policies and unsound practices of the Corporation."
"In our quest to protect the funds, we have been unduly harassed by those who have benefitted from the acts we seek to halt," they said.
Drilon warned that PhilHealth may collapse in the coming years if it does not improve its finances as the agency has been incurring billions in net operating losses in the last five years.
Based on the report of the Commission on Audit, PhilHealth posted losses of P5.6 billion in 2017; P5.7 billion in 2016; P3.1 billion in 2015; P1.8 billion in 2014; and P5 billion in 2013.
PhilHealth senior vice president for actuarial services Nerissa Santiago told the committees that agency posted income of P11 billion last year, and the previous years' losses were because the agency increased its benefits without hiking premiums.
"But you have been operating at a loss. In other words, your premium payment receipts is much less than the benefits you pay and the operating expenses you incur. This is the picture for the last five years. You might see a collapsing PhilHealth," Drilon said.
Health Secretary Francisco Duque III had also maintained yesterday that there was no conflict of interest in the dealings of his family's companies with the government agencies he heads.
Duque and his siblings faced the joint inquiry of the Senate Blue Ribbon and health committees, which were investigating the alleged multibillion-peso anomalies in the Department of Health (DOH) and PhilHealth.
Duque headed both the DOH and PhilHealth during the Arroyo administration, and was appointed by President Duterte to the health department in October 2017.
In a privilege speech last July, Senator Lacson accused the health chief of having a conflict of interest as the PhilHealth regional office in Pangasinan was leasing space owned by the Duque family-owned Educational and Medical Development Corp. (EMDC).
Lacson also disclosed that another Duque family-owned Doctors Pharmaceuticals Incorporated (DPI) has contracts with the DOH to supply medicines and drugs.
The senator also said DPI was banned by the Food and Drug Administration (FDA) during the time of then health secretary Janette Garin for alleged poor and unsafe manufacturing practices.
"My personal interest in EMDC did not in any way conflict with the interest of the government," Duque told the inquiry, adding the six-year lease was actually advantageous to the government as regional office to move out of a condemned building.
"Records showed there was absolutely nothing anomalous about the lease," the health secretary added.
Duque stressed that the lease contract was compliant with Republic Act 9184 or the Government Procurement Reform Act and that he consulted with then PhilHealth chief Alex Padilla about the contract as he was then chairman of the Civil Service Commission.
"I was not told to divest, which confirms there was no actual conflict of interest between my share in the company and the position as ex-officio member of the board," Duque said.
He reiterated that his family wanted to terminate the lease contract but the PhilHealth regional office appealed to have it lapse at the end of year as it was still looking for a suitable space to transfer to.
When asked by Lacson whether the EMDC's decision to terminate the contract was an admission there was something irregular, Duque said it was a business decision as the company wanted more space for the students.
The health chief also testified that he divested from DPI in 2005 or about the same time he was in the Arroyo cabinet.
He said the DPI is an old firm founded in 1946, which members of his family slowly acquired through shares. He bought his shares in 1996.
He said the DPI did not enter into contracts with the DOH since 2005 but instead dealt with local government units like the cities of Manila, Makati, Marikina and Pasig.
DPI officials, led by Duque's sister, Dr. Luz Duque-Hammershaimb, said the company has addressed the issues raised by the FDA, including entering into agreements with other drug companies.
Following recent reported cases of "ghost patients" from PhilHealth, "ghost borrowers" of Pag-IBIG loans and bogus claimants of Social Security System (SSS) benefits, Sen. Manuel Lapid has filed a bill increasing the penalty for fraudulent claims on mandatory employee contributions and benefits.
Lapid said unscrupulous individuals misuse public funds that are supposed to be for the benefit of the poor and marginalized.
Under Senate Bill No. 837, otherwise known as An Act Increasing the Penalty for Fraud Committed in Relation to the Mandatory Employee Contributions and Benefits, the penalty imposable for any member, real estate developer, health care provider or person, who shall cause the filing of a false or fraudulent claim for benefits or entitlements, shall be reclusion temporal or imprisonment for a period of 12 years and one day up to 20 years, to reclusion perpetua or imprisonment for 20 years and one day up to 40 years.
If the false or fraudulent claim is committed by a syndicate consisting of five or more persons, the imposable penalty shall be life imprisonment. Furthermore, under this proposed measure, these violations will become non-bailable offenses.
PhilHealth, meanwhile, said it is leaving it up to the Senate to investigate the presence of mafia at the agency, as disclosed in yesterday's Senate hearing.
"Senate is doing it. We'll wait for the outcome," said PhilHealth president Morales when asked for comment. – With Cecille Suerte Felipe, Sheila Crisostomo