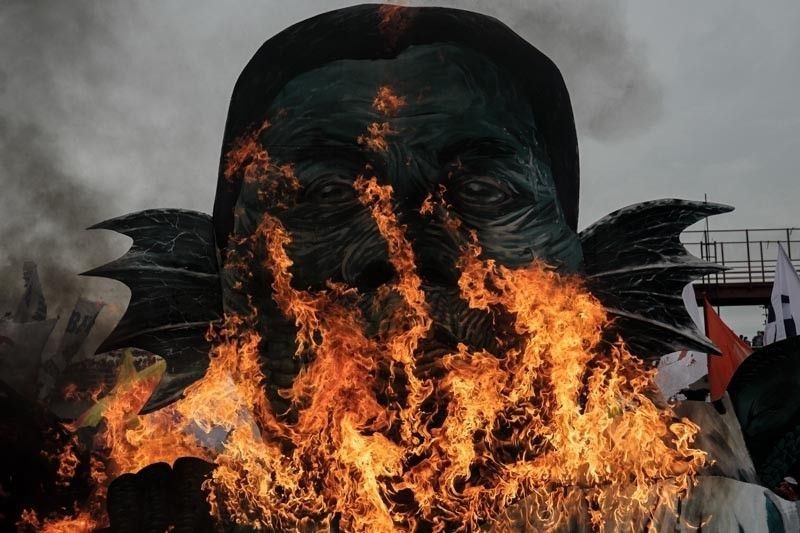 Demonstrators burn an image of President Rodrigo Duterte during the United People's SONA.
Philstar.com/Efigenio Christopher Toledo
CHR warns vs grave implications of gov't crackdown on activists
MANILA, Philippines — Linking activism and expression of dissent to efforts to overthrow the government is a "very limited view" of how democracy works, the Commission of Human Rights stressed as it warned of the grave implications of the crackdown on activists.
"Activism as a means to bring about social change is a crucial facet of a democracy. It can be manifested through demonstrations and protests to contest an issue or advocate for a cause," Jacqueline de Guia, CHR spokesperson, said Wednesday.
She made the statement hours after a Senate panel led by Sen. Ronald dela Rosa conducted a hearing on the alleged recruitment of Filipino youth by leftist groups.
It was also issued days after Interior Secretary Eduardo Año called for the revival of the Cold War-era anti-subversion law, which made it a crime to be a member of the Communist Party of the Philippines. The measure was repealed in 1992.
The commission maintained that mere association to any leftist organization is not a crime.
"And being part of an organization and believing in the principles they espouse is an exercise of the right to freedom of thought, assembly and association and may affect all other rights when curtailed such as the right to free speech, expression and movement, among others," De Guia said.
CHR also reminded the government to instead address legitimate grievances and demonstrate it is working to the best interest of every Filipino.
"We cannot have a government that operates merely on suspicion and disadvantages its citizen for exercising a right that they are entitled to," De Guia said.
She added: "There must always [be] a balance between upholding national security and respecting human rights. Laws are set to protect our rights—not violate them."