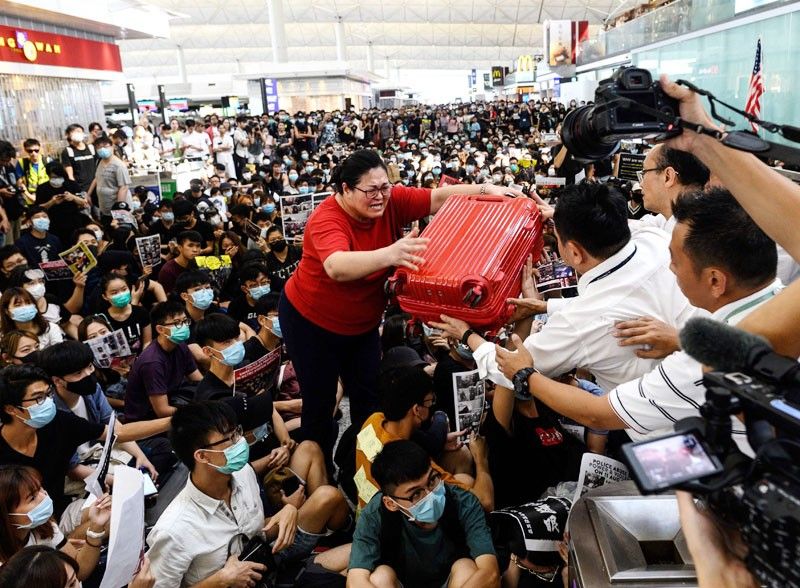 A tourist gives her luggage to security guards as she tries to enter the departure gate during another demonstration by pro-democracy protesters at Hong Kong's international airport yesterday, a day after a sit-in forced authorities to cancel all flights to and from the major international hub.
AFP
Pinoys urged: Avoid HK for now
MANILA, Philippines — While the government does not ban workers' deployment to tension-filled Hong Kong, Malacañang yesterday advised Filipinos to avoid traveling to the Chinese special administrative region.
Presidential spokesman Salvador Panelo said flights to Hong Kong have been canceled as anti-government protesters occupied Hong Kong's international airport.
"The tension is limited to the airport. With respect to going to Hong Kong, this is not the right time to go there because your flight may be cancelled," Panelo said in a press briefing.
"Avoid going there for now, that's the advice. You're not sure whether you're going to reach Hong Kong in the first place," Panelo added.
Hong Kong airport officials cancelled all departing flights on Monday as its operations were seriously disrupted by anti-government protests.
The protesters are opposing a bill that allows the extradition of people accused of committing crimes against mainland China.
The bill has been suspended, but it did not stop the activists from continuing the mass actions.
The protesters are demanding the resignation of Hong Kong chief executive Carrie Lam and an independent probe on alleged police brutality committeed against them.
PAL resumes HK flights
The country's flag carrier Philippine Airlines (PAL) has resumed its flights from Manila to Hong Kong and back.
PAL spokesperson Cielo Villaluna said nine flights have resumed since 5 a.m. yesterday. Villaluna said the resumption of PAL's operations came after protest actions at the Hong Kong airport subsided.
PAL continues to closely monitor the situation as it assured the public of regular updates.
On Monday, PAL cancelled evening flights to and from Hong Kong. A Hong-Kong Manila flight was also cancelled yesterday. Passengers affected by the cancellation were either accomodated in flights scheduled yesterday, or can have their flights rebooked within 30 days from original schedule, or have the cost of their tickets refunded within 30 days from the original flight date.
Rebooking and refund will not be subjected to charges.
Passengers may check the status of their flights by visiting www.philippineairlines.com or by calling PAL hotline (632)855-88-88.
Hong Kong visitors are advised to remain vigilant of their surroundings and avoid areas where protesters may converge and carry out demonstrations.
Meanwhile, Cathay Pacific also cancelled Manila-Hong Kong-Manila flights after airline workers reportedly joined the demonstration. – With Rudy Santos