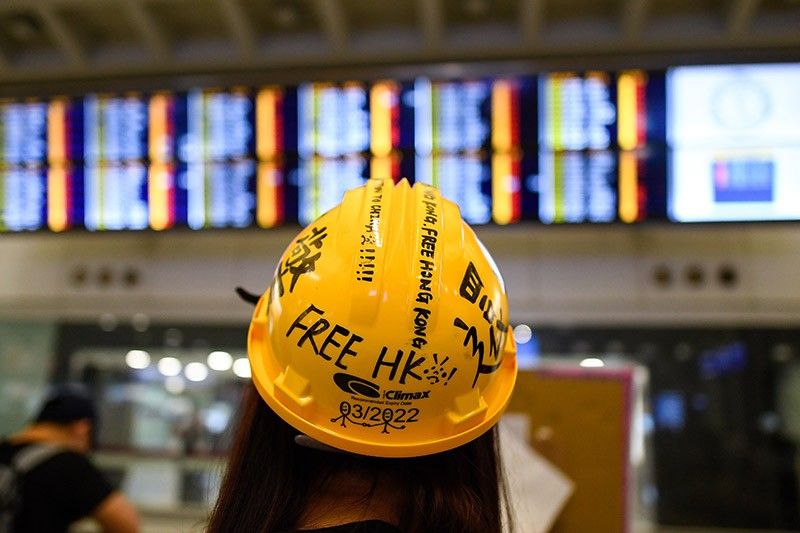 A Pro-Democracy protester looks at the flight information board showing cancelled flights following a protest against police brutality and the controversial extradition bill at Hong Kong's international airport on August 12, 2019. Global stock markets dropped on August 12 as escalating protests in Hong Kong forced the closure of the financial hub's airport, adding geopolitical worries to ongoing trade war tensions.
Manan Vatsyayana/AFP
Palace tells public: Avoid traveling to Hong Kong for now
MANILA, Philippines — While the Philippines is not banning the sending of workers to tension-filled Hong Kong, Malacañang Tuesday advised Filipinos to avoid traveling to the Chinese special administrative region.
Presidential spokesperson Salvador Panelo noted that flights to Hong Kong have been canceled as anti-government protesters occupied the administrative region's international airport.
"The tension is limited to the airport. With respect to going to Hong Kong, this is not the right time to go there because your flight might be canceled," Panelo said in a press briefing.
"Avoid going there, for now, that's the advice. You're not sure whether you're going to reach Hong Kong in the first place," he added.
READ: 'They're being used': Hong Kong protests divide neighborhood
The Hong Kong International Airport canceled all departures last Monday as its operations were seriously disrupted by anti-government protests.
The protesters are opposed to a bill that would have allowed people accused of crimes against mainland China to be extradited.
The bill has been suspended but it did not stop the mass actions by activists who are now demanding the resignation of Hong Kong chief executive Carrie Lam and an independent probe on alleged police brutality against protesters.
READ: Pinoy domestic helpers in Hong Kong 'not affected' by protests — survey