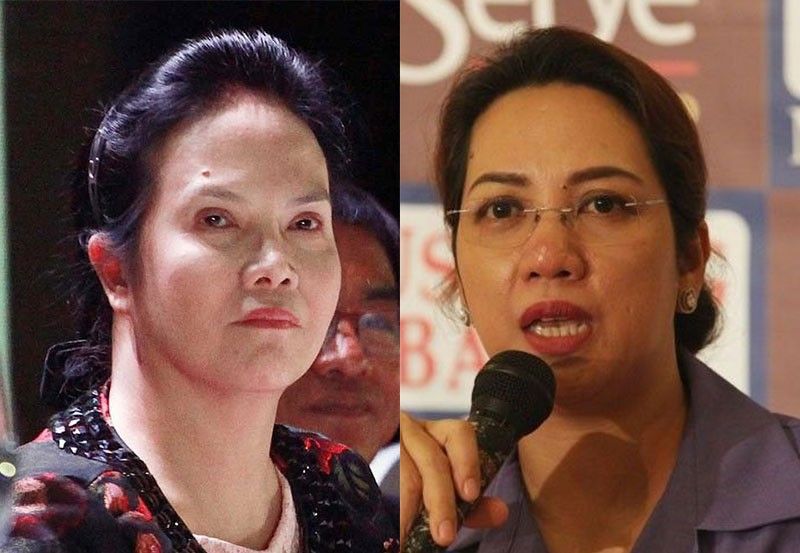 Former Secretary of Health and Iloilo Rep. Janette Garin (right) questioned why Public Attorney's Office chief Persida Rueda-Acosta (left) has been giving public health advise when she is not a medical expert.
File photos
Stop asking PAO chief Acosta about medical matters — ex-DOH chief Garin
(Philstar.com) - August 5, 2019 - 11:41am
MANILA, Philippines — Public Attorney's Office chief Persida Rueda-Acosta can be interviewed on other matters but not when it comes to health issues, Rep. Janette Garin (Iloilo), former Health secretary, said.
The former Health secretary appealed to the government to listen to "real medical experts" following the Dengvaxia vaccine mess.
"By profession alone, she's a lawyer," Garin told CNN Philippines' "The Source", referring to Acosta.
The PAO, under Acosta's leadership, filed hundreds of cases against Garin and other former and current Health officials over the deaths of children allegedly due to the dengue vaccine.
"She's (Acosta) giving out public health advice, she's talking about medical terminologies twisted and uninterpreted... We don't know where all of these are coming from," Garin said.
Garin also noted that Malacañang has been listening to the "right people" as there was never a declaration from the Office of the President that the dengue vaccine is not safe nor it is related to the deaths.
On a personal note, Garin said she does not care if Acosta would keep on threatening her with cases as she could answer the allegations.
Garin also denied that she is advocating the return of the Dengvaxia vaccine to exonerate herself.
"The mere fact that the 21 countries and other countries are using this, it's over," Garin said.
The former DOH chief added that the some of the cases that Acosta filed against her have been dismissed as PAO was unable to produce evidence linking the deaths to the vaccine.
"The burden is now on their side to prove that the alleged deaths were caused by the vaccine," Garin said.
Malacañang, meanwhile, said it will listen to the recommendation of the DOH on calls to bring back Dengvaxia amid the dengue outbreak in the country.
According to presidential spokesperson Salvador Panelo, President Rodrigo Duterte said this proposal would need further study as experts are unsure of the safety of the vaccine.
"But he (Duterte) said he would listen to the recommendation of the Secretary of Health, he would listen to the doctors," Panelo said in a radio interview. — Patricia Lourdes Viray