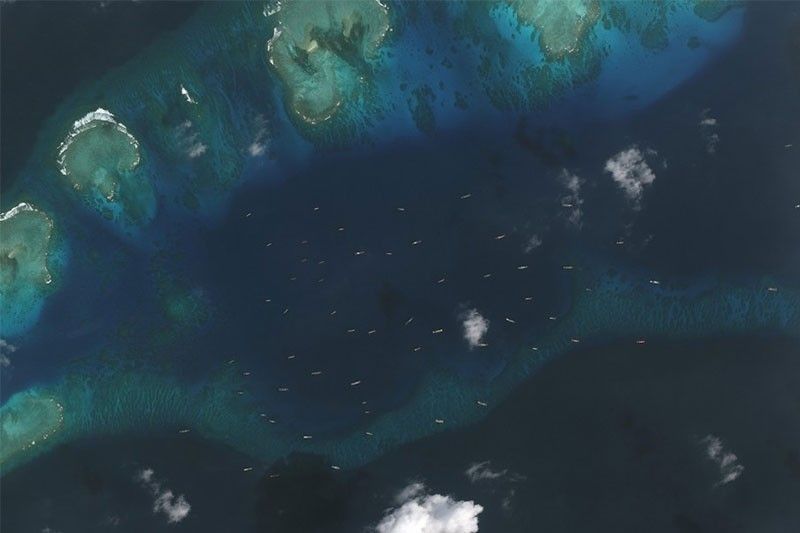 Satellite imagery from Dec. 20, 2018 shows Chinese vessels near Pag-Asa Island in the West Philippine Sea
CSIS/AMTI via DigitalGlobe
Philippines protests 'swarming' of Chinese ships near Pag-asa, warship passage in Tawi-Tawi
MANILA, Philippines — The Philippines' top diplomat confirmed that a diplomatic protest had been filed against China in connection to the hundreds of vessels deployed in the vicinity of Pag-asa Island in the West Philippine Sea.
"Diplomatic protest fired off," Foreign Affairs Secretary Teodoro Locsin Jr. tweeted Wednesday.
Locsin's tweet was in response to National Security Adviser Hermogenes Esperon Jr. who said he had recommended diplomatic action on the matter.
It is not clear if this is a new protest aside from the one filed in April following reports of hundreds of Chinese ships "circling" Pag-asa Island, one of the largest features in the Spratly group.
Diplomatic protest fired off. https://t.co/7KsQqrZJFD

— Teddy Locsin Jr. (@teddyboylocsin) July 31, 2019
In the "Kapihan sa Manila Bay Forum", Esperon bared that Chinese fishing vessels have increased from 61 in February 8 to 113 in July 24.
The Chinese vessels, however, decreased as of July 30, which Esperon attributed to the weather in the area.
"Iisa na lang ang (China) coast guard vessel doon, fishing boat tatlo na lang," Esperon said, noting that the ships might have gone to Subi Reef, one of China's militarized artificial islands which is just over 12 nautical miles from Pag-asa Island.
The national security adviser also noted that there are many possibilities on why the number of Chinese vessels operating in the area have been increasing.
"When we look at the composition fo the vessels that are there we saw seven cargo vessels pero wala namang laman na pang-construct... It could be to prevent you from patrolling in that area or it could be a dry run," he said, adding that the Chinese ships could also be conducting resupply missions.
According to Esperon, the Philippines had also sent a note verbale over the passage of Chinese warships through Sibutu Strait in the waters of Tawi-Tawi.
"That incident happened about two months ago but it has been a subject of diplomatic action," he said.
Defense Secretary Delfin Lorenzana earlier confirmed that Chinese warships have passed four times in Sibutu Strait in four instances.
Taiwanese media reported that Chinese aircraft carrier Liaoning passed through the Sibutu Strait first before entering the West Philippine Sea via the southern Palawan in June.
The Philippine military, however, cannot confirm whether Liaoning passed through Philippine waters as the warship's Automatic Identification System might have been turned off.
Echoing Lorenzana's previous pronouncements, Esperon stressed that military vessels passing through the country's archipelagic sea lanes must seek diplomatic clearance.
"In our customs and traditions and our agreements with other countries we always advise the country — the host country — and ask for diplomatic clearance and if there is diplomatic clearance we even welcome them to dock in our ports," Esperon said.