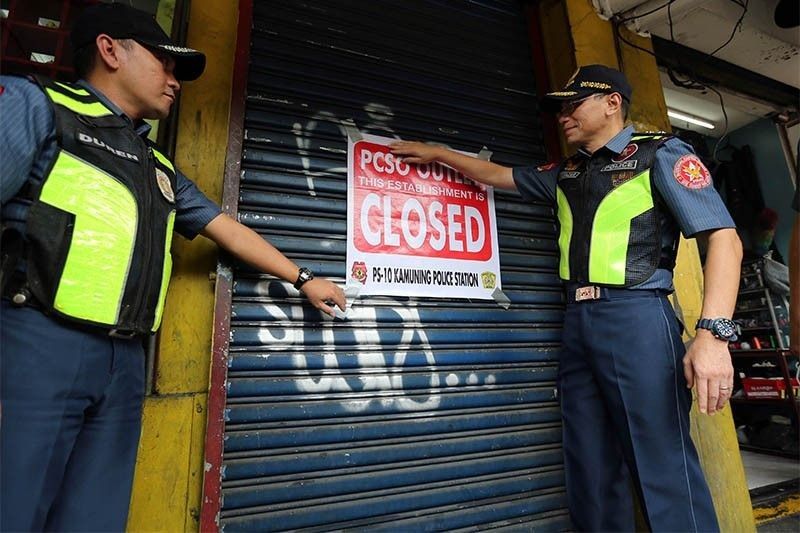 The PNP conducted a vigorous campaign to close down PCSO stations in response to the president's spoken order.
File photo
'Balik Taya': Lotto games resume Wednesday after Palace lifts suspension
(Philstar.com) - July 31, 2019 - 10:50am
MANILA, Philippines — Lotto games will resume Wednesday the Philippine Charity Sweepstakes Office announced the morning after the Office of the President announced Tuesday night that the "suspension" of lotto had been lifted.
In a statement, PCSO announced that the following games will resume:
Lotto 6/42
Mega Lotto 6/45
Super Lotto 6/49
Grand Lotto 6/55
Ultra Lotto 6/58
6 Digit Game
4 Digit Game
Suertres Lotto
EZ2 Lotto
PCSO vice chairperson Royina Garma, who is also general manager, said betting terminals were deactivated at the Main Data Data Center on July 27.
This was done to implement President Rodrigo Duterte's spoken order to shut down all PCSO games over allegations of corruption.
The Philippine National Police also deployed personnel to shutter bet collection stations.
As of Sunday, 23,654 outlets were closed nationwide. Of these, 7,768 are lotto outlets; 13,320 are small-town lottery kiosks; 2,194 are Peryahan ng Bayan outlets; and 472 are Keno shops.
"The resumption of the Lotto draws shall take effect today, July 31, 2019," Garma also said.
PCSO to conduct draws for advanced tickets
"For those who are holding advanced Lotto tickets, please stay tuned for the draw schedule announcements," she said, adding draws that were suspended from July 27-30 "shall proceed and will be conducted at the Official PCSO Draw Court at the PCSO Head Office" in Mandaluyong.
"The PCSO continues its endeavor to fight and eradicate illegal gambling and corruption as the agency thrives (sic) in serving the public, especially those who are in dire need of help," Garma also said.
The lifting of what the government is calling a suspension of lotto was announced by the Palace on Tuesday night, saying "the sanctity of lotto remained untainted and all regulatory rules have been followed."
The rest of all gaming with franchises, licenses or permits granted by the PCSO, such as Small-Town Lottery, Keno and Peryahan ng Bayan, will remain suspended.
Duterte orders 'closure, stoppage' of PCSO games
In a special message to the public, President Rodrigo Duterte announced last Friday "the closure, the stoppage of all gaming schemes of whatever nature, however done, that got their franchises to do so from the PCSO."
He said "everything, all transactions and gaming, wager of bets, becomes illegal" on Saturday, July 27.
"So, it becomes illegal because as of today, all of those permits and concessions and whatever are terminated," he said.
The Palace, the Department of Justice, and the Philippine National Police all said Duterte's spoken order was enough to compel the closure of PCSO-licensed outlets across the country.
Manila Mayor Isko Moreno, noting the president's announcement, ordered the city's licensing office to "withdraw all Business License and Mayor's Permit" for PCSO licensees, agents, and franchisees in the city of Manila. —Jonathan de Santos