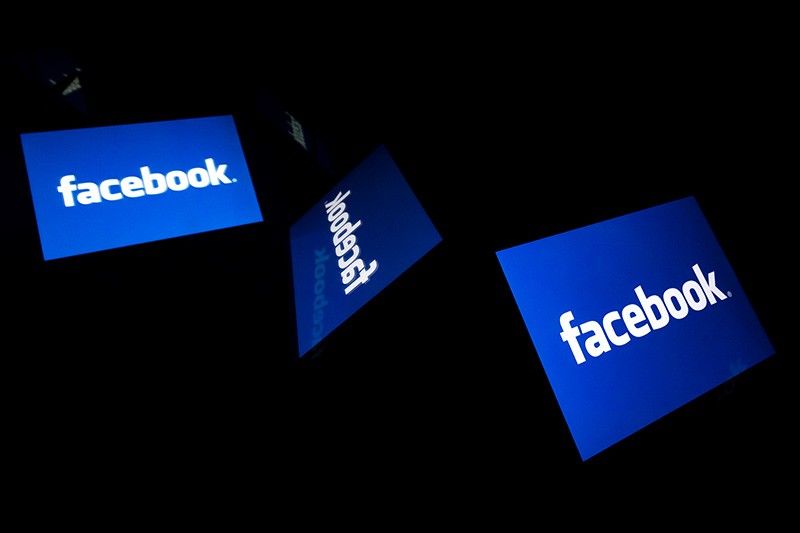 This illustration file picture shows the US social media Facebook logo displayed on a tablet in Paris on Feb. 17, 2019.
AFP/Lionel Bonaventure
HRW hits 'heavy-handed' anti-'fake news' bill
MANILA, Philippines — The proposed legislation on "false content" is sweepingly broad and threatens internet freedom and free exchange of ideas, New York-based watchdog Human Rights Watch said Friday as it urged Philippine lawmakers to reject the proposal.
HRW made the statement as a reaction to the bill filed by Senate President Vicente "Tito" Sotto III, which makes the creation and spread of false information a crime.
"A 'fake news' law would open the door for the government to wantonly clamp down on critical opinions or information not only in the Philippines but around the globe," Linda Lakhdhir, Asia legal adviser at HRW, said, noting the bill should be revised to meet international free expression standards.
Lakhdhir also pointed out that the bill does not clearly define what kind of content is prohibited.
"The proposed 'false content' law poses real risks for activists, journalists, academics and ordinary people expressing their views on the internet. By proposing this heavy-handed regulation, the Philippine government threatens both internet freedom and the free exchange of ideas that lies at the heart of the democratic process," she said.
In 2018, the Senate discussed a bill seeking to penalize government employees who publish or disseminate false news or information. The proposal was criticized because it could lead to censorship and failed to hurdle the upper chamber.
Sen. Grace Poe, then chair of Senate public information and mass media panel, said Congress "cannot legislate thought control."
Sotto's Anti-False Content Act
If Senate Bill 9 becomes a law, the Department of Justice Cybercrime Office will be authorized to direct individuals, owners of online platforms and internet intermediaries to rectify, take down or block access to content deemed to contain false information.
Failure to comply with the department order will lead to imprisonment of at least 12 years and/or a fine of P2 million or both.
The following acts will constitute the offense punishable under the proposed law:
Creating and/or publishing on one's personal online account or website a content knowing or having a reasonable belief that it contains information that is false or what would tend to mislead the public;
Use of a fictitious online account or website in creating and/or publishing a content knowing or having a reasonable belief that it contains information that is false or that would tend to mislead the public;
Offering or providing one's service to create and/or punish a content online knowing or having a reasonable belief that it would be used to deceive the public, regardless whether it is done for profit or not;
Financing an activity which has for its purpose the creation and/or publication of a content online containing information that is false or that would tend to mislead the public;
Non-compliance with any of the counteractive measures, whether deliberate or through negligence.
In explaining his proposal, Sotto said Filipos have "fallen prey to believing most of the click-baits, made up quotes attributed to prominent figures and digitally altered photos."
"This bill seeks to protect the public from the adverse effects of false and deceiving content online," he also said.
Under the International Covenant on Civil and Political Rights, which the Philippines ratified in 1986, governments may only impose restrictions on freedom of speech if those restrictions are provided by law and necessary for the protection of national security, public order, public health or morals, or the rights of others.
Other countries in Southeast Asia are also confronting the spread of false information either through new legislations or campaigns to improve citizens' media literacy.
Cambodia passed a "fake news" law, punishing anyone posting misinformation on social media or websites with up to two years in jails and fine of $1,000.
In May, Singapore's parliament approved a bill that would grant government ministers powers to demand corrections, order removal of content or block websites deemed to be propagating falsehoods.