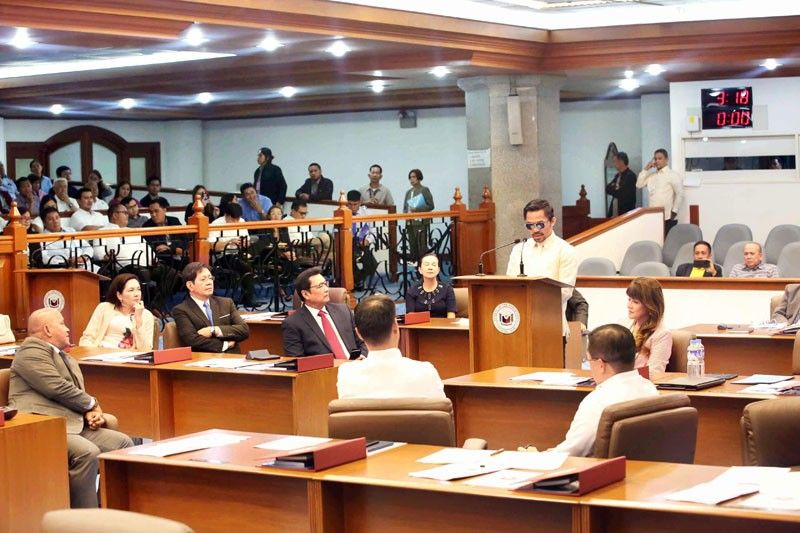 Sen. Manny Pacquiao, fresh from his world title boxing bout in Las Vegas, delivers a speech during the opening of the regular session of the 18th Congress at the Senate in Pasay City yesterday.
Ernie Peñaredondo
Pacman returns from US, commended by Senate
MANILA, Philippines — Sen. Manny Pacquiao quietly returned to Manila aboard a private plane before dawn yesterday after successfully defending his World Boxing Association welterweight title via split decision over American boxer Keith Thurman in Las Vegas, Nevada last Saturday.
Pacquiao arrived aboard Challenger Aero Air at the Ninoy Aquino International Airport (NAIA) General Aviation Hangar around 12:22 a.m. yesterday with his family and some friends, according to an airport source.
The source also said the plane is allegedly owned by San Miguel Corporation.
For defending his title, the Senate adopted a resolution commending Pacquiao for winning the match.
Senate Resolution 20 is a consolidation of various resolutions filed by Senate Majority Leader Juan Miguel Zubiri and Sens. Nancy Binay, Christopher Go, Richard Gordon and Bong Revilla.
In his resolution, Go said Pacquiao has brought "immense pride and joy to Filipinos the world over with his accomplishments as a boxer."
Go said Pacquiao had managed to accomplish what no other boxer in history has – capture 12 world titles in eight separate weight divisions.
"Sen. Manny Pacquiao has, time and again, fought for the pride and welfare of Filipinos in and out of the boxing ring, all the while displaying true grit and bravery, repeatedly taking on the toughest challenges," Go said.
"Outside the area of boxing, Sen. Pacquiao has excellently fulfilled his constitutional duties as a senator of the Republic, faithfully performing his functions as an outstanding public servant," he added.
For his part, Pacquiao thanked his colleagues for the commendation they bestowed on him. He said he could still put up a good fight and entertain his fans by defeating Thurman, who was 10 years his junior.
"The abilities and skills I have are given by God. I believe that ability, skill and responsibility has a purpose and that purpose is to inspire the Filipino people to rise above their limitations and overcome their circumstances," Pacquiao said.
"There are many who say that there won't be another Manny Pacquiao. But I believe that we have many boxers who are just waiting for an opportunity, waiting for our help. It is high time for us to invest in our boxing talents who are loaded with potentials. The so-called diamond in the rough can just be around the corner," he added.
Pacquiao called on his colleagues to support the passage of the creation of the Philippine Boxing and Combat Sports Commission. With the creation of the commission, he said the Philippines could be known as the boxing and combat sports capital of Asia.
"I am ready to work with all of you in overcoming the challenges in the 18th Congress. Together as champions of the Filipino people, we shall emerge victorious and continue our fight for the country," he said.