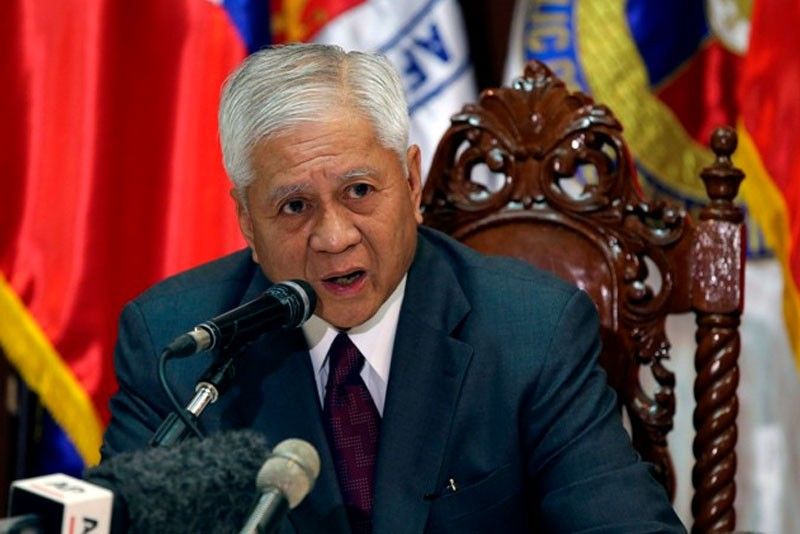 Under RA 8239 and RA 7157, Del Rosario noted that former secretaries of foreign affairs and ambassadors are entitled to diplomatic passports and are "imbued with diplomatic status."
File
Del Rosario: Diplomatic passport privilege granted by law
MANILA, Philippines — The Department of Foreign Affairs' cancelation of all courtesy diplomatic passports for former foreign affairs chiefs and Philippine ambassadors is "unlawful," former DFA secretary Albert del Rosario said yesterday.
Facing "The Chiefs" yesterday on Cignal TV's One News, Del Rosario said that while he would not challenge the cancelation, a DFA department order "cannot prevail" over the Philippine Passport Act or Republic Act 8239.
Under RA 8239 and RA 7157, he noted that former secretaries of foreign affairs and ambassadors are entitled to diplomatic passports and are "imbued with diplomatic status."
Foreign Affairs Secretary Teodoro Locsin Jr., however, denied that the cancelation of courtesy diplomatic passports is unlawful.
"It is not 'unlawful'; it is a courtesy to those who have ceased doing the job requiring blue passports. We don't want to have them out there dishonored by foreign immigration by rejection. Just protecting national honor, sir. We may restore it but insist it be the only passport," Locsin said on Twitter.
Foreign states, according to Locsin, have total rights to reject foreign passport holders unless it is held by working diplomat with a diplomatic passport.
"Since we extend courtesy blue passports (without Geneva protection) to ex-diplomats, it puts all regular blue passports at risk of rejection," he said.
'Justifying cowardice'
Del Rosario was barred from entering Hong Kong on Friday morning due to unspecified "immigration reasons." He was forced to fly back to Manila on the same day.
"The DFA department order, which will cancel the country's passports of former secretaries of foreign affairs and ambassadors, cannot prevail over a passport act which is a law passed by Congress," Del Rosario said.
"Instead of fully investigating what the Philippines should be doing to respond to this disrespect, they are instead distracting the public by canceling the diplomatic passports for those who have been carrying them," he added.
Meanwhile, Vice President Leni Robredo's spokesman yesterday urged Locsin to also cancel his diplomatic passport if he really wants to limit these passports "to real, working diplomats."
"Cancelling courtesy diplomatic passports after China refused to honor ADR's is not promoting professionalism but justifying cowardice," lawyer Barry Gutierrez said in a post on Twitter, referring to Del Rosario.
"Besides if @teddyboylocsin really wanted to limit these passports to 'real, working diplomats' he should start by cancelling his own," Gutierrez said.
Gutierrez made the statement after Locsin attacked Robredo, who slammed the DFA's decision to cancel courtesy diplomatic passports issued to former officials and diplomats.
Robredo's criticism of Locsin's move apparently irked the DFA chief. – With Helen Flores