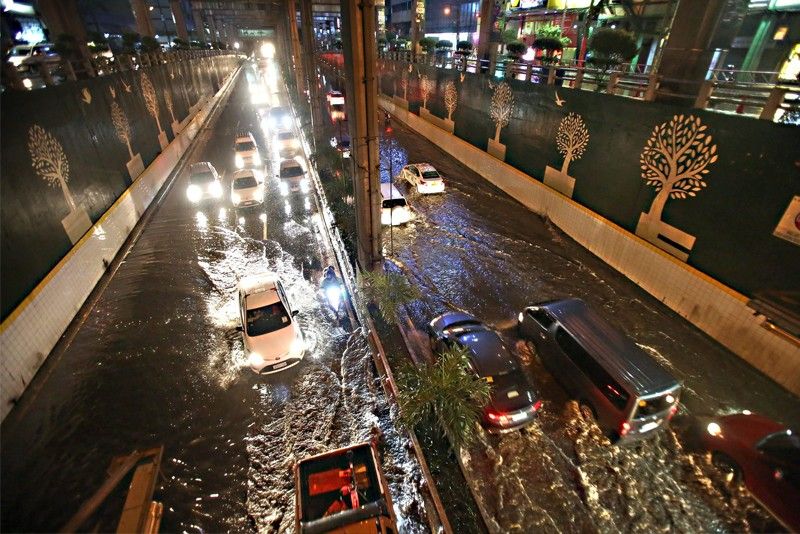 Motorists brave the flooded EDSA-Aurora Boulevard underpass in Quezon City following a heavy downpour Sunday night.
Miguel de Guzman
Trash, dried leaves clog drains on EDSA
Ghio Ong
(The Philippine Star) - June 25, 2019 - 12:00am
MANILA, Philippines — The rise of water level in a nearby river, trash and leaves clogging the road inlets could be blamed for the massive floods in some parts of EDSA following a heavy downpour on Sunday night, an official of the Metropolitan Manila Development Authority (MMDA) said.
The water level in San Juan River was above normal at the time, which hindered the floodwaters from flowing into the drainage system toward the river, according to Edison Nebrija, MMDA's EDSA traffic and discipline zone manager.
"Garbage and leaves from trees mostly at Camp Aguinaldo in Quezon City were carried by the flood into the inlets, blocking the flow of water," Nebrija said yesterday.
These instances could have caused the five-hour flood, snarling traffic along EDSA.
The MMDA reported that parts of EDSA, particularly the P. Tuazon and Aurora Boulevard tunnels, White Plains and Santolan, as well as the C-5 area, were submerged in knee-deep floodwaters at past 11 p.m.
"It was very unusual that the flood took five hours to subside even if the downpour was about to stop," Nebrija said, noting floods in these areas usually recede in an hour.
The agency deployed its enforcers to remove the trash and leaves from the inlets, but they had a hard time completing the job as it was dark and the floodwaters deep.
Nebrija gave assurance the agency's pumping stations are operating and have been upgraded.
Meanwhile, the Department of Public Works and Highways (DPWH) said they have not missed cleaning and clearing the drainage system, but the heavy rains that flooded Metro Manila on Sunday night were excessive.
DPWH-National Capital Region (NCR) director Ador Canlas said the heavy downpour submerged some parts of the metropolis, such as the tunnels along EDSA and Lagusnilad in Manila.
"There are really sections, such as the tunnels, that get flooded because they are the lowest point and so the rainwater would flow into these tunnels," Canlas said.
He said the floodwaters quickly subsided after the rain stopped and the pumps immediately activated to flush the water out of the tunnel.
"The drainage system was cleaned regularly, but it could not accommodate the large volume of water and this created floods. But if you notice, right after the rain the floodwaters receded in a matter of minutes," he added.
Canlas said there had been no report of flooding on España Avenue, one of the flood-prone areas in Metro Manila.
He said the DPWH is working with the MMDA in making sure that water pumping stations are working properly.