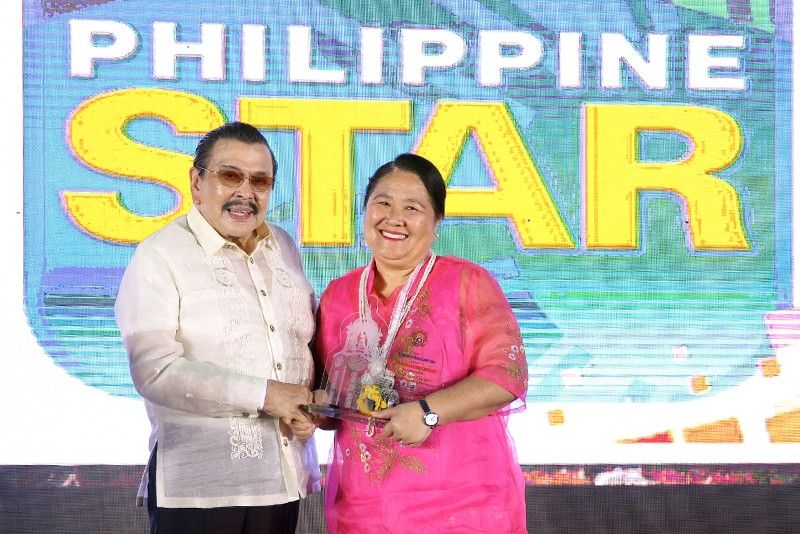 Outgoing Mayor Joseph Estrada hands a trophy to Angelina Isidro, The STAR's finance head, in a ceremony recognizing Manila's top 10 taxpayers at the Manila Hotel Friday night.
Joey Viduya
Erap thanks The STAR as top Manila taxpayer
MANILA, Philippines — Outgoing Manila Mayor Joseph Estrada expressed gratitude last Friday night to the top 10 business taxpayers that included The STAR, for revitalizing Manila during his six years as the city's chief executive.
In his speech during the awarding of top taxpayers and outstanding educators for 2018, Estrada also lauded the business firms for paying the right property and business taxes.
"It is my privilege to congratulate each one of you, as you accept the honor of being named outstanding educators of our great city. Likewise, I extend my greetings and gratitude to our city's top taxpayers who are also with us tonight. You are among the heroes of our city," Estrada said.
Estrada said he was honored to have worked with the top business taxpayers and the top educators of the city.
"You impressed me. Our educators work hard to be good at their jobs and our taxpayers conduct their business with honesty and integrity. Their taxes have funded many of the projects and programs that have?revitalized our city, including those in the educational sector," Estrada said.
Estrada said that while he may not be able to join the businessmen and educators in the awards night next year as he is on his way out as mayor of Manila, he will continue to be the fan of the top business taxpayers and top educators.
"Tonight will be the last time that I will be handing these important awards. I will not be here next year when these awards are again given to the best of the best among you. But I will continue to believe in you. You have all work hard to excel in what you do," Estrada said.
Estrada said that the educators shine the light of learning for the young people and the city's partners in the business community have provided it the means to expand the services to the people of Manila. "There was still so much that needed to be done. But I firmly?believe that what I was able to do, the projects and programs we have accomplished, will give all Manilenyos the benefits they deserve in all?the years to come," Estrada said.
Estrada said elective officials, as public servants, must always do whatever is best and will greatly benefit the greater number of people.
"It has been my great pleasure and privilege to have worked with?you over these past six years and as I address you one last time as mayor of this great city, let?me assure you that my devotion to the people of Manila will remain," Estrada said
Estrada said that on June 30, he will close out his service as mayor of Manila.
He said that in life and in death, he can never repay the poor Filipino masses for making him what he is right now.
Estrada said he took good care of the funds of the Manila city government.
He expressed hope that the new administration will continue the infrastructure projects that he started and those already underway.
Top taxpayers
For six consecutive years, The STAR has been awarded as one of the 10 outstanding taxpayers of Manila.
Estrada awarded the trophy to Angelina Isidro, finance head of The STAR, who represented PhilSTAR Group of companies president Miguel Belmonte during the awarding ceremonies held at the Manila Hotel on Friday evening.
"We are happy. We feel glad that the help we have been extending to the city government by paying the right taxes are being appreciated by the city officials themselves," Isidro said.
The STAR landed in eighth place among the top business taxpayers for 2018 that include the Manila Electric Co. (Meralco), International Container Terminal Services Inc. (ICTSI), SM Prime Holdings, Unilever, Mercury Drug, Asian Terminals Inc. (ATI), Maynilad, Puregold and Golden Arches Development Corp., owner of the McDonald's franchise in the country.
On the other hand, the top 10 real property taxpayers include ATI, Manila North Harbor Port Inc., SM Prime Holdings, Unilever Phils., Bangko Sentral ng Pilipinas, ICTSI, Megaworld Corp., Robinsons Land Corp., Home Guaranty Corp. and Meralco.
The city government also awarded plaque of commendations, medal of excellence and cash incentives amounting to P50,000 each to 15 outstanding educators and outstanding SDO (schools division office) personnel for 2019.
The awardees include Rizaldy Mendoza, Anna Khares Ramirez, outstanding educators for elementary and secondary school, respectively; Jesusa dela Cruz, exemplary chief for human resource management services; Reymunda Soriano, exemplary education program supervisor; Merie Gerlie Capiral, exemplary district supervior; Randy Emen, exemplary principal for elementary; Gene Pangilinan, exemplary principal for secondary (high school); Emmanuel Hernando, exemplary assistant principal; Nina Magalong, exemplary head teacher; Aaron Arizala Tolentino, exemplary unit head; Mary Antonette Bunag, exemplary assistant unit head; Delia Flores, exemplary guidance counselor; Belma Cruz, exemplary administrative officer; Lilian Saavedra, exemplary administrative assistant; and Lea Salonga (namesake of singer/actress), exemplary administrative aide.