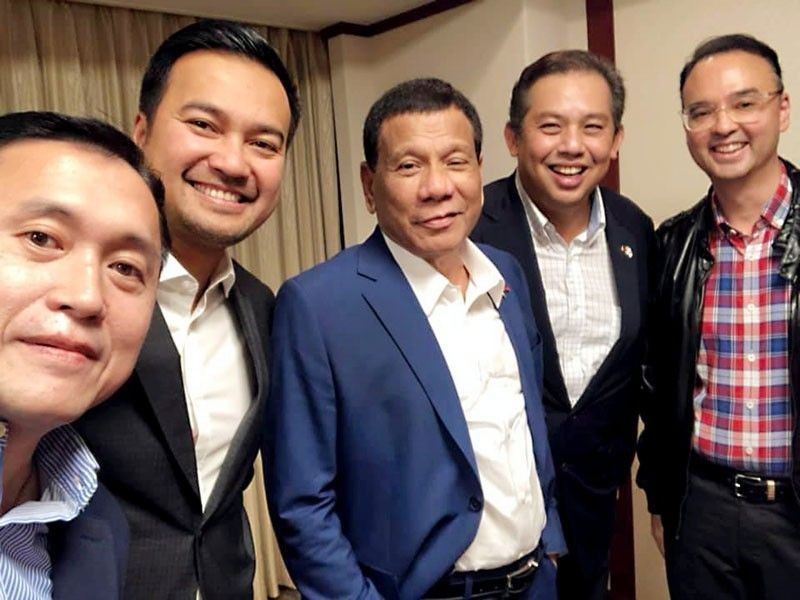 The camp of one hopeful allegedly sent invites for neophyte congressmen to attend a "mass oath taking" at Malacañang tomorrow.
File
Aspiring speaker invites lawmakers to Palace 'oath-taking'
MANILA, Philippines — Speakership contenders have just upped the ante.
The camp of one hopeful allegedly sent invites for neophyte congressmen to attend a "mass oath taking" at Malacañang tomorrow.
Several lawmakers who refused to be named claimed they have received "text messages" from the camp of lone Marinduque Rep. Lord Allan Velasco inviting them to attend the event at 5 p.m. at the Palace's Rizal Hall.
Taguig congressman-elect Alan Peter Cayetano — a rival of Velasco who is also close to President Duterte — nonetheless made the revelation where Velasco apparently wanted to show that he is the official candidate of the Chief Executive for the Speakership post.
But House Majority Leader Fredenil Castro is unimpressed, saying such presidential events should not be used by the candidates who want to take over the helm of the House of Representatives when the 18th Congress convenes on July 22.
"To grab, snatch or hijack the limelight of those who are scheduled to take their oath, including lawmakers and the honor of the President administering the oath for self-serving political purpose is highly immoral, if not highly indecent," the lone Capiz congressman said.
Castro heads the 28-member National Unity Party in the House.
Velasco has not made any official reply yet in the Viber thread of reporters.
In a related development, returning Leyte congressman Martin Romualdez — another Speaker aspirant — said it would be best if the incoming Congress would pass the 2020 national budget on time, unlike this year's stalled spending bill.
"An overwhelming number of congressmen elected in the 18th Congress are supportive of President Duterte and his legislative agenda. Number one on the list of priority bills, of course, is the General Appropriations Bill (GAB) for year 2020," he said.
According to Romualdez, there should be a "cohesive working relationship" between Congress and Duterte's economic managers to ensure that the 2020 national budget will be approved before the year ends.
As an initial step, he said he sought a meeting with Finance Secretary Carlos Dominguez III to find ways on how to tighten the communication line and coordination between the House and the economic managers.
"In consultation with my colleagues in the 18th Congress, all of them agreed to work double time to ensure that the House will approve the General Appropriations Bill before November (this year)," Romualdez added.
This timetable will give the senators more time to scrutinize and deliberate on the proposed national budget, thus providing them with enough leeway to pass the GAB before the end of 2019.
"Our mission in the House: pass the GAB in October and give the Senate until early December to act on it. Then we can both approve the General Appropriations Act before the Christmas break," Romualdez said.