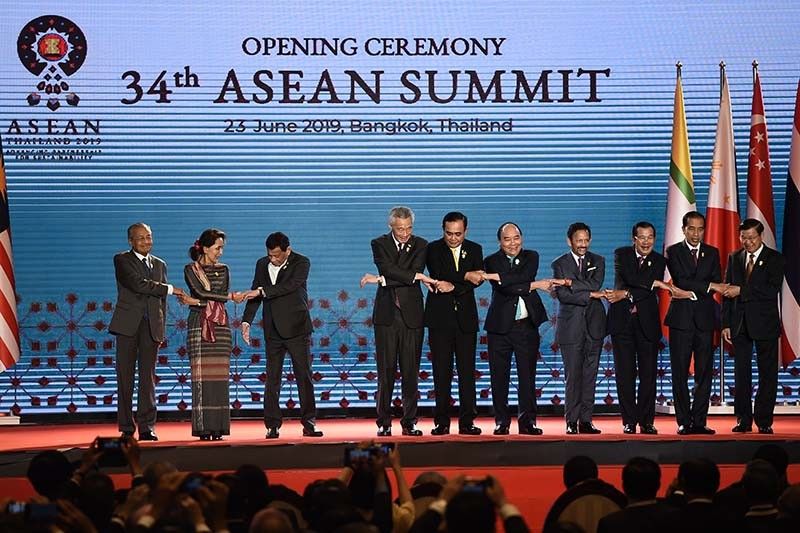 (L-R) Malaysia's Prime Minister Mahathir Mohamad, Myanmar's State Counsellor Aung San Suu Kyi, Philippines' President Rodrigo Duterte, Singapore's Prime Minister Lee Hsien Loong, Thailand's Prime Minister Prayut Chan-O-Cha, Vietnam's Prime Minister Nguyen Xuan Phuc, Brunei's Sultan Hassanal Bolkiah, Cambodia's Prime Minister Hun Sen, Indonesia's President Joko Widodo and Laos Prime Minister Thongloun Sisoulith join hands to pose for photos during the opening ceremony of the 34th Association of Southeast Asian Nations (ASEAN) summit in Bangkok on June 23, 2019.
Lillian SUWANRUMPHA / AFP
ASEAN to seek 'early conclusion' of South China Sea Code of Conduct
(The Philippine Star) - June 21, 2019 - 3:34pm
MANILA, Philippines — Leaders of Association of Southeast Nation member states have agreed to work together to, among other things, keep the region free and secure and to settle disputes peacefully and in accordance with international law.
The countries also agreed to work towards an effective implementation of the 2002 Declaration on the Conduct of Parties in the South China Sea and the finalization of a code of conduct in the sea, where the Philippines, Malaysia, Indonesia, Vietnam and Brunei have claims. China and Taiwan also have claims in the South China Sea.
In the ASEAN Leaders' Vision Statement on Partnership for Sustainability posted on the association's website and dated June 23, the leaders said they have agreed to maintain "as an area of peace, freedom and security, where differences and disputes are resolved by peaceful means."
RELATED: War is not the answer: How other claimants handled maritime incidents
They also said that ASEAN states are to remain free of nuclear weapons and weapons of mass destruction.
They also said that they will maintain ASEAN's policy of non-interference in the internal affairs of its member states, adding the region should remain an area "where maritime cooperation is enhanced in accordance with internationally-accepted treaties and principles, including the 1982 United Nations Convention on the Law of the Sea."
The leaders also said that they reaffirm the "importance of maintaining and promoting peace, security, stability, safety and freedom of navigation in and overflight above the South China Sea."
READ: Philippines has 'opening' to raise Recto Bank collision at ASEAN summit
The ASEAN agreed in 2012 on a Declaration on the Conduct of Parties in the South China Sea, which includes exercising self-restraint in activities that may heighten tensions over maritime disputes in the area.
ASEAN leaders said they will work towards full implementation of the DOC "and pursue the peaceful resolution of disputes in accordance with international law, including the 1982 UNCLOS, while enhancing mutual trust and confidence."
They also said they would work towards "the early conclusion of an effective Code of Conduct in the South China Sea," a document that is seen as more binding than the DOC.
The statement comes in the same month as an allision involving a Chinese vessel and a Filipino fishing boat near the Recto Bank in the West Philippine Sea. Manila and Beijing favor a joint investigation into the incident, which both sides have referred to as a simple maritime incident.
President Rodrigo Duterte, who promised last week to question China's sweeping claim over most of the South China Sea, played down the incident, saying the Philippines cannot risk nuclear war over an incident between two boats.