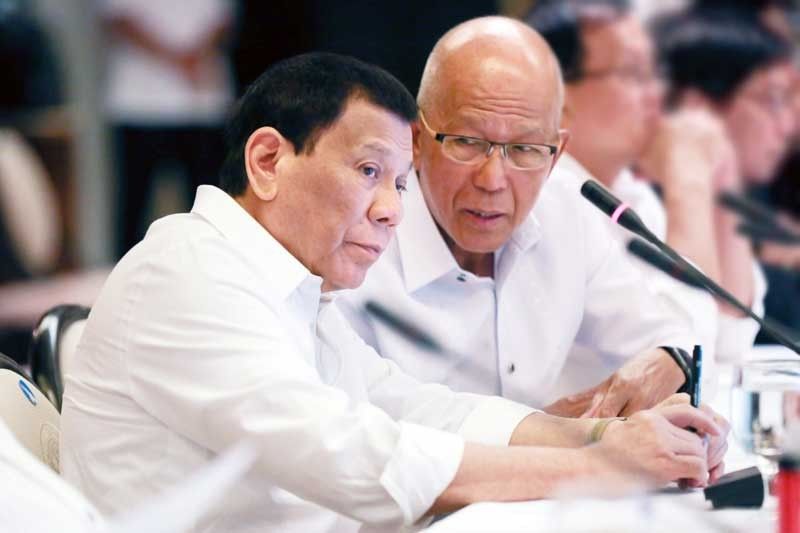 President Duterte listens to Defense Secretary Delfin Lorenzana during the joint AFPPNP command conference at Malacañang the other day.
Duterte is pro-Filipino, not pro-China – Lorenzana
MANILA, Philippines — Defense Secretary Delfin Lorenzana yesterday insisted that President Duterte is pro-Filipino and denied the claim of critics that the Chief Executive is defending China over the recent sinking of a Filipino fishing boat in the West Philippine Sea.
"No, that is not correct. The President is pro-Filipino. That is a very wrong impression," Lorenzana said yesterday amid criticism of Duterte's supposedly lame response to the incident where a Chinese vessel hit a Filipino fishing boat and abandoned its crew last June 9 near Recto Bank, one of the areas in the disputed sea.
"What outrage are they talking about?" he told reporters during the weekly news forum Kapihan sa Manila Bay when pressed on how the current administration is being viewed as too friendly with China.
"Anong gusto nila, sabi nga ni Presidente (what do they want, as the President said), go to war na immediately, declare war because of this? This is just dalawang (two) fishing boats na nagbanggaan eh (that collided)," Lorenzana said.
He stressed that Duterte was initially silent on the boat collision until he issued a statement during the Philippine Navy's anniversary event last Tuesday evening in Sangley Point, Cavite, because he did not have enough information yet about the incident.
The fishing boat incident, based on information so far gathered, appears to be an accident, Lorenzana said.
Lorenzana said comparing the fishing boat issue to the garbage shipped from Canada is unfair because other people, including himself, were outraged since the garbage was brought to the country in 2013 and had not been returned to Canada for six years already.
"Ano tingin nila sa atin basurahan? So kung hindi nagngangawa si (do they look at us as a garbage dump and if there was no protest from the) President ng ganoon kukunin ba nila yung basura nila (like that will they take back their garbage)? No. But this one, wala pa siyang (he has no) complete information. That's why he was very silent muna, until he spoke during the anniversary ng Navy," he said.
When asked about how the government was also accused of being pro-United States, he said, "I am not pro-US or pro-China, I am pro Filipino."
But even if the fishing boat incident was an accident, Lorenzana agrees that there should still be an apology from the Chinese fishermen and damages should be paid.
"I think that would be appropriate demand to the ship captain, to apologize and make restitution for the damage," he said, adding that more so if the investigation later proves that the ramming was intentional.
Lorenzana stressed that although there was only one in a million chance to hit a ship, it was also dark at the time.
"I don't know why, what happened kung bakit siya nabangga (why there was a collision)," he said, after pointing out earlier that the Filipino fishing boat's cook, who was the only one awake when the Chinese vessel was approaching, said, "Parang aksidente lang naman sir (seems like an accident)."
On claims that he himself has softened his statements, he said his condemnation of the Chinese vessel's captain stands as the government now awaits the official version of the Chinese that are also conducting a probe.
"I did not condemn China, I condemned the captain for abandoning the crew who could have died because of exposure," he said.
Lorenzana shared that based on information gathered so far, Filipinos fishing in the area where the incident took place are familiar with and could distinguish Chinese, Vietnamese and other boats.
And based on the look of the foreign vessel that had a boom where a net is placed, the fishing vessel comes from Hong Kong and "they are presumed fishermen talaga, fishermen talaga sila" and not militia men as some insinuate.
Lorenzana appealed to the public not to inflame emotions and wait for the results of the probe as the Philippines, China and even Vietnam can "work together so that we can get to the bottom of this."
Presidential spokesman Salvador Panelo assured the 22 fishermen who figured in the incident that they would get justice. ?"We will not allow absence of responsibility on the part of the wrongdoers. And in fact, even the Chinese government said so itself that they won't allow that. In fact, they said, abandonment is an irresponsible behavior," he added.
Panelo also disputed notions that President Duterte, who previously called the sinking of the Filipino boat a "little maritime accident," is changing the version of the story because he does not want to offend China. ?"Not offending actually. He was very clear when he said, 'I will not issue a policy statement on this because the facts are not yet in.' They (China) have the right to be heard also," the spokesman said. ?"Apart from being a lawyer, he (Duterte) is a very responsible leader; he does not want to... make this incident an international crisis," he added.
Panelo also denied that Duterte has prejudged the incident.
"That is an initial look at the circumstance given the version of the cook. At the same time, they (China) also have an initial reaction. - With Alexis Romero, Michelle Zoleta