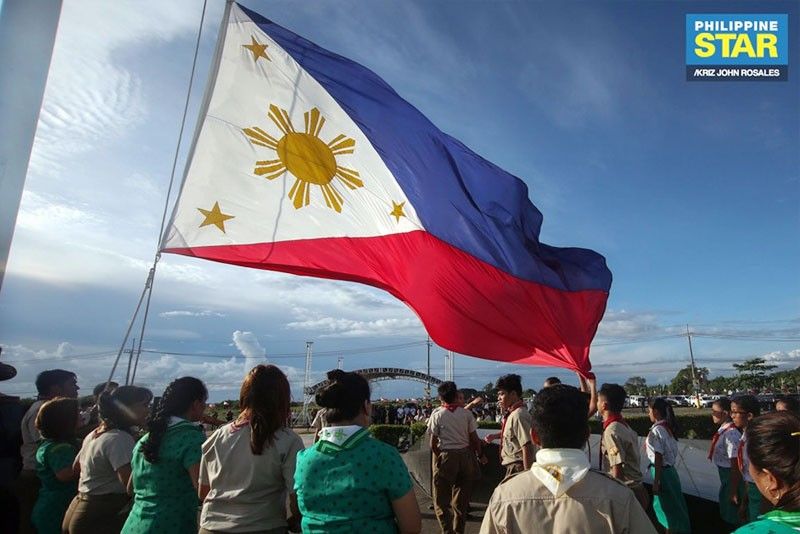 "There must be some special reason, and I'm sure he will say that in his speech," presidential spokesman Salvador Panelo said yesterday at a regular press briefing.
'Independence Day rites in Lanao? Duterte has his reasons'
MANILA, Philippines — President Duterte is spending the 121st Independence Day celebration in Lanao del Sur, and is expected to fly to Lanao today.
Last year, Duterte was heckled during the Independence Day rites in Kawit, Cavite.
"There must be some special reason, and I'm sure he will say that in his speech," presidential spokesman Salvador Panelo said yesterday at a regular press briefing.
Duterte has been going around military camps since he assumed office in 2016.
He is more likely to talk about the sacrifices of Filipino soldiers in protecting the country from communism and terrorism during his visit at the military camp today.
Last year, a small group of anti-Duterte supporters managed to slip into the crowd during the ceremony at the balcony of the house of Emilio Aguinaldo in Kawit.
The protesters called Duterte a "traitor" and June 12 as a commemoration of "fake freedom." The group also called for Duterte's ouster.
The President shrugged off the protest, asking his aides to let the hecklers express their grievences as they were merely practicing their freedom of speech.
In his speech last year, Duterte noted that the Constitution guarantees freedom of the press, freedom of assembly and free expression. He also advised law enforcers then to just exercise maximum tolerance in dealing with the matter.
As the entire nation celebrates the country's 121st Independence Day today, Defense Secretary Delfin Lorenzana and the Armed Forces of the Philippines (AFP) called on every Filipino to be active protectors and defenders of the country's hard-won freedom.
Lorenzana said that Filipinos, being a proud patriotic race with a burning sense of duty, must continue standing as one in order to protect the country against threats and foes.
"In the spirit of nationalism, I call on every Filipino to safeguard the freedom that our ancestors fought for; the very freedom we have sworn to protect. Let us rally behind our government to end local communist armed conflict to eradicate the flaw of foreign ideology that has inflicted division in our motherland for decades," Lorenzana said.
He also urged Filipinos not to forget the valiant sacrifices of the defenders and veterans who fought and protected the nation.
Lorenzana was supposed to lead an Independence Day celebration in Manila today but at the very last minute had to cancel the event as he will be joining the country's freedom day celebration in Mindanao with President Duterte.
"We pay tribute to our soldiers, sailors, Marines, airmen, airwomen, reservists and civilian volunteers who relentlessly guard our seas, lands and air, and who tirelessly keep our communities safe," he said.
AFP chief Gen. Benjamin Madrigal Jr., for his part, also enjoined the Filipino people to treasure the country's independence and use their freedom to develop themselves as productive members of society.
Jobs available
Almost 70,000 jobs in the country and overseas would be offered in various job fairs to be held by the Department of Labor and Employment (DOLE) at 11 sites nationwide today, in celebration of Independence Day.
Labor Secretary Silvestre Bello III has advised jobseekers to visit any of the job and business fair venues "as numerous employers" will gather there to look for prospective employees.
He said a total of 68,893 local and overseas jobs will be offered by 560 participating employers, including 461 local and 99 overseas.
A majority of local jobs available are for the positions of production machine operator, production worker/factory worker, customer service representative, call center agent, sewer, sales clerk, cashier, delivery crew, service crew and marketing officer.
For overseas employment, the top vacancies are for cleaners, professional nurses (general), waiters/waitresses, service crew, company drivers, registered midwife, staff nurse, English teachers (Japan), janitress, barista, technicians (general) and nursing aides.
Bello added that interested applicants will have to be ready with their documents like resumé or curriculum vitae; 2x2 ID pictures; certificate of employment for those formerly employed; diploma and/or transcript of records; and authenticated birth certificate.
Even with classes suspended on Independence Day, the Department of Education (DepEd) urged teachers and students to participate in the various activities that will be held nationwide today.
Education Secretary Leonor Briones, in a memorandum issued last month, requested local education officials to provide support for the simultaneous flag-raising and wreath-laying activities in different historical sites across the country.
Briones also directed public school officials to conduct simultaneous flag-raising activities in schools, to be attended by teachers and local DepEd and school officials.
Teachers who will take part in activities shall receive appropriate service credits, according to the memorandum.
After President Duterte blamed the Catholic Church for the country's subjugation, an official of the Catholic Bishops' Conference of the Philippines (CBCP) yesterday pointed out the contribution of three priests in fighting for independence during Spanish rule.
Filipino Catholic priests Mariano Gomez, Jose Burgos and Jacinto Zamora (collectively known as GOMBURZA) were accused of leading an uprising and were charged with treason and sedition. They were executed by the Spanish colonial authorities on Feb. 17, 1872.
CBCP-Public Affairs Committee (PAC) executive secretary Fr. Jerome Secillano said, "The greatness of our heroes who fought for our independence should always be hailed and commemorated." – Janvic Mateo, Sheila Crisostomo, Evelyn Macairan, Jaime Laude