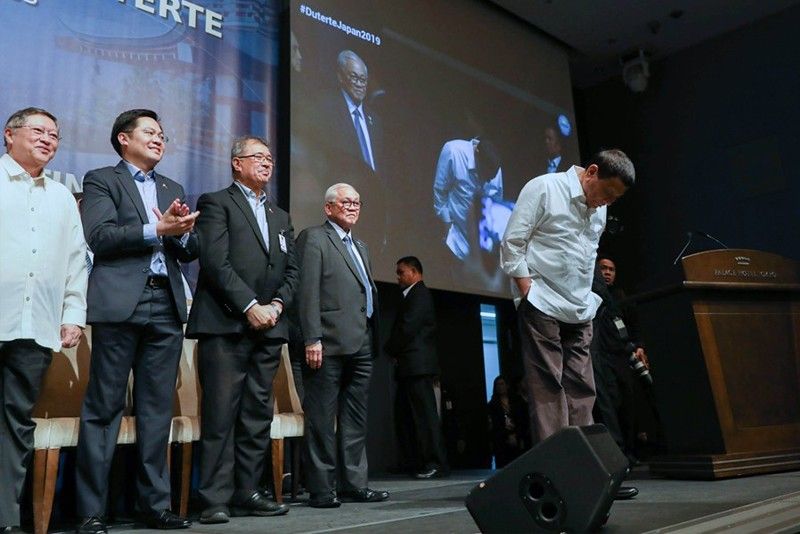 President Duterte flew to Japan on Tuesday to attend Nikkei's 25th International Conference on The Future of Asia.
File
Philippines sees over $10-million exports to Japan
MANILA, Philippines — The Philippines sees over $10 million worth of potential sales from the export of goods and services to Japan as well as more partnerships between Philippine and Japanese firms following the conduct of an investment forum and business matching event during President Duterte's visit to Tokyo.
Duterte flew to Japan on Tuesday to attend Nikkei's 25th International Conference on The Future of Asia.
In a statement yesterday, the Department of Trade and Industry (DTI) said the Philippine government organized a forum and business matching event in Japan last Thursday to present investment opportunities and reforms being undertaken to improve ease in doing business, develop infrastructure and open up more sectors for foreign equity participation in the country.
Japanese companies present during the event were Toshiba, Mizuho Bank, Mitsukoshi, Toyota Tusho, Sojitz and Kagima, while the Philippine business delegation included the Philippine Chamber of Commerce and Industry, Philippine Franchise Association, Toyota Motor Philippines Corp., EEI Corp., DMCI Holdings Inc., Eastern Petroleum Corp., First Asia Venture Capital Inc., EMS Components Assembly, Manila Electric Co., Vista Land & Lifescapes Inc. and Magsaysay People Resources Corp.
During the event, close to 150 Japanese companies engaged in manufacturing, automobile, medical, information technology and construction were linked to 43 Filipino companies for possible partnerships and joint ventures.
There were also 120 business matching sessions between Filipino and Japanese firms that took place.
"We are very keen on engaging with Japan, especially on the aspect of manufacturing and innovation, and how we can work together to strengthen not only manufacturing but also other industries, as well as several sub-sectors under services. We want to identify business opportunities in Japan and the Philippines in areas of mutual interest," DTI Secretary Ramon Lopez said.
According to Lopez, Japanese firms are interested in opportunities in the Philippines given the country's stable macroeconomic fundamentals, as well as the young educated English-speaking workforce.
With the Philippines' young population and growing consumer base, the country is seen as a good market for products and services, Lopez said.
The Philippines also offers advantages as a location for production facilities through its preferential trade arrangements with the United States and European Union, which both allow duty-free entry of certain goods, Lopez added.
Earlier this week, Philippine and Japanese firms sealed 26 business agreements valued at P288.8 billion on the sidelines of Duterte's trip to Japan.
The signed business deals are expected to create 82,737 jobs for Filipinos.