Comelec records highest overseas voter turnout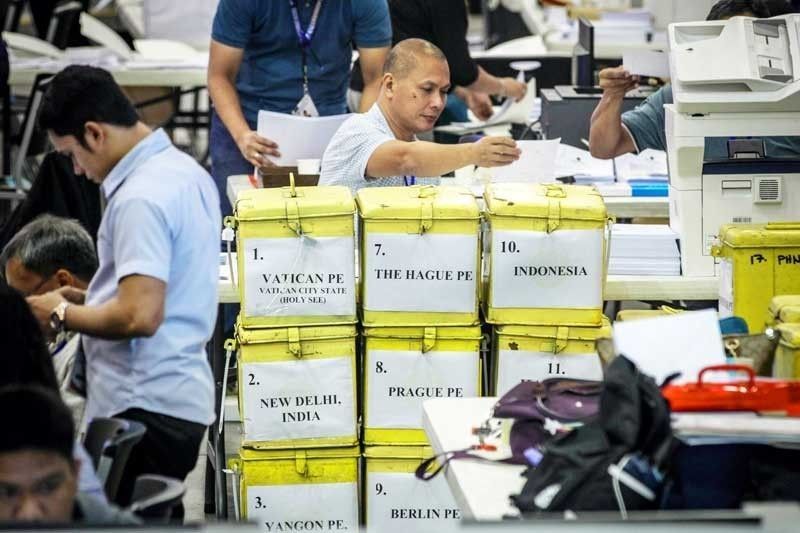 MANILA, Philippines — The Commission on Elections (Comelec) reported a record high voter turnout in the midterm elections overseas, with a total of 334,242 who actually voted.
Filipinos in Hong Kong recorded the highest voter turnout in the overseas absentee voting (OAV) for the midterm elections.
The Comelec Office for Overseas Voting reported that Hong Kong had a total of 36,009 Filipinos who actually voted.
After Hong Kong, Dubai posted the second highest voter turnout with 28,487 followed by Singapore with 25,110 and Abu Dhabi with 15,806.
Kuwait landed fifth with a total of 15,558 followed by Riyadh with 14,616 and Jeddah with 11,484.
Tokyo posted a total of 10,744 Filipinos participating in the OAV, followed by San Francisco with 9,630 and New York with 9,045.
But based on regional breakdown, Middle East had the biggest number of Filipinos turning out for the polls.
75% of ERs
The Parish Pastoral Council for Responsible Voting (PPCRV) yesterday received 75 percent of the total number of election returns (ERs), which were printed by the vote counting machines (VCMs) during the midterm polls.
PPCRV said as of 1 p.m., their command center had received 64,357 of the total 85,769 ERs, the latest of which came from Olongapo, Southern Leyte and Pangasinan.
Even after the Comelec had proclaimed the winners in the polls and the transparency server stopped sending data, PPCRV said they would continue matching the numbers from the ERs with those electronically transmitted from the Comelec's transparency server to determine if there was dagdag-bawas (vote padding and vote shaving) last May 13.
PPCRV aims to finish the validation of ERs by the end of the month. – With Evelyn Macairan