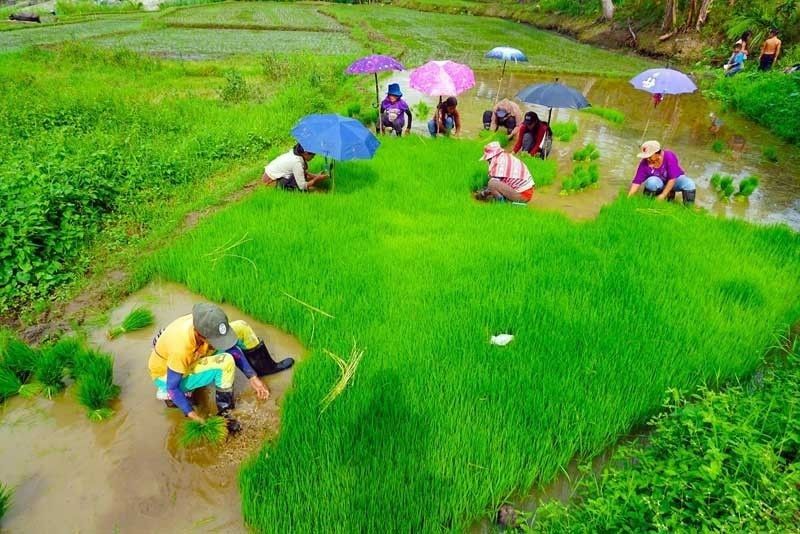 Republic Act 11310, an act institutionalizing 4Ps, was signed by President Duterte last April 17.
Andy G. Zapata Jr./File
Farmers, fisherfolk now included in Pantawid Pamilyang Pilipino Program
MANILA, Philippines — Farmers and fisherfolk are now covered by the Pantawid Pamilyang Pilipino Program (4Ps), although the Department of Social Welfare and Development (DSWD) still has to make sure its implementing rules and regulations (IRR) would address challenges in carrying out the program that costs P88 billion for this year alone, Senate President Pro Tempore Ralph Recto said yesterday.
Recto, the first in the chamber to file a bill giving the program a charter in 2013, said the measure includes provisions that "shield it from epal politics, prioritize farmers and fishermen, reward work equity, and link it to livelihood programs."
When he pushed for the amendment that will automatically include farmers and fishermen in 4Ps enrollment, he argued that most of the 23.7 million poor are in these sectors.
"The poverty incidence among farmers is 34.3 percent, while it is 34 percent for fishermen. These are higher than the latest poverty incidence figure of 21.6 percent. If they will be hit by the Rice Tariffication (Law) and climate change, it's only right that they be prioritized in social protection," he pointed out.
Among the substantive amendments he introduced were the automatic inclusion of families who live in areas without electricity; lifting of limit on the number of children to qualify for cash grants; continuous impact assessment of the 4Ps program to be conducted by Philippine Institute of Development Studies, including verification of the list of beneficiaries and its recommendation every six years on whether to adjust the amount of cash grants based on inflation.
It also lets the DSWD and other government agencies to prioritize 4Ps families in their livelihood programs; safeguard against "local epal politics" by limiting the advisory councils at the regional and national level; and streamlining membership to advisory councils to include only the government agencies with different programs related to training, employment facilitation, microenterprise development and technology for those seeking jobs.
Republic Act 11310, an act institutionalizing 4Ps, was signed by President Duterte last April 17.
Recto reminded the DSWD to "craft a responsive and relevant" IRR to address the challenges in implementing the law as he pointed out that the government has spent P564 billion, or more than half a trillion pesos, for 4Ps from 2007-2019.
Of the amount, P91.2 billion were in foreign loans that will only be fully paid in 2040, he added.
He said the law gathers the best practices and lessons learned from the past 10 years that the conditional cash transfer, officially called 4Ps, has been implemented.
The IRR should reflect the real intention of the law, which is to institutionalize 4Ps to help the real poor, to ensure the sustainability of the program and avoid wasteful spending, Recto stressed.
Reelected Makati City Rep. Luis Campos believes that 4Ps will no longer be subjected to the whims and caprices of sitting presidents, especially now that the pro-poor policy has been signed into law by President Duterte.
"With the law institutionalizing the 4Ps in place, the human capital development and anti-poverty program is now insulated from executive whim and assured of sustained funding," he said.
According to him, "future Philippine presidents can no longer abandon the conditional cash dole-outs for poor families" under the 4Ps Law, which has now taken effect after it was published in the Official Gazette on May 22.
"Had Congress not passed this new law, any future president could easily suspend, defer or even discard the program altogether for any reason whatsoever, including possible lack of funding," Campos said.
Congress has set aside a total of P89.8 billion this year for the 4Ps.
Marikina Rep. Miro Quimbo, one of the authors of RA 11310, lauded Duterte for signing the bill into law.
"We have been fighting for this since the 16th Congress and I am thankful that it has finally been signed into law. With this we are providing support and hope to millions of Filipinos in their struggle to escape poverty," he said.
He also explained that while critics view such program as a dole-out to the impoverished, there have been "multiple studies which have found that the program has had a positive health and education impact program on the children of beneficiaries."
Quimbo acknowledged nonetheless that a "few bad eggs" may have "abused and politicized the system."
"The solution, however, is not to scrap the program and deprive ourselves of one of our most potent tools in the fight against intergenerational poverty, rather it is to strengthen the safeguards of the program and be vigilant in its implementation," he said.
Outgoing Rep. Tom Villarin of party-list Akbayan, for his part, lauded Malacañang for it.
"We can make poverty history with the passage of the 4Ps Law. It's an investment for our poor Filipino families. We will expect their lives to be better now that the program is strengthened and safeguards in place," he said.
"It addresses the inter-generational nature of poverty. The 4Ps is a compassionate and effective social justice measure to lift families out of poverty through targeting," the member of the so-called "Magnificent 7" added.
"Institutionalizing it will strengthen measures against leakage and expand programs for families. The 4Ps has lifted 1.5 million Filipinos out of poverty already, according to a World Bank study," Villarin said.
Aside from WB, he also disclosed that other institutions like the Philippine Institute of Development Studies also deemed the 4Ps program effective.
"Imagine the millions more the government can help now that the 4Ps is strengthened from a mere program to a law. The new law means putting more children in school, more Filipinos able to work and healthier families. It breaks the vicious cycle of poverty," he said. – With Delon Porcalla