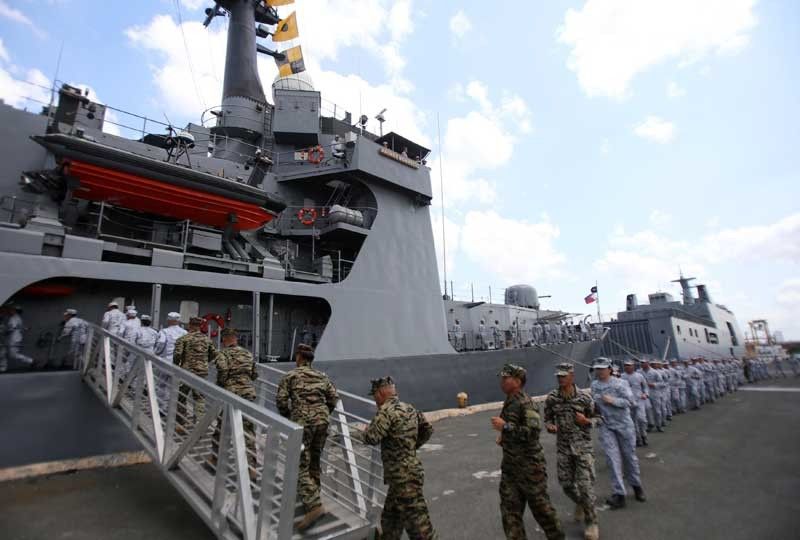 The three MPACs will be similar to the three locally made fighting craft fitted with the Israeli-made Rafael Advanced Defense Ltd. Spike-ER surface-to-surface missile system that are now operational.
Edd Gumban
Navy to get 3 missile-firing boats
Jaime Laude
(The Philippine Star) - May 25, 2019 - 12:00am
BUSAN — The Philippine Navy is acquiring three more missile-firing multi-purpose attack craft (MPAC) this year in line with its ongoing capability upgrade program.
The three MPACs will be similar to the three locally made fighting craft fitted with the Israeli-made Rafael Advanced Defense Ltd. Spike-ER surface-to-surface missile system that are now operational.
"We are acquiring an additional three missile-capable MPACs. They are expected to be delivered this year. They will also be armed with the Spike-ER missiles," Navy chief Vice Admiral Robert Empedrad said following the launching of the Navy's first-ever brand new corvette BRP Jose Rizal at the Hyundai Heavy Industries (HHI) shipbuilding facility in Ulsan, South Korea the other day.
Empedrad said the builders of the MPACs are the same as of the previous Mark II and III that underwent actual test on its missile capabilities last year in Manila Bay.
The Navy's three Mark IIIs MPACs were constructed by the Subic-based Propmech Corp. and activated on May 22, 2017.
These boats could reach a speed of 45 knots and are also armed with remotely controlled .50 caliber machine guns aside from the Spike-ER missiles that could acquire distant targets.
On top of this, the Navy is also looking forward to the delivery of the remaining four units of South Korean-made Amphibious Assault Vehicles to complete its order of eight AVVs under a P2.42 billion ($45.5 million) contract with a South Korean defense contractor.
The South Korean Marines are using the same AVVS in their operations.
The Philippine Navy also plans to acquire two other brand new corvettes to complement the recently decommissioned Pohang Class warship that was donated by the government of South Korea to the Philippines.
Empedrad bared this big ticket procurement following his visit to the BRP Conrado Yap, the former Republic of Korea Navy Chungju corvette that served from 1987 until her decommissioning from the service in 2016 and later transfer to the Philippine Navy.
"Our corvette project has been approved by the President and we are just waiting for funding to bankroll the acquisition," Empedrad said following his visit here.
Asked if the Navy is again eyeing HHI as the builder of the two new corvettes, he said acquisition of these warships will entirely depend on who wins in the bidding process.
He hinted though that HHI, one of the top builders of military and civilian vessels across the globe, is qualified for the corvette project, being the contractor of the two brand new missile firing frigates BRP Jose Rizal that was launched the other day and BRP Antonio Luna whose keel laying was done also Thursday inside the HHI shipbuilding facility in Ulsan.
The BRP Conrado Yap that was named in honor of the late Korean War veteran and Medal of Valor awardee, is expected to be in service in July this year.
Captain Yap, a captain in the Philippine Army, was one of the most decorated Filipino soldiers during the Korean War.
He posthumously received a Philippine Medal of Valor, the country's highest military honor, as well as a US Distinguished Service Cross for gallantry in action as part of the Tank Company, 10th Battalion Combat Team of the Philippine Army.
"Its sailing crew departed last April 2019 and now undergoing necessary operational and warfare training for 13 weeks being facilitated by Reserve Ship Maintenance Squadron (RSMS) in Jinhae, Gyeongsang-namdo, South Korea. Ship's crew were divided into five groups based on skills and specialization," said Navy spokesman Capt. Jonathan Zata.
The ship measures 88.3 meters long, with a beam of 10 meters and draft of 2.9 meters. Displacement is at 1,216 tons full load.
The ship is rated for a crew of 118 personnel and can sustain operational presence for 20 days.
The vessel's combined diesel or gas propulsion configuration of Motor Transport Unit diesel engines and LM2500 gas turbine with controllable pitch propellers enable the ship to reach a maximum speed of 25 knots for a distance of 4,000 nautical miles.
"This ship will greatly enhance our fleet's Anti-Air Warfare, Anti-Surface Warfare, Anti-Submarine Warfare capabilities," Zata added.
The ship is armed with two Oto Melara 76 mm main guns, a 30 mm automatic cannons, anti-submarine torpedoes, and a variety of sensors, including sonars, and radars for her surface-to-surface missile capabilities.