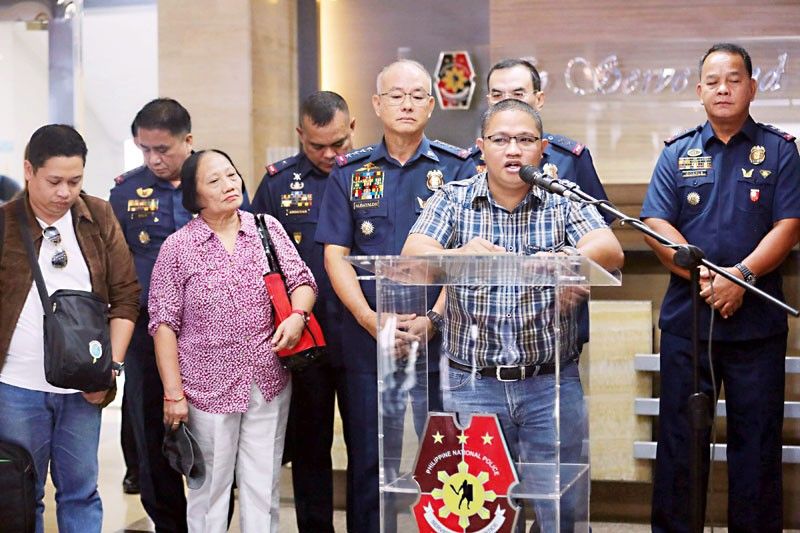 Peter Joemel Advincula, the man who claims to be 'Bikoy' in the 'Ang Totoong Narcolist' videos, speaks during a press conference at Camp Crame yesterday following his surrender to authorities. Also in photo are PNP chief Gen. Oscar Albayalde and Metro police chief Maj. Gen. Guillermo Eleazar.
Michael Varcas
'Bikoy' apologizes to Duterte family
Opposition tagged in videos
MANILA, Philippines — The man who claims to be behind the controversial "Ang Totoong Narcolist" videos has surfaced to recant his drug allegations against President Duterte, his family and friends and to seek their forgiveness, while linking the opposition Liberal Party this time to a supposed plot to oust Duterte and set the stage for a takeover by Vice President Leni Robredo.
Peter Joemel Advincula, who claims to be Bikoy, made his latest assertion yesterday at a press conference at the Philippine National Police headquarters, flanked by PNP chief General Oscar Albayalde, National Capital Region Police Office chief Maj. Gen. Guillermo Eleazar and other police officials.
"Ang lahat ng nangyari sa Totoong Narcolist, lahat ay pawang scripted at pawang kasinungalingan. Kasi may plano ang kabilang kampo na magpaputok ng issue para madivert ang attention sa mataas na ratings ng administration (Everything shown in the Totoong Narcolist was scripted and all lies because the other camp had a plan to raise an issue to divert attention from the high survey rating of the administration)," he said.
Before detailing his allegations against opposition personalities, Advincula apologized to Duterte , senator-elect Christopher Go, congressman-elect Paolo Duterte and Davao City Mayor Sara Duterte-Carpio's husband Manases Carpio. Advincula alleged he was promised half a million pesos and a position in government in exchange for crafting videos that would spark outcry and lead to the ouster of Duterte before the end of the term of vocal administration critic Sen. Antonio Trillanes IV. Trillanes belongs to the Magdalo party, and not the LP.
Aside from Trillanes, Robredo was reportedly involved in an oust-Duterte plot, which she had supposedly discussed during a meeting at the Ateneo de Manila with Advincula present.
Also tagged by Advincula in the supposed ouster plot were Sens. Risa Hontiveros, Leila de Lima and defeated senatorial candidate Chel Diokno and the Otso Direto slate, as well as the Magdalo group and former Supreme Court spokesman Theodore Te.
Following the devastating loss of the opposition bets, Advincula said LP abandoned him, leading to him to believe his life was in danger.
"Now that their candidates lost, they were distancing themselves from me, and now I'm afraid they might have me eliminated," he said in Filipino.
Surrender
Advincula surrendered to officials at the Northern Police District on Wednesday afternoon and underwent booking procedures at the PNP Criminal Investigation and Detection Group (CIDG) yesterday.
He has several pending arrest warrants issued by different courts in a number of provinces for cases including estafa and illegal recruitment, which are bailable charges.
NPD Deputy Director for operations Colonel Benjamin Silo Jr. said Advincula's family reached out to him through a CIDG-Bicol police officer who happens to be Advincula's cousin. Silo headed the CIDG Bicol in 2016.
Silo and NPD District Director Brig. Gen. Rolando Anduyan went to an undisclosed location in Pasig City where Advincula was supposed to surrender around 2 p.m. Wednesday. Silo said Advincula's surrender followed month-long negotiations with his family.
"He chose to surrender to the NPD because he has trust in us," Silo said.
There was no politics involved in the talks for Advincula's surrender, as it involved a legitimate law enforcement operation to take him into custody for his estafa cases in Baguio and La Trinidad, Silo said.
"Our role is only on law enforcement. We simply implemented the existing warrant of arrest. It's a nice way for one to surrender, and also to save on government resources," Silo said.
After undergoing booking procedure, Advincula challenged Trillanes to face him personally, saying he is ready to face any charges that the outgoing senator might level against him.
"He has to bear this mind: I have evidence to prove he's behind everything," he said, addressing Trillanes.
Advincula claimed the press briefing at the Integrated Bar of the Philippines was also planned.
Ill-advised
But Advincula's police-sponsored appearance didn't sit well with Sen. Panfilo Lacson, who chided his former comrades for allowing themselves to be used.
"If I were to handle the situation, I would devote more than enough effort and time to check and countercheck his new allegations and find out if it's worth the time of the public to even spend time listening to him. Presenting him to media right away is ill-advised, to say the least," Lacson said.
Earlier, Lacson said five to six ranking police officials were among the handlers of Advincula. He, however, refused to divulge the identities of the officials, noting that some of them have already retired from the police service.
Lacson said the police officials' motive was apparently to get the attention of President Duterte and gain some favors.
Reacting to criticism of his treatment of Advincula, a visibly irate Albayalde said there was nothing wrong with his allowing "Bikoy" to exercise his "freedom of speech."
"This is not a political exercise. This is part of freedom of speech of everybody, part of democracy. Pinipili ba dapat kung kanino ka dapat magsalita? We are a police force. We protect and serve everybody, all Filipino people. Not somebody lang but everybody," he added.
"He made the news. Ang dami sa kanya, he is trying to make things right. I think the people deserve to know the truth. Marami siyang napaniwala before, now he wants to make things straight. Bakit natin siya i-deny ngayon," Albayalde said.
The PNP chief denied the police were being used for political ends, with Advincula naming top opposition personalities in a supposed destabilization plot.
These "revelations" made by Advincula would be thoroughly investigated by authorities, Albayalde assured reporters.
He emphasized, however, that Advincula should back his allegations with evidence.
"Well that is his truth according to him, not according to me. Hindi galing sa akin yun, sa kanya galing yun. I am not saying that what he all said here was the gospel truth. Hindi ko sinabi na lahat ng sinabi nya rito is the gospel truth, it's according to him, not me," the police chief said. With Cecille Suerte Felipe, Marc Jayson Cabrera