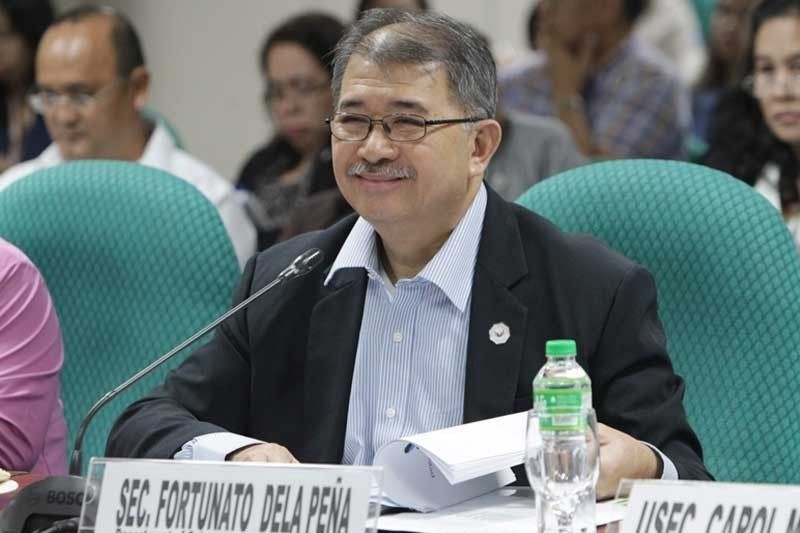 Dela Peña also topped the ROSA list for 2017 with total pay of P3.292 million.
File
DOST chief remains highest paid Cabinet secretary
MANILA, Philippines — Science and Technology Secretary Fortunato dela Peña has retained his spot as the highest paid member of President Duterte's Cabinet, a report by the Commission on Audit (COA) showed.
Based on the COA's "Report on Salaries and Allowances" or ROSA of government officials for 2018, Dela Peña received P4.138 million, consisting of P2.378 million as basic salary, P24,000 as additional compensation and honorarium, P888,768 in allowances, P496,463 in bonuses, P336,000 as discretionary funds and for miscellaneous expenses, and an additional P14,432 from "prior years' adjustment."
Dela Peña also topped the ROSA list for 2017 with total pay of P3.292 million.
The 2018 ROSA list includes 8,625 officials from 989 national government agencies (NGAs), government-owned and controlled corporations (GOCCs), state universities and colleges (SUCs) and water districts.
Excluded from the report were elected government officials such as the president, senators and congressmen.
Closely behind Dela Peña was Education Secretary Leonor Briones with total pay of P3.95 million from P2.68 million in 2017 when she placed 20th on the list.
Health Secretary Francisco Duque III landed in third spot with P3.715 million from P1.757 million in 2017.
Duque replaced former health secretary Paulyn Ubial in November 2017.
In fourth spot was Finance Secretary Carlos Dominguez III with a total pay of P3.706 million from P2.730 million in 2017 when he was in 17th place.
Meanwhile, despite a slight increase in his pay as energy secretary, Alfonso Cusi slid to fifth place with P3.529 million from second in 2017 when he took home a total of P3.209 million.
The COA report, however, showed that Cusi also received additional compensation from the National Electrification Administration (NEA) amounting to P312,800 as its board chairman and from the National Transmission Corp. (TransCo) amounting to P353,000 as board vice-chairman.
Transportation Secretary Arthur Tugade was sixth highest paid Cabinet member for 2018 with P3.527 million, while Executive Secretary Salvador Medialdea and Labor Secretary Silvestre Bello III got P3,492,189.18 and P3,492,144.97, respectively.
Agriculture Secretary Emmanuel Piñol landed in ninth spot with P3.491 million, followed by chief presidential legal counsel and spokesman Salvador Panelo with P3.489 million.
Duterte's other Cabinet members and the salaries and allowances they received in 2018 are:
11. Trade Secretary Ramon Lopez – P3.468 million
12. Budget Secretary Benjamin Diokno – P3.442 million
13. Agrarian Reform Secretary John Castriciones – P3.434 million
14. Defense Secretary Delfin Lorenzana – P3.412 million
15. Public Works Secretary Mark Villar – P3.371 million
16. Economic Planning Secretary Ernesto Pernia – P3.35 million
17. Environment Secretary Roy Cimatu – P3.329 million
18. National Security Council (NSC) director general Hermogenes Esperon Jr. – P3.321 million
19. Presidential Communications Operations Office (PCOO) Secretary Martin Andanar – P3.292 million
20. Metropolitan Manila Development Authority chairman Danilo Lim – P3.140 million
21. Presidential Adviser on the Peace Process Jesus Dureza – P3.081 million
22. Information and Communications Technology Acting Secretary Eliseo Rio Jr. – P2.928 million
23. National Anti-Poverty Commission secretary Liza Maza – P2,890 million (January to November 2018); Noel Felongco – P437,737.10 (December 2018)
24 Justice Secretary Menardo Guevarra – P2.866 million (April to December 2018); Vitaliano Aguirre – P995,066.89 (January to March 2018)
25. Political Adviser (former) Francis Tolentino – P2.764 million
26. Former Cabinet Secretary Leoncio Evasco Jr. – P2.723 million
27. Former presidential spokesman Harry Roque Jr. – P2.706 million (January to October 2018)
26. Former foreign affairs secretary Alan Peter Cayetano – P2.702,099.33 (January to September 2018); Foreign Secretary Teodoro Locsin Jr. – P812,049.16 (October to December 2018)
27. Interior Secretary Eduardo Año – P2.65 million
28. Former presidential assistant Christopher Go – P2.632 million
29. Tourism Secretary Bernadette Romulo-Puyat – P2.115 million (May to December 2018); former secretary Wanda Tulfo-Teo – P1.192 million (January to April, 2018)
30. Higher education secretary (former) Julian Prospero de Vera III – P923,942.89 (October to December 2018)
31. Technical Education Secretary Isidro Lapeña – P501,293.04 (November to December 2018) ; Guiling Mamondiong – P2,786,972.00 (January to October 2018)
32. (Former) Presidential Commission for the Urban Poor chairman Noel Felongco – P1.792 million (January to October 2018) ; Alvin Feliciano - P232,217.36 (November to December 2018)
33. Social Welfare Secretary Rolando Joselito Bautista – P368,055.74 (November to December 2018)