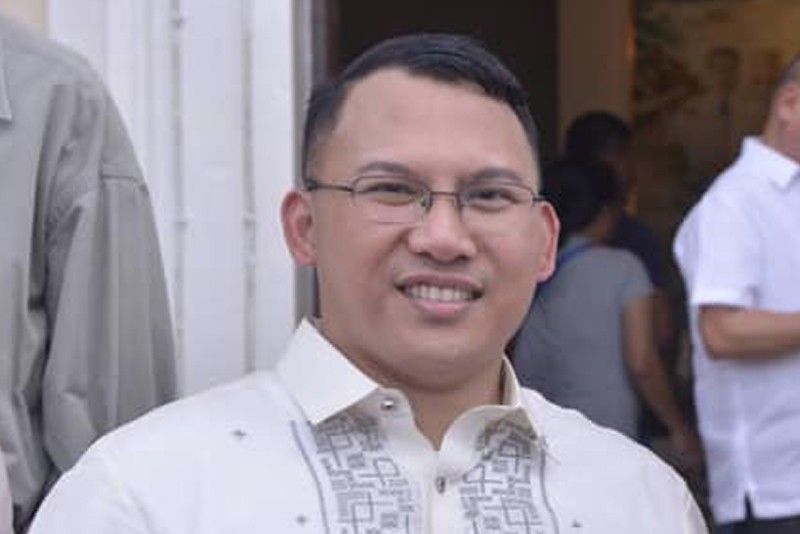 In his Facebook account, Cardema updated his profile to indicate that he is an "incoming congressman" in the House of Representatives.
Ronald Cardema FB Page
Cardema claims House seat ahead of Comelec ruling
MANILA, Philippines — Even before the Commission on Elections (Comelec) ruled on his petition to substitute as nominee for party-list group Duterte Youth, National Youth Commission (NYC) chairman Ronald Cardema has already claimed a seat in the incoming Congress.
In his Facebook account, Cardema updated his profile to indicate that he is an "incoming congressman" in the House of Representatives.
But he is facing criticism over his last-minute petition to substitute as the first nominee of the party-list group, after all five nominees reportedly withdrew their nomination.
In a statement, Cardema claimed that they have filed all the documents for substitution and that he is qualified to serve as House member.
He also claimed that Duterte Youth registered as an advocate for the "youth and professional" sector, dispelling claims that he is ineligible to serve as nominee due to age limit.
Under the party-list system law, nominees from organizations that represent the youth sector must not be above 30 years old. Cardema is 33.
The Comelec has yet to rule on the petition for substitution, which is being contested by various groups including poll watchdog Kontra Daya.
Actor and former NYC commissioner Dingdong Dantes was among those who criticized Cardema.
Dantes, in a post on his social media account, said Cardema should have resigned from his post as it appeared that he had a plan to be a House member.
"It is possible that the agency was used for him to have an unfair advantage during the campaign," Dantes wrote in Filipino. "The law is also clear against party-lists that accept any support or has connection with the government."
Cardema, in his capacity as NYC chairman, has released statements supporting Duterte Youth during the campaign period.
Dantes said Cardema has a lot to explain, particularly why all nominees withdrew to give way to his nomination.
"If you really want to serve the young people, you are already in the best position to do so," Dantes told Cardema.
Liability
The Department of Justice (DOJ) is studying the possible filing of charges against Cardema following reports that he presided over a meeting of the commission after filing a petition for substitution to become a party-list nominee.
Presidential spokesman Salvador Panelo said he has received information that Cardema presided over an NYC meeting last May 15, three days after the youth commission chief asked the Comelec to recognize him as a nominee of Duterte Youth.
"We have referred the case of Cardema to the DOJ because we have received reports that despite his filing of a certificate of substitution he presided over a meeting subsequent to that certification," Panelo said in a press briefing.
Panelo said the DOJ would also look into allegations that Cardema used NYC resources to campaign for Duterte Youth.
Justice Secretary Menardo Guevarra could not specify yet what possible administrative or criminal charges could be filed against Cardema, saying it "would depend on relevant facts."
Duterte Youth, of which Cardema is national chairman, listed his wife Ducielle Marie Suarez as its first nominee. The party's four other nominees – Joseph de Guzman, Benilda de Guzman, Arnaldo Villafranca and Elizabeth Anne Cardema – also resigned reportedly to give way to Cardema.
Panelo said President Duterte is expected to appoint a new NYC chairman who could advance the interests and welfare of the Filipino youth.
Cardema is not qualified to represent the youth sector in the House, a newly elected party-list representative said yesterday.
"He is overaged. Under the law, a party-list nominee for the youth sector should not be more than 30 years old. Cardema is 33 or 35," he said.
The source, who did not want to be identified, is the first nominee of a group that is assured of at least one seat based on official election results. He is a former member of the House.
"Even at 30, one is too old to represent the youth," he said.
Kabataan, which currently represents the youth sector in the House, said Duterte Youth is not qualified to speak for the youth.
Kabataan is opposing Cardema's petition for substitution.
Seats
In computing the number of seats to be occupied by winning party-list groups, the Comelec will be using the so-called Banat formula, an official said yesterday.
In an interview, Comelec spokesman James Jimenez noted that based on a Supreme Court ruling on the Banat vs. Comelec case in 2009, two rounds of allocations will be made.
The first round will be computed based on two-percent of the number of votes cast for the party-list system.
"You will get the two percent and... that will be your threshold. And then you rank all the party-list according to the number of votes garnered, from highest to lowest," he added.
All the groups that were able to get votes equivalent to the threshold will have one guaranteed seat each.
Jimenez said another round of allocation will be made where additional seats will be given to concerned groups, including the "two-percenters" or those who already met the two-percent threshold.
The number of additional seats will be determined by deducting the number of seats already allocated from the 61 seats available for the party-list system in the House.
Jimenez said the remaining seats will be distributed to all of the groups in descending order until all of the 61 seats are allocated.
"The maximum number of seats that a group can have is three," he added. – With Alexis Romero, Edu Punay, Jess Diaz, Sheila Crisostomo