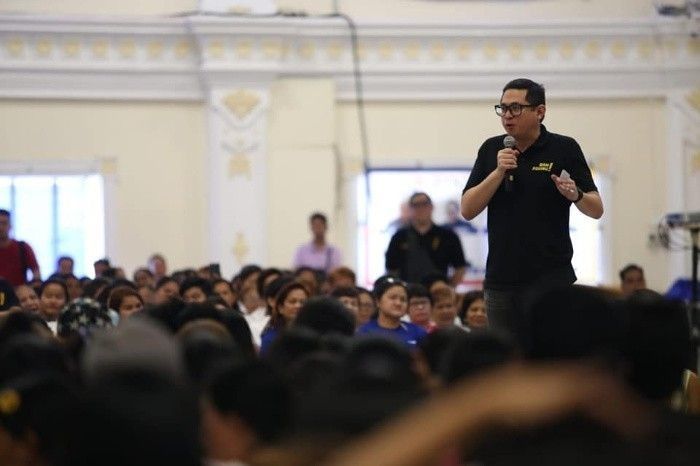 Sen. Bam Aquino, who hopes to extend his stay in the Senate, speaks on the campaign trail in January 2019.
Otso Diretso campaign
Bam Aquino, Otso Diretso's last hope for 18th Congress, fails to secure Senate seat
MANILA, Philippines — Re-electionist Sen. Bam Aquino, Otso Diretso's last hope to break through the 2019 midterm polls winners' circle, failed to secure a seat for the 18th Congress.
The official and final tally at the Commission on Elections showed Aquino at the 14th spot with 14,144,923 votes.
Aquino was the lone opposition bet that flirted with the so-called Magic 12 in the Comelec's official tally.
Since the PPCRV, Comelec's citizen arm, first released its partial, unofficial tally on the evening of elections day, the so-called Magic 12 has been dominated by Hugpong ng Pagbabago bets. The trend has remained unchanged four days since the May 13 polls.
Even Liberal Party veteran bet, former Interior and Local Government chief Mar Roxas failed to garner enough votes to put him in the elections' Top 15.
At the PPCRV's tally, Aquino had always been kept outside the so-called Magic 12, having been edged out by former Sen. Ramon "Bong" Revilla Jr. who is seeking a political comeback after his plunder acquittal.
READ: Bam Aquino is Otso Diretso bet closest to getting in Magic 12
At the start of Comelec's official, partial tally, however, Aquino was initially seen to have had fighting chance.
He was briefly edged out by his fellow re-electionist Sen. JV Ejercito, during the second canvassing of the National Board of Canvassers Thursday midnight, but he was able to return to the winning circle when the tally reached 77.25%.
Aquino is seeking his second term at Senate. He received the 7th most votes in the 2013 midterm elections.
Aquino is the sponsor of the Universal Access to Quality Tertiary Education Act that President Duterte signed into law in August 2017.