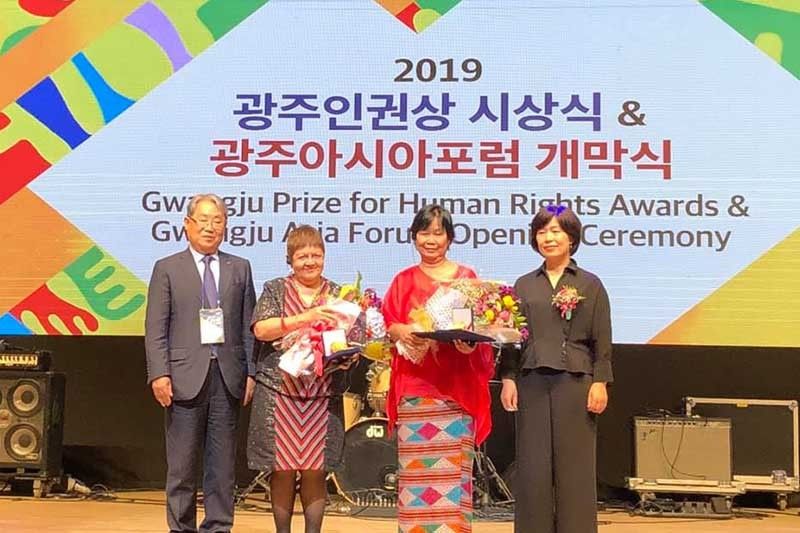 This handout photo shows Joanna Cariño (second from left) receiving the 2019 Gwangju Prize for Human Rights.
Handout photo from Karapatan
Filipina tribal leader wins int'l human rights award
MANILA, Philippines — An activist championing the rights of indigenous peoples was named the winner of the 2019 Gwangju Prize for Human Rights—the first Filipino to receive the award.
Joanna Patricia Cariño received the human rights prize, an award commemorating a 1980 pro-democracy movement in the South Korean city of Gwangju, Saturday.
"Human rights make us human. With every violation of human rights, our humanity is diminished. The human spirit can only take so much oppression, however, before resistance develops. Repression breeds resistance. To stand up for human rights, to resist tyranny and to rebel against an oppressive system is justified," Cariño said.
She added: "But we have to prepare ourselves for sacrifice and even death in the struggle against tyrants for people's democracy and a better world. It is honorable to stand up for democracy and to defend human rights, especially for the less unfortunate and downtrodden."
Cariño, an Ibaloi, is the co-chairperson of national minority alliance Sandugo Movement of Moro and Indigenous Peoples for Self-Determination. She was among the founders of the Cordillera Peoples Alliance.
Cariño—who was arrested, tortured and detained for two years during the Martial Law period of dictator Ferdinand Marcos—is also a member of the Samahan ng Ex-detainees Laban sa Detensyon at Aresto and convenor of the Campaign Against the Return of the Marcos and Martial Law in its formation in the Cordilleras.
Last February 2018, Cariño and more than 600 individuals were included in a government petition proscribing the Communist Party of the Philippines and the New People's Army as terrorist organizations. Their names have been since stricken off in the amended government petition.
She called the award a "vindication" of her life-long vocation to defend and promote democracy and human rights.
"It is ironic that while the repressive Philippine Duterte regime labels human rights activists such as myself as terrorists, prestigious foreign institutions such as the May 18 Memorial Foundation recognizes my human rights activism as honorable," Cariño said.
She stressed the public must hold on to the lessons of the 1986 People Power and Gwangju Democratic Uprising, in which hundreds of people were killed in the southwestern South Korean city during protests against the military junta of Gen. Chun Doo-hwan in May 1980.
"We should always remember, we should never forget. The people, united, shall never be defeated. Never again to Martial Law!" Cariño said.