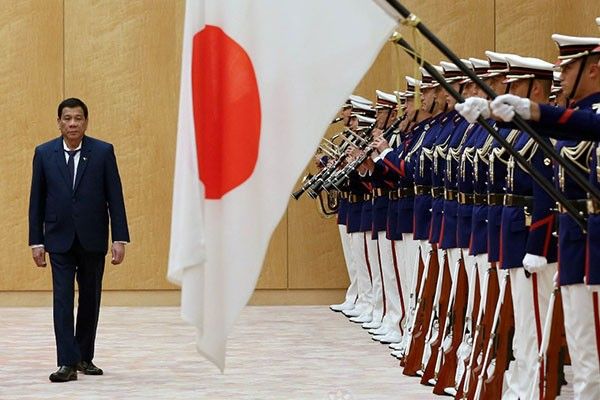 In this file photo, President Rodrigo Duterte walks as he is accorded with welcome honors upon his arrival at the Prime Minister's Office in Tokyo on October 30, 2017.
Richard Madelo/Presidential Photo, file
At least 10 business deals expected signed during Duterte's Japan trip
MANILA, Philippines — At least 10 business deals are expected to be signed during President Rodrigo Duterte's visit to Japan this month, a Cabinet official said Thursday.
Trade Secretary Ramon Lopez said the deals would allow some Japanese companies to expand their businesses in the Philippines.
"So far, we have about two [Memoranda of Understanding]'s and about eight letters of intent. In other words, companies that are already here that are intending to expand their operation, invest more, expand the operations. These are big Japanese companies we cannot also ignore," Lopez told reporters in Malacañang.
"They (Japanese firms) still want to express their support and confidence for the current administration and they want to indicate their intent to invest more," he added.
Lopez said the deals involve potential investments in electronics, manufacturing, data analytics, services, manufacturing, energy, tourism and transportation. He said the number of deals may still go up as they are still receiving updates from other agencies.
The Trade chief could not say the amount of investments to be generated by the deals but claimed it would be "substantial."
Duterte is set to visit Japan to attend the 25th Nikkei Conference on the Future of Asia from May 30 to 31. Lopez said the president is expected to urge investors to invest in the Philippines by highlighting the country's credit upgrade.
"I'm sure he will be talking to the business sector, so all the gains, I'm sure the S&P credit rating upgrade, the reforms that we are doing and we will continue to do especially with the new Congress, the new Senate, and these are reforms that will definitely attract more investments and entice more investments," Lopez said.
"More importantly of course, the security aspect is really important...security is important in attracting also investments. His passion to stop all corruption, that's always his commitment to investors so I'm sure he will highlight it also," he added.