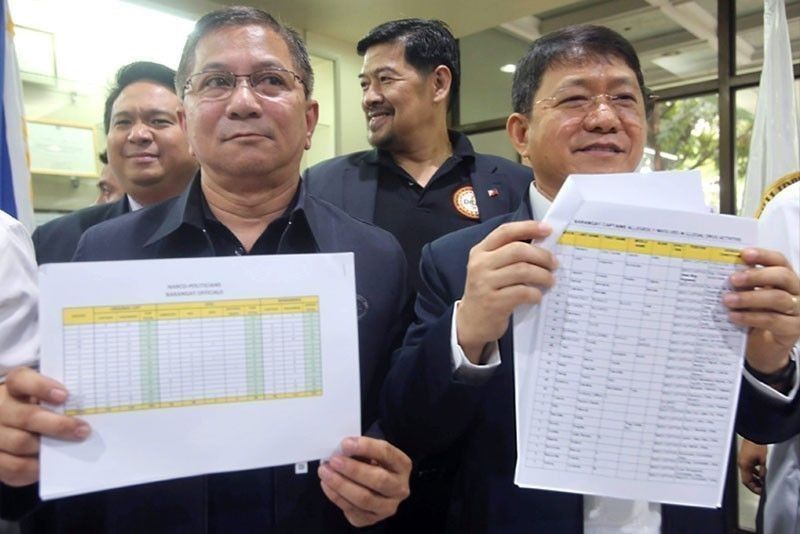 The government released a similar list before the 2018 barangay elections but not all in the list ended up being arrested or charged.
File photo
Palace: 'Pragmatic' voters picked bets in president's 'narco list'
MANILA, Philippines — While "Duterte magic" was credited for administration allies dominating the senatorial race, the president's release of a government "narco list" did not stop some politicians alleged to be involved in illegal drugs from being elected into office.
Presidential spokesman Salvador Panelo said some people who received assistance from politicians in the narco list may have voted "out of necessity."
"The dynamics of local (politics) is different. They know their candidates... Voters are pragmatic. If the officials help them whenever their children are brought to the hospital, even if they are in the drug list, people would still vote for them," Panelo said in a press briefing Thursday.
"The dynamics is different, more on necessity...The president has already warned, he said 'it's now up to you. I already warned you,'" he added.
Not formally accused
In March, Duterte read out the names on the list during a National Peace and Order Council meeting in Davao City after weeks of speculation on whether the list would be released despite concerns raised by human rights groups and on the basis of inclusion in the list.
The Palace initially hinted that foreign governments may have wiretapped Filipino citizens, but later walked the statement back as "an educated guess."
The Department of the Interior and Local Government said it had filed administrative—not criminal—charges against the officials on the list, which includes 35 mayors, seven vice mayors, three members of Congress and one provincial board member.
READ: Leyte rep in 'narco list' wants House inquiry into how info was validated
Government still studying evidence
Asked whether he thinks the president's warning had no effect, Panelo replied: "To others, it's effective. While others believe in the president, they need the assistance given by the people they elected."
Pressed if the government would file charges against people in the narco list, Panelo said: "It depends on the evidence. It will always depend on the evidence."
More than 30 local politicians in the narco list won in the midterm polls, based on previous reports.
A total of 46 local executives, lawmakers and a former mayor were in the narco list disclosed by President Duterte last March.
Human rights advocates have criticized the release of the list, saying it violates the right to be presumed innocent. Malacañang has justified the move, saying the narco list would guide voters in choosing their leaders in the midterm polls.
More than 5,000 suspected "drug personalities" have died since Duterte assumed office in 2016, according to police data.
RELATED: DILG exec admits narco list release may affect probe