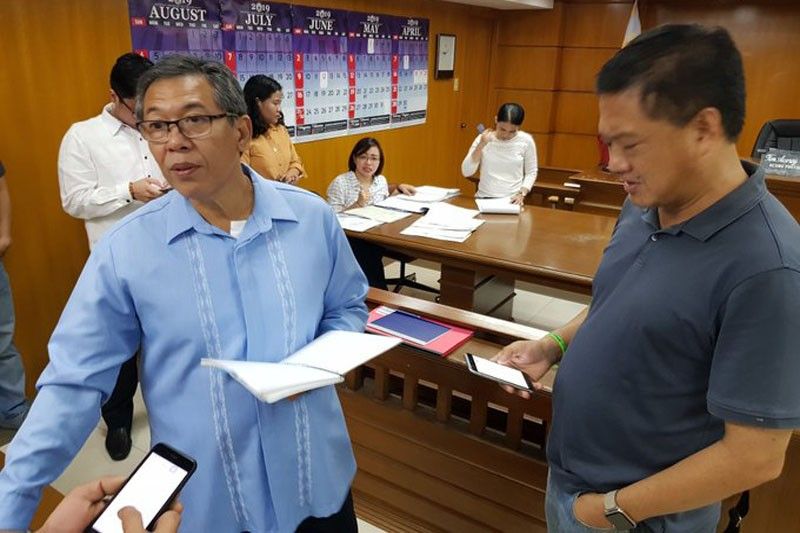 In this May 15, 2019 photo, Otso Diretso senatorial bets Chel Diokno and Erin Tañada resumed their work at the Pasig Regional Trial Court.
Photo from Atty. Arnel Casanova
Chel Diokno, Erin Tañada resume lawyer work a day after conceding senatorial defeat
MANILA, Philippines — Otso Diretso senatorial bets Chel Diokno and Erin Tañada are officially back to work on Wednesday, a day after they conceded loss in the 2019 midterm elections.
In a photo posted by Arnel Casanova, the two Senate hopefuls were seen at the Pasig Regional Trial Court working on the case of the victims of the November 2005 "Ortigas rubout."
Isang araw matapos na matalo sa senatorial elections, serbisyong bayan agad ang inatupag ni @ChelDiokno at @erintanada at pumunta sa Pasig RTC para ihanap ng hustisya ang mga biktima ng Ortigas rubout. I stan them!! Tunay na puso sa bayan! Boses ng katarungan! pic.twitter.com/ZXpxx1YT7x

— Arnel Casanova (@arnelcasanova) May 15, 2019
READ: Ortigas 'rubout' victim's kin ask SC to stop arraignment
The two first-time senatorial bets running under the Liberal Party placed 21st and 27th, respectively, in the partial and unofficial tally of the Commission on Elections.
As of 8:44 p.m. Wednesday, Diokno garnered 6,248,317 votes while Tañada earned 3,806,430.
A photo from lawyer Katrina Calugay-Alvaera also captured Diokno back to his lawyer duties at the court on Wednesday morning. The photo may have shown Christmas decors which were not removed by the court.
"This is Dean Chel Diokno at exactly 8:10 in the morning today, a day after he conceded from the senatorial race. Carrying his backpack full of files and wearing his usual court barong, he meekly enters the court room for a pro bono case he handles under FLAG (Free Legal Assistance Group)," Calugay-Alvaera said in her post.

"When I saw his name on the court calendar, I least expected that he would not show up, Dean Chel being Dean Chel. True enough, here he is, non-grandstanding, tireless, dedicated. Most importantly, in high spirits," she added.
Calugay-Alvaera said Diokno was her dean at the De La Salle University.
Casanova also praised the two for resuming work just after they retreated from the senatorial race.
On Tuesday, Diokno and Tañada faced their supporters and accepted defeat in the polls.
They both vowed to serve the people even after the loss.
For his part, Tañada said he would still reach out to people to listen to the masses' pulse.
"Let us face this, do not be dismayed, we are still here. We will still go around and speak with you to know the things that we still ought to fight for," the former Deputy Speaker of the House of Representatives said.
Meanwhile, Diokno fulfilled his promise to work for the people immediately.
"So really this is a time for us to celeberate, kailangan magchelebrate tayo ngayon para wala nang iyak-iyakan. Tama na iyan, dahil bukas na bukas magsisimula tayo ulit," Diokno said.
(So really this is a time for us to celebrate, we need to "chelebrate" today, no need to cry. Tomorrow, we will start anew.)
"Bukas na bukas kailangan mayroon pa tayong ma-woke. Isipin natin kung every day may ma-woke tayong isa at the end of one year de ilan na ang mawowoke satin... At the end of three years, wala nang makakapigil satin," he added.
(Tomorrow we have to awaken people. Every day we get to wake up someone, many citizens will be awakened at the end of the year. In three years, we are unstoppable).
RELATED: 'CHELebrate, don't cry,' Chel Diokno tells supporters after defeat