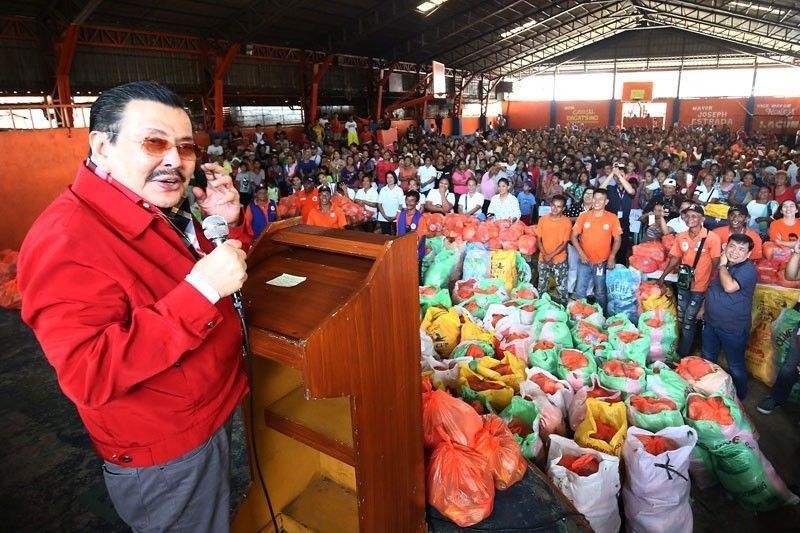 Francisco "Isko Moreno" Domagoso defeated Mayor Joseph "Erap" Ejercito Estrada, depriving the former president of a third term at Manila City Hall.
The STAR/Miguel de Guzman, File
'Erap' brand not enough power to secure seats for kin
MANILA, Philippines — When Manila Mayor Joseph "Erap" Ejercito Estrada held the highest position in the land, he was dubbed as a populist president. The popularity of the action star turned politician did not dim amid an ouster in 2001 and a plunder conviction as he ran and won the Manila mayor seat in 2013.
Fast forward 2019, the patriarch's bid for re-election for the city's leadership was foiled by his fellow actor turned politician, former Department of Social Welfare and Development Undersecretary Isko Moreno Domagoso.
The political careers of his two sons seeking re-election in the Senate look bleak as well.
At 5:53 p.m. on Tuesday, May 14, the partial and unofficial tally of the 2019 midterm polls showed no sign of re-election for incumbent Sen. JV Ejercito Estrada nor a comeback for former Sen. Jinggoy Estrada.
The patriarch's fate
As of 5:30 a.m. on Tuesday, Domagoso enjoyed a wide margin, receiving 348,425 votes cast against Estrada's 204,084. Alfredo Lim, who similarly served as a Manila mayor in the past, earned 134,631 votes despite running under the Duterte-led PDP-Laban ruling party.
But the clan patriarch did not want to accept defeat easily.
He was quoted in an ABS-CBN report as saying: "Bakit ako magko-concede? Talagang pri-noject ako. Lahat ng survey from the start panalo ako. Tapos ngayon biglang si Isko nanalo."
(Why would I concede? They were targeting me. In all surveys, from the start, I was the winner but now Isko is suddenly the winner.)
READ: Isko Moreno dislodges Erap from Manila City Hall
Sons fall back in Senate race
The "Estrada" brand, a source of a riff between half-brothers JV Ejercito and Jinggoy Estrada, was also not strong enough to get the two inside the winners' circle.
EXPLAINER: The 'Estrada' edge: May polls set stage for JV, Jinggoy clash
JV, whose legal name is Jose Victor Gomez Ejercito, previously acknowledged Jinggoy enjoys the edge of using the "Estrada" surname, the popular name of a political dynasty in San Juan City previously held by their father, Erap.
For this year's elections, JV opted to use the name "Ejercito Estrada JV" on the ballot and "JV Estrada" as a campaign nickname, in the hopes of capitalizing on the "brand."
The latest partial, unofficial tally from the Commission on Elections, however, showed both "Estradas" outside the Magic 12.
JV is currently ranked at 13th while Jinggoy placed at 15th.
Erap's daughter, Jerika Estrada Ejercito, also failed to win the councilor's seat for the fourth district of Manila.
Grandchildren, nephews lose too
In San Juan City, where the clan patriarch first built his political career in the 1960s, Erap's brand also did not sway enough voters to bring Janella Estrada Ejercito to the mayor's seat.
Janella lost to Zamora by 10,000 votes.
Meanwhile, Estrada's nephew Emilio Ramon "ER" Ejercito suffered a loss at the gubernatorial race in the province of Laguna.
Ejercito obtained only 390,543 votes, which were only half of those obtained by leading gubernatorial candidate Ramil Hernandez who got 815,246 votes.
Another of Erap's nephew, actor Gary Estrada also lost to Ace Servillon in the vice mayoral race in Cainta, Rizal by more than 40,000 votes.