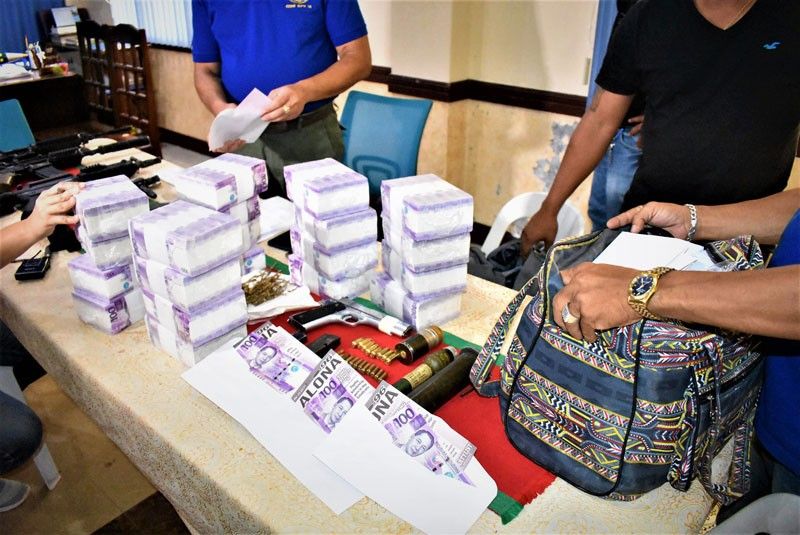 Election watchdog National Citizens' Movement for Free Elections (Namfrel) also confirmed reports of widespread vote buying.
File
PNP: At least 300 suspected vote buyers arrested
MANILA, Philippines — Despite stern warnings from the authorities, incidents of vote buying remained rampant on election day with more than 300 persons nationwide arrested so far.
Philippine National Police (PNP) chief Gen. Oscar Albayalde said 302 people were accosted in 120 incidents of vote buying, based on their latest report.
Last Sunday, the PNP recorded 22 incidents where 155 suspected vote buyers and sellers were arrested, an increase of 98 and 147, respectively.
Albayalde said the increase is expected, as supporters of candidates want to woo voters up to the last voting hour on election day.
There are also politicians who will only pay after the people have voted, Albayalde said at a news briefing in Camp Crame in Quezon City.
Albayalde added that the increase could be attributed to their aggressive information campaign, which urged the public to report cases of vote buying.
"Persons report vote buying. Before it was tolerated," he said in English and Filipino.
Metro Manila
At least 135 persons were arrested for buying and selling votes in Metro Manila, a police official said yesterday.
National Capital Region Police Office (NCRPO) director Maj. Gen. Guillermo Eleazar said his five police districts conducted eight operations against vote buying since Sunday, resulting in the arrests.
As of 5 p.m. yesterday, records of the NCRPO's tactical operations center showed that 60 persons were arrested for vote buying in Makati City and 54 under the Quezon City Police District.
One was arrested in Caloocan City.
The NCRPO confiscated sample ballots with shaded names of politicians and P518,100 in cash.
Two persons were arrested for alleged vote buying in Malabon last Sunday.
Jimmielyn Garcia and Grace Obregon were arrested in Barangay Longos based on a tip that they were buying votes, police said.
But the suspects denied the allegation that the P1,200 confiscated from them was intended to buy votes.
Meanwhile, the Makati City Prosecutor's Office ordered yesterday the release of eight barangay officials and 52 residents of Barangay San Isidro, who were allegedly unlawfully arrested over vote-buying accusations.
In a three-page order, Assistant City Prosecutor Jose Vizcarra Jr. ordered the NCRPO to release the barangay officials and residents "unless otherwise detained for some legal cause."
The eight barangay officials and 52 residents were arrested in a police operation last Sunday night following reports on the alleged vote-buying activity at the barangay hall in Barangay San Isidro.
Also released were 17 suspects of alleged vote buying and vote selling in Muntinlupa City.
Luzon
In Poblacion, Binmaley, Pangasinan police arrested Glen Maron, former barangay captain and incumbent barangay treasurer of Barangay Poblacion, Binmaley, Pangasinan.
Maron and others were allegedly buying votes for mayoralty candidate Pedro Merrera. Seized from the suspects were two bundles of P500 bills totaling P44,500.
The suspects were brought to Binmaley Police Station.
Eight persons were arrested for alleged vote buying and selling in Tarlac and Pampanga last Sunday.
At least 30 persons were arrested for allegedly buying votes in Calabarzon (Cavite, Laguna, Batangas, Rizal and Quezon), police said yesterday.
Lt. Colonel Chitadel Gaoiran, Calabarzon police director, said 10 persons were nabbed in Cavite, four in Laguna, eight in Batangas and eight in Quezon.
Gaoiran added that more than P223,600 in cash was confiscated and around 54 sample ballot were seized.
A Sangguniang Kabataan (SK) chairman and two others were arrested in separate operations in Laguna on the eve of the midterm elections for vote buying, police said yesterday.
Col. Eleazar Matta, Laguna police director said Jhon Paul Pahutan, 22, SK chairman of Barangay Nanhaya, Melchor Sta. Ana, 61, and Miriam Octavio, 54, were caught distributing campaign materials and cash.
Pahutan, a supporter of mayoral candidate Aurora Gonzales, was arrested after handing over two sample ballots and P500 cash each to a policeman who pretended to be a voter at 8 p.m. last Sunday.
Sta. Ana and Octavio were arrested at Barangay Oogong, Sta. Cruz at 11:45 p.m. last Sunday while distributing sample ballots and cash.
Seized from Sta. Ana was P1,800 in cash, while Octavio surrendered the P2,700 in her possession.
A jobless man was arrested yesterday in Laguna for vote buying.
Ery Dixon, 28, yielded a paper bag containing computerized and handwritten sample ballots and P150,200 in cash.
Dante Bardon was arrested along Phase 2 Southville 5A, Barangay Langkiwa, Biñan City at 9:05 p.m. last Sunday.
Bardon is allegedly a supporter of mayoral candidate Donna Yatco.
Seized from Bardon were five P1,000 bills and a piece of bond paper, with instructions for poll watchers.
Two provincial buses, one plying the Candon City, Ilocos Sur-Manila route and alleged to be used in vote-buying activity, were seized in separate areas in Olongapo City last Sunday night.
The still unidentified driver of Solid North bus company admitted that he was from Nueva Ecija and was sent to Olongapo City last Saturday to pick up passengers from a place and transport them to another area.
He told media that he was instructed to pick up passengers at the corner of 10th Street and Gordon Avenue and to bring them to a bus terminal.
Another bus from Lucena Liner Inc. was stopped at the corner of Magsaysay and Rizal avenues also last Sunday night, with the passengers on the way to an undisclosed destination.
Visayas
Police arrested 30 persons for alleged vote buying and illegal campaigning in the municipalities of Enrique Magalona and Moises Padilla in Negros Occidental.
Capt. Jaynick Bermudez reported that brothers Jocel and Daniel Etang were arrested yesterday in Barangay Tuburan, Enrique Magalona for violation of the Omnibus Election Code.
Also seized from the Etang brothers were 127 brown envelopes containing sample ballots with names of local candidates with P1,000 each or a total of P127,000.
Last Sunday night, policemen arrested 12 persons, including two minors, who surrendered brown envelopes with sample ballots containing the names of candidates, with two P1,000 bills each in Barangay 7 Poblacion, Moises Padilla.
Lt. Col. Adrian Acollador, Special Task Group chief, said they arrested 16 others, who had 600 sample ballots and P12,000 with them.
The suspects, except the three minors, are now in jail.
Mindanao
Government troops arrested at least five persons and confiscated more than P1.1 million for alleged vote buying in Lanao del Norte and Zamboanga del Sur, according to military officials.
Brig. Gen. Roberto Ancan, chief of the Army's 1st Division, said at least five persons were arrested for alleged vote buying in Barangay Bualan, Tubod, Lanao del Norte.
"Our troops found the money believed to be left by the goons of unidentified politicians at the back of an abandoned house at Barangay Dapiwak, Dumingag, Zamboanga del Sur," added Lt. Col. Rufino de Leon, commanding officer of 97th Infantry Brigade.
The officials said the money was turned over to the Comelec provincial offices at Lanao del Norte and Zamboanga del Sur, while the suspects were brought to Tubod Municipal Police Station. – With Robertzon Ramirez, Marc Jayson Cayabyab, Ghio Ong, Eva Visperas, Bebot Sison Jr., Ed Amoroso, Ric Sapnu, Non Alquitran, Gilbert Bayoran, Roel Pareño