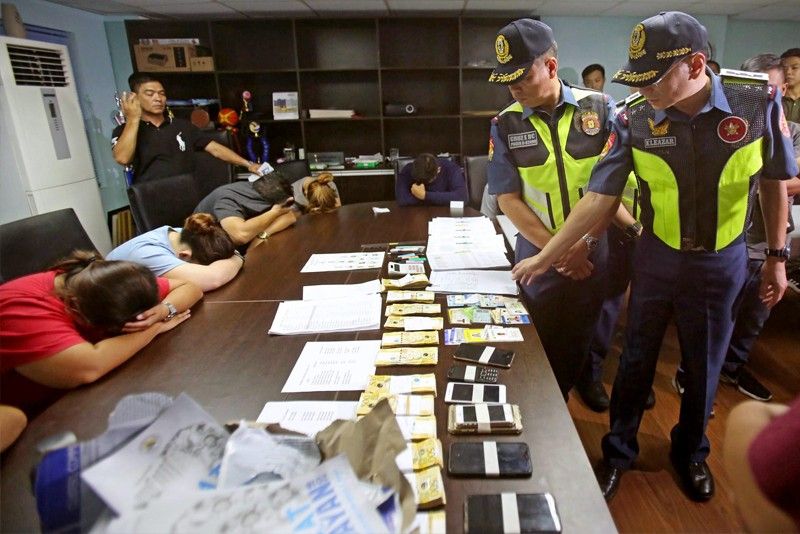 National Capital Region Police Office chief Maj. Gen. Guillermo Eleazar inspects the money and other items confiscated from individuals arrested for alleged vote buying yesterday.
Russell Palma
Comelec sees surge in vote buying today
MANILA, Philippines — Despite the expected surge in vote buying, the Commission on Elections (Comelec) still sees today's elections to be orderly and successful.
Comelec spokesman James Jimenez said 95 percent of the over 85,000 polling precincts nationwide are expected to open on time.
"I think it's going to be closer to 95 to 96 percent opening rate of polling precincts. We are expecting the opening day to be good," Jimenez said.
"Hopefully, there would be no big showstopper issues, and based on the last few days, it looks OK," he added.
All the election supplies and paraphernalia have been distributed and ready for use when polling precincts open starting 6 a.m. until 6 p.m., he said.
The Comelec has activated its Precinct Finder application to help voters find their polling precincts even before election day.
On the eve of election day, Comelec, however, has already been receiving numerous reports of voters not being able to find their polling precincts.
Comelec explained the Precinct Finder application will provide information on where the concerned voters need to go.
Voters are just required to provide their first name, middle name, last name, province and city/municipality of registration.
Those whose records have been deactivated for failure to vote in two consecutive regular elections or other applicable reasons will not be able to find their information in the Precinct Finder.
The poll body used the Precinct Finder application in 2016 but it was taken down following the hacking of its website.
Voters today are reminded to shade the ovals fully despite the 25 percent shading threshold set with the vote-counting machines.
Comelec also stressed that over voting in a particular position will nullify all votes cast. But abstaining and under voting are accepted by the voting machines.
Voting more than once or in substitution of another as well as soliciting votes or undertaking any propaganda for or against any candidate or any political party within the polling place or within 30 meters is prohibited.
Alternates
Jimenez said there is a possibility that some public school teachers may not show up for poll duty.
But the Comelec has readied "layers of alternates," including policemen in case some of the teachers fail to show up.
"A thousand Philippine National Police (PNP) officers have been trained precisely as a replacement at the last minute," Jimenez said.
Interior Secretary Eduardo Año said 2,838 police officers have been trained by the Comelec as election boards, ready to take over in the event teachers decide to back out.
Of the number, 1,032 were assigned to areas in the Bangsamoro Autonomous Region in Muslim Mindanao (BARMM) where election-related violent incidents may occur.
"Our men and women of the PNP are ready to do their duty under the law. They have already undergone training by the Comelec for this contingency and they are on standby should their service be required," Año said.
The Teachers' Dignity Coalition (TDC) and the Legal Network for Truthful Elections (Lente) said they have established a "helpline" number for teachers serving in today's elections.
The TDC-Lente will have a command post to monitor all election-related concerns of public school teachers sitting as members of the electoral boards (EB) and other poll workers.
TDC members who opt not to serve in the elections will man the post situated in their national office in Valenzuela starting 8 a.m. today up to noon tomorrow, May 14.
Lente lawyers and volunteer law students, on the other hand, will receive calls from TDC or directly from the public in their national office in Quezon City.
Lente gave assurance it is ready to perform as the lead convenor of the random manual audit (RMA) chosen by the Comelec.
The National Citizens' Movement of Free Elections (Namfrel), for its part, said it would monitor the elections and collate reports of irregularities.
Even after the group had pulled out as Comelec's citizen's arm, Namfrel treasurer Lito Averia said they would still be watching the conduct of today's elections.
Averia said they would gather incident reports and submit these to the Comelec and to the congressional committee on automated elections.
After the elections, Namfrel will try to obtain data, which the Comelec declined to provide them as citizen's arm.
Averia said Namfrel would also file a petition to serve as Comelec citizen's arm in the next elections.
Meanwhile, election watchdog Kontra Daya warned of possible disenfranchisement of voters from Metro Manila due to the delay in delivery and malfunctioning of election equipment.
Kontra Daya said some Vote Registration Verification Machine (VRVM) units to be used in identified pilot cities reportedly malfunctioned.
A number of vote-counting machines were delivered late in some polling precincts in Quezon City, the group said.
"Another problem encountered was the absence of tools necessary to connect the VCM to the batteries," Kontra Daya said while adding that in some precincts, markers from previous elections will be used for today's polls.
Kontra Daya also reported cases of vote buying as well as red tagging of certain party-list groups and candidates.
If not immediately addressed, Kontra Daya said, the problems reported in various areas may eventually prevent voters from casting their votes in today's polls.
Vote buying
Jimenez admitted that the Comelec has seen a surge in vote-buying incidents in the last few hours before election day.
"It's common that vote buying happens a few hours before election day, usually around midnight, and it happens inside homes and in sitios," Jimenez said.
When vote-buying is reported to the police, those involved usually escape before authorities arrive.
Authorities have admitted prosecuting vote buyers is a difficult process.
However, Jimenez still urged the public to report vote-buying incidents in their areas and to observe due process.
Jimenez said the Comelec in past elections adopted the "money bond" policy, allowing the arrest of people carrying large amounts of money for no justifiable reason on election day, but the courts stopped its implementation.
"People will buy votes because they feel it's the only way to win. We try to do something, we try to be pro-active like the money bond as a tool to prosecute those apprehended carrying large amount of cash on election day," he said.
Jimenez said the Comelec needs to be innovative to remove sources of funds. But the courts issued a restraining order against the implementation of the money bond policy.
In this election, the Comelec launched the "Kontra Bigay" campaign in coordination with various government agencies.
Jimenez said the Kontra Bigay task force has been active in preventing vote buying and that police were able to arrest a number of people engaged in the illegal activity.
"What we have here is a working model of cooperation between Comelec and other government agencies. The idea is to systematize the process (of prosecuting those engaged in vote buying)," he said.
Legal cases will be pursued against those who will be caught engaging in vote buying. Candidates will be disqualified and not be able to assume their post if they win in the polls.
Voter turnout
Poll officials expect a high rate of 78 percent of the over 61 million registered voters to go participate in today's midterm elections.
"The reason we expect 55 to 78 percent turnout rates because it's just a midterm elections. But we are optimistic it can still go up because many voters are noisy and we are hopeful the noise will translate into their actual participation on election day," Jimenez said.
He said 51 percent of total voters are female and the Comelec expects more women will go out and vote today.
Voters aged 18 to 30 years are also expected to troop to polling precincts.
The youth is the second largest voting bloc after the middle-aged group or those up to 60 years. Senior citizens are the third biggest bloc with a total of nine million.
"Each one will contribute to a lot of voters, but perhaps most voters will probably come from the youth because they are very engaged in the elections," Jimenez said.
The winners in the local elections are expected to be proclaimed within 24 hours while frontrunners in the provincial positions are likely to be proclaimed within 72 hours after the elections.
Jimenez said the 12 winning senators are expected to be proclaimed within a week after the polls.
To ensure safety the of voters nationwide, the Philippine Red Cross (PRC) is mobilizing thousands of volunteers and hundreds of ambulances in polling precincts.
"We want to make sure that each and every citizen of the Philippines is safe and sound while exercising his or her right to vote," PRC chairman Sen. Richard Gordon said.
Gordon said PRC is putting up first aid stations, welfare desks, emergency vehicles and mobile units in schools on election day.
In partnership with the Comelec, Gordon said the PRC will set up 310 first aid stations and 158 welfare desks.
He said PRC will also deploy and put on standby 150 ambulance units and 42 emergency vehicles in various strategic areas.
The Department of Health (DOH), for its part, is setting up 2,614 health stations in different voting centers nationwide to provide medical assistance to voters.
DOH said a total of 13,070 health workers will be deployed to man the health stations, providing first aid treatment and essential medicines to the public for the entire election day.
The Armed Forces of the Philippines (AFP) and the Philippine National Police (PNP) has been placed on red alert status to help ensure a peaceful and orderly conduct of today's elections.
The military has also pledged to remain neutral in assisting the police, Comelec and other agencies of government during and even after the elections.
"We are ready. The AFP is very much prepared and ready for the elections," AFP spokesman Brig. Gen. Edgard Arevalo said.
The PNP has deployed a total of 149,830 police officers for election duty nationwide. Of this figure, 75,486 will be stationed in various voting centers; 31,613 are reserve forces; and 11,413 part of the quick response team.
The other police officers are assigned in the election monitoring action center, warehouses, hubs, canvassing centers, checkpoints, border control and civil disturbance management.
Last week, the military said 98,000 of its personnel will be deployed to help the PNP and other government agencies maintain peace and order, particularly in Mindanao where martial law remains in place.
Duterte OK with bets giving P50 to voters
President Duterte is "OK" with voters receiving a small amount of money for their transport fares, Malacañang said yesterday.
Presidential spokesman Salvador Panelo said a majority of voters are poor and could not afford the costs of traveling from one place to another.
"Kung pamasahe lang yun, sabi ni Presidente, kung pamasahe lang naman, e okay lang yun. Other than that, hindi dapat maging konsiderasyon ang pera (If it's just for transportation fare, the President said it's OK. Other than that, money should not be a consideration)," Panelo said in radio interview.
Panelo was asked about voters selling their votes and people who buy votes.
"Definitely they are prohibited by law. But the President said last night if it's only for transportation fare… If you go to one place and it's far from your house, if you do not have money and it's just P50, for him, it's OK," he said.
The Omnibus Election Code of the Philippines prohibits vote buying and vote selling.
It also prohibits the giving, offering or promising money or anything of value; giving or promising any office or employment, franchise or grant, public or private, or making or offering to make an expenditure or causing an expenditure to be made to any person, association, corporation, entity, or community to induce anyone to vote for or against any candidate or withhold his vote in the election, or to vote for or against any aspirant for the nomination of a candidate in a selection process of a political party.
An offense is also committed if any person, association, corporation, group or community solicits or receives any expenditure or promise of any office or employment.
Panelo said poor people who lack education are vulnerable to poll cheating. "I think before we improve, we have to change the state of our society. Otherwise, we will encounter the same problems." – With Michael Punongbayan, Emmanuel Tupas, Rainier Allan Ronda, Ghio Ong, Alexis Romero