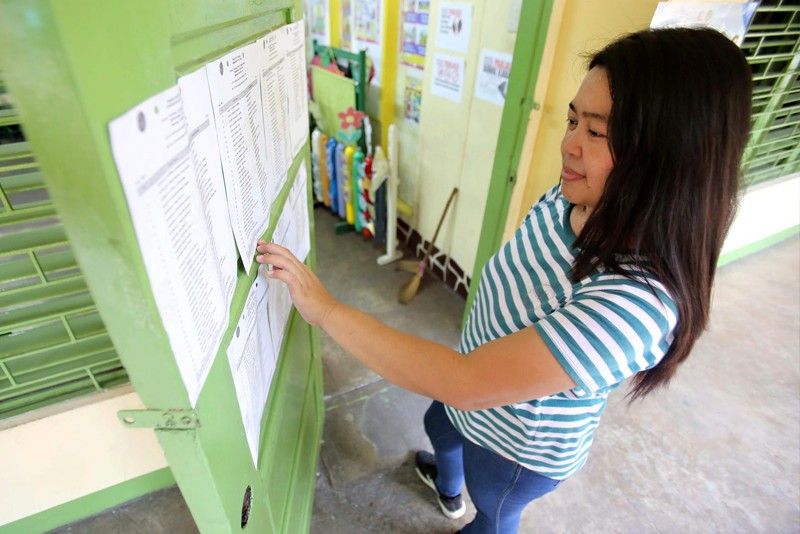 A member of the Board of Election Inspectors prepares the voters' list at Rafael Palma Elementary School in Manila yesterday.
Russell Palma
National candidates pin hopes on vote-rich Luzon
MANILA, Philippines — It's no wonder why most senatorial and party-list candidates chose to begin and end their campaign in Luzon, with Commission on Elections (Comelec) data showing that its regions can generate the biggest number of votes in today's polls.
Southern Tagalog, including Mimaropa (Mindoro, Marinduque, Romblon and Palawan or Region 4B) and Aurora, has the highest number of voters at 10,505,679, followed by Calabarzon (Cavite, Laguna, Batangas, Rizal and Quezon or Region 4A) with 8,674, 351.
The National Capital Region (NCR) placed third with 7,074,603. Central Luzon (Region 3) is fourth with 6,829,659 voters.
With 4,946,354 voters, Central Visayas (Region 7) is the fifth vote-rich region followed by Western Visayas (Region 6) with 4,808,839 and Bicol (Region 5) with 3,647,711.
Ilocos (Region 1) ranked eighth with 3,331,394, followed by Eastern Visayas (Region 8) with 3,051,649.
Completing the 10 vote richest regions is Davao (Region 11) with 3,026,393.
Topping the list of vote-rich provinces is Cebu with 3,082,612 followed by Cavite (2,148,899) and Pangasinan (1,946,692).
Other vote-rich provinces include Laguna (1,903,107), Negros Occidental (1,889,200) and Bulacan (1,863,596).
In NCR, Quezon City has the biggest number of voters with 1,330,118 followed by Manila (1,065,149) and Caloocan (719,447).
At least 538 local candidates do not need much votes to win since they are running unopposed.
Comelec data showed that 34 are running unopposed for district representatives in the House, eight for governor and 12 for vice governor.
A total of 215 candidates for mayor are also running unopposed as well as 269 candidates for vice mayor.
Inmates voting
At least 43,774 inmates or persons deprived of liberty (PDL) at detention facilities of the Bureau of Jail Management and Penology (BJMP) are casting their votes today.
The number of detainee voters comprises 31.89 percent of the 137,225 prisoners in the BJMP's 476 detention facilities in the country, the bureau's deputy director for operations, Senior Superintendent Noel Montalvo, said yesterday.
Of the number, 37,522 are males while 6,252 are females.
"We conducted dry run activities in our jail facilities. We have operational plans in case there is violence," Montalvo said in a press briefing in Quezon City yesterday.
The region with the most number of voters is Calabarzon with 9,352 followed by Region 7 with 7,938 and NCR with 6,383.
The BJMP last Saturday went on full alert as part of its security measures to maintain peace and order while the prisoners take part in the electoral exercise.
All the bureau's 30,000 officers and personnel are on duty today.
Chief Inspector Xavier Solda, BJMP spokesman, said 40,941 will vote in 207 jails while 2,833 will cast their votes off-site, 217 of whom are from Calabarzon.
Solda explained that on-site voting will be held in jails where there are more than 50 eligible inmate voters. If the number is below 50, the prisoners will be escorted to their designated poling precincts.
Prisoners who are qualified to vote are those with active registration records as they voted in the last elections.
"Qualified detainee voters can only vote for national elective positions," Solda said, referring to senatorial and party-list candidates.
The inmates can cast their votes as early as 5 a.m., said Solda. – With Emmanuel Tupas