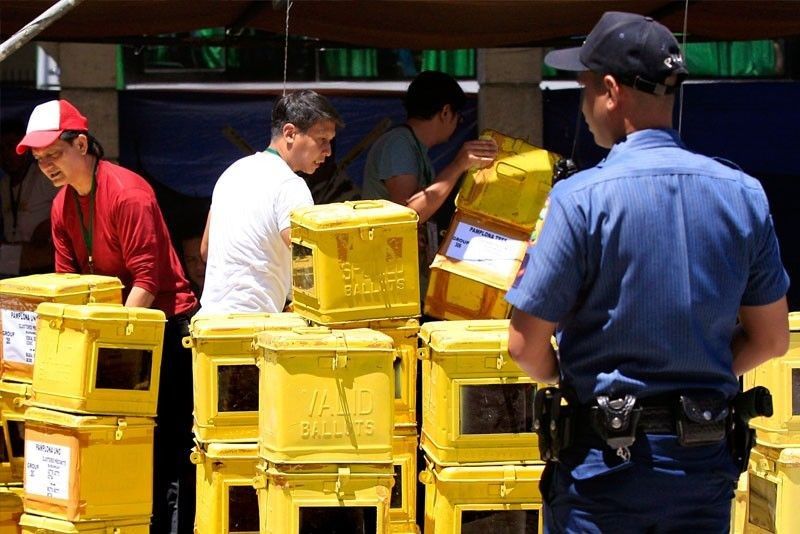 Presidential spokesman Salvador Panelo said Duterte has put up measures to ensure that the choice of 61 million voters will be reflected.
File
No 'evil machinations' in elections — Duterte
MANILA, Philippines — Saying it's all systems go for Monday's elections, President Duterte yesterday vowed his administration will not allow any "evil machinations" that would undermine the political exercise.
Presidential spokesman Salvador Panelo said Duterte has put up measures to ensure that the choice of 61 million voters will be reflected.
"The President has put in place measures designed to determine if cheating has been committed in the polls," Panelo said.
"We are thus issuing a stern warning to those who have sinister plans and evil machinations of thwarting the will of the electorate to abandon them. Any violator will be prosecuted to the fullest extent of the law," he said.
The government will spare no one regardless of political affiliation, Panelo said.
"No one will be spared regardless of their political affiliation or station in life," he added.
Armed Forces of the Philippines (AFP) chief Gen. Benjamin Madrigal Jr. yesterday placed the entire military on red alert status in preparation for election day on Monday.
"The AFP is on red alert status starting 8 a.m., May 10, in support of the Commission on Elections (Comelec) and the Philippine National Police (PNP) in the upcoming national and local elections," he announced.
"This declaration is to ensure that our troops and all AFP personnel are ready to act on any emergency and thwart all possible threats that may arise," he said.
Apart from the security preparations, Panelo said the President reminded Comelec officials to be true to their constitutional duty to ensure the proper conduct of the polls.
"We urge the Commission on Elections to do its constitutional duty as the sentinel of the elections in ensuring the integrity of the ballots," he said.
Malacañang also issued the same call to IT provider Smartmatic to ensure the integrity of the polls.
"Any form of cheating committed by the electoral body's personnel or contractor will not be tolerated by this administration," Panelo warned.
Madrigal, for his part, gave assurance that all troops from various military camps and units are ready to respond to ensure the honest, orderly and peaceful conduct of elections.
On Tuesday, or a week ahead of the polls, a total of 98,000 military personnel were formally sent off to augment the Comelec in areas that need services and assistance from security forces to ensure safe and secure elections.
During the send-off ceremony in Camp Aguinaldo, the PNP also committed some 149,830 policemen who will work to keep all polling places and other areas of concern safe before, during and even after election day.
Madrigal said most of the military forces will be in Mindanao and the hinterlands of Luzon and the Visayas, particularly in areas under threat from the communist New People's Army (NPA) rebels and local terrorist groups.
For his part, PNP chief Gen. Oscar Albayalde declared the national police force is "100 percent" prepared for this Monday's elections.
"But of course we cannot say our preparation is foolproof until the election is over and no violent incident happens," Albayalde said.
He said they have already made partial deployment of forces to secure election paraphernalia in the different election provincial hubs. The rest of the forces will be deployed a day before the election.
Albayalde said the PNP has been on full alert status since Tuesday as part of security measures.
"I think with our preparations, barring unfortunate incidents, we will have a peaceful election," Albayalde said.
Albayalde also reminded policemen to remain neutral.
"Our constant reminder to them is to remain non-partisan, apolitical. We don't meddle with the political affairs of anybody or in any locality for that matter," Albayalde said during a turnover ceremony in Cagayan de Oro City yesterday.
Albayalde also urged the electorate to choose wisely amid reports of massive vote buying.
"Our people should always vote wisely. Of course, we don't sell our vote. Just because you accepted some money it doesn't mean you have to vote those whom you received money from," he said.
Albayalde stressed the PNP has been relentless in the campaign against vote buying.
Meanwhile, Chief Justice Lucas Bersamin reminded all judges and clerks of local courts to be present during election day.
Bersamin said the judges have the duty to resolve election-related cases "with utmost caution and dispatch." – With Michael Punongbayan, Gerry Lee-Gorit, Roel Pareño, Artemio Dumlao, Rainier Allan Ronda, Evelyn Macairan