May 13 declared a holiday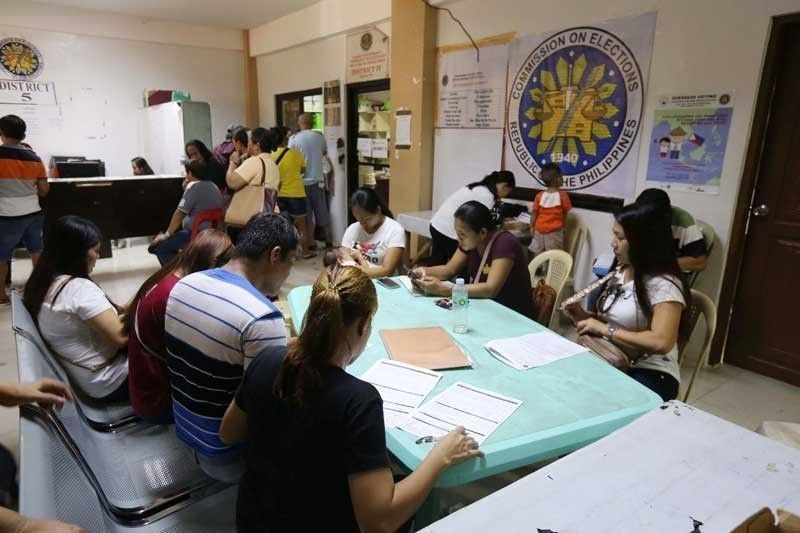 MANILA, Philippines — President Duterte yesterday declared May 13, election day, a special non-working holiday as he urged Filipinos to exercise their right to vote.
Duterte signed Proclamation 219, saying there is a need to declare May 13 a holiday so every voter could vote.
The President reiterated his call for all candidates seeking public office not to resort to violence during election day.
He said Filipinos should be allowed to exercise their right to vote freely.
"Politicians who will resort to violence or intimidation will face the full force of the law," Duterte said in a political rally in Garcia-Hernandez town in Bohol the other night.
He said public officials are mandated by the Constitution to obey the law and that he remains committed to his promise to ensure orderly and peaceful elections.
He reminded members of the Armed Forces and the police to remain neutral during the campaign period and on election day, and avoid engaging in partisan politics.
Delicadeza
Duterte said Cabinet members must act with delicadeza and refrain from campaigning for anybody.
During the Bohol rally, he pitched for his local bets, especially for former Cabinet secretary Leoncio Evasco Jr., his longtime aide and friend.
Evasco is running against Rep. Arthur Yap for the gubernatorial post of Bohol.
Calling Evasco "a brilliant guy," the President told Boholanos that the former secretary is a graft fighter.
"If there's corruption, I let him handle it. And for the longest time, he was the city engineer of Davao," he said.
Evasco was a three-term mayor of Maribojoc town before he joined President Duterte's Cabinet.
He was also Duterte's campaign manager during the 2016 presidential election.
Executive Secretary Salvador Medialdea, former special assistant to the president Christopher Go, Garcia-Hernandez town Mayor Tita Baja-Gallentes and presidential assistant for the Visayas Michael Diño were present during the Bohol sortie.
Ready for polls
Preparations and contingency measures in the power industry are set and ready a week ahead of the midterm polls.
In a statement, the National Grid Corp. of the Philippines (NGCP) said it activated the 24/7 operations of its Overall Command Center today until May 16, as part of preparations to secure power transmission operations and facilities during this year's senatorial and local elections.
Contingency plans are in place to monitor and quickly address any grid disturbance, with NGCP's critical units' system operation (SO) and operations and maintenance (O&M) fully staffed and operational on May 13.
The grid operator said line crews, engineers, pilots, maintenance and testing and other technical personnel have been positioned in NGCP substations to respond to line tripping.
The NGCP's Overall Command Center was activated on April 29, from 8 a.m. to 5 p.m., monitoring grid disturbances and the overall power situation per directive of NGCP's power task force election (PTFE).
As early as last March, the PTFE has scheduled various activities in preparation for the election season.
Meanwhile, the Manila Electric Co. (Meralco) said more than 150 generator sets would be on standby on election day, to be carried by roving Meralco crews.
These generator sets intend to provide basic lighting to polling and canvassing places in case of unexpected power interruptions.
Around 300 floodlights will also be ready for deployment and use in case of emergencies, but Meralco also advises polling center personnel to bring backup lights.
On May 13, Meralco will have on duty 300 responding crews working 24/7 to ensure the company is prepared to respond to any emergency.
Meralco reminded those manning the polling and canvassing centers to avoid plugging in unnecessary appliances to prevent overloading and octopus wiring.
It advised the public to refrain from using balloons, firecrackers, confetti and party poppers near overhead lines and facilities to avoid tripping and power interruptions.
Meralco has inspected polling and canvassing centers within its franchise area and recommended to school and building administrators measures to address potential problems.
Liquor ban
The Philippine National Police (PNP) will impose a 48-hour liquor ban from May 12 to 13 as part of security preparations of the midterm elections.
The liquor ban will start from 12:01 a.m. of May 12 and last until midnight of May 13, PNP spokesman Col. Bernard Banac said yesterday.
Violators could face imprisonment of six years, and may lose their rights to run for public office and suffrage as provided under the Omnibus Election Code.
During the 2016 presidential elections, 119 persons were arrested for violating the liquor ban.
In the 2013 midterm elections, 201 were arrested for committing the same offense.
The PNP has deployed 149,833 police personnel nationwide to secure the elections.
The figure includes 75,486 officers and personnel assigned in polling precincts.
Banac said they have so far documented 33 election-related violent incidents since the election period started on Jan. 13.
Fourteen individuals were killed and 22 others were injured in these incidents.
Be neutral
Government employees nationwide have been reminded to remain apolitical on election day, the Civil Service Commission (CSC) said yesterday. ?In a speech during the recent "No to Vote Buying, No to Vote Selling" motorcade, CSC regional supervising human resource specialist Sonny Cuadro said violators would face sanctions as provided under the CSC Memorandum Circular 30-2009.
"Those caught or found guilty of engaging in partisan political activities will be penalized with one month and one day to six months suspension for the first offense and dismissal from public service for the succeeding offense," Cuadro said.
He said partisan political activities include forming any organization for the purpose of soliciting votes; campaigning for or against any candidate; holding of political processes, conference or meeting and making speeches, announcements or commentary or holding interviews against or for any candidate or public office.
Cuardo said making speeches or publication to draw political support in behalf of any particular party or candidate for public office; soliciting or receiving contributions for political purposes directly or indirectly and becoming publicly identified with the success or failure of any candidate are also included in the memorandum.?He reminded state workers to always protect and uphold their credibility as well as the public trust with or without additional benefits. – Danessa Rivera, Emmanuel Tupas, Ding Cervantes