Comelec: Quake measures in place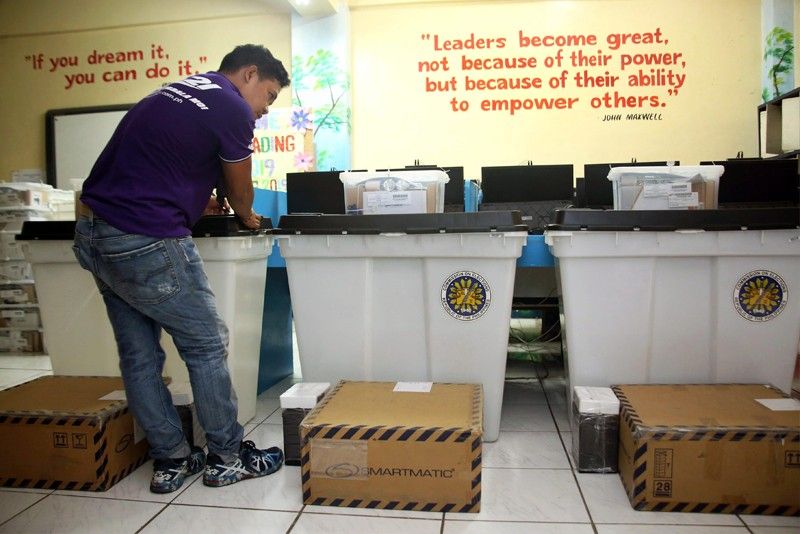 MANILA, Philippines — Not even an earthquake can stop the holding of the elections on May 13, the Commission on Elections (Comelec) yesterday said as it assured the public that the poll body is ready and prepared for such a scenario.
Comelec spokesman James Jimenez said there are procedures in place during an earthquake and whether a failure of elections should be declared in the affected area.
"The policy is being studied now on whether or not to declare a failure of elections. Of course, what is a strong earthquake? We have a lot of common sense (to know this)," Jimenez told a press briefing.
"The safest bet here is to either suspend or declare failure of elections. That decision is still being made," he added.
Jimenez said the Comelec is prepared to secure the vote counting machines and other election paraphernalia during an earthquake.
He said the poll body, with the help of the police and military, will secure the schools to be used as voting centers.
The Philippine National Police (PNP), the Armed Forces of the Philippines (AFP) and other concerned government agencies including the Comelec yesterday announced its full readiness to ensure a peaceful and orderly conduct of Monday's national and local polls.
Officials of the PNP and the AFP assured President Duterte that security forces are ready to ensure the peaceful and orderly conduct of the elections next week.
"The Department of the Interior and Local Government, along with the Department of National Defense, assured that the Philippine National Police and the Armed Forces of the Philippines are ready to secure the 2019 elections," presidential spokesman Salvador Panelo said.
Panelo added the DepEd had also informed the Cabinet that the teachers who will serve on Election Day will receive honoraria and travel allowance.
The Department of Energy also gave assurance of sufficient power supply in Luzon, the Visayas and Mindanao during the elections.
Some 149,830 policemen and 98,000 soldiers will be working together to keep all polling places and other areas of concern safe before, during and even after election day on May 13.
"The whole PNP is on full alert status. We are already on full alert and as of this time, we have partial deployment in the different hubs," PNP chief Gen. Oscar Albayalde said after the send-off ceremony held in Camp Aguinaldo.
The Comelec, represented by Commissioners Luie Tito Guia and Al Parreño, spearheaded the ceremonial deployment exercise participated by 809 personnel and 28 military vehicles, 778 personnel and 23 police vehicles, and representatives from other stakeholders such as DepEd and Department of Health (DOH).
"The send-off ceremony is a fitting testimony of our firm aspiration for a peaceful and successful conduct of the national and local elections next week. This also signifies that we are all prepared and ready to be deployed in the different areas where our services and assistance are very much needed," AFP chief Gen. Benjamin General Madrigal said.
Albayalde noted there are more than 36,000 polling centers nationwide to be guarded with at least two uniformed police officers especially in hotspots or critical areas in Mindanao where quick reaction teams will be on standby.
"For polling centers we'll be probably deploying around 100,000 of our personnel, that includes the police assistance desks," Albayalde said.
"As of this time, we see no threat whatsoever but of course we don't want to put our guard down, and especially so in Mindanao," he added.
Albayalde allowed policemen to use their cellphones while on duty during election day.
Albayalde, however clarified policemen should only use their cellphones for work-related matters such as sending updates on the status of the conduct of elections in their respective areas.
Policemen can also send photographs and videos in areas near polling precincts using their cellphones.
Madrigal, for his part said the bulk of the military force will be in Mindanao and the hinterlands of Luzon and the Visayas, particularly in areas under threat from communist New People's Army rebels and local terrorist groups. – With Michael Punongbayan, Emmanuel Tupas, Christina Mendez