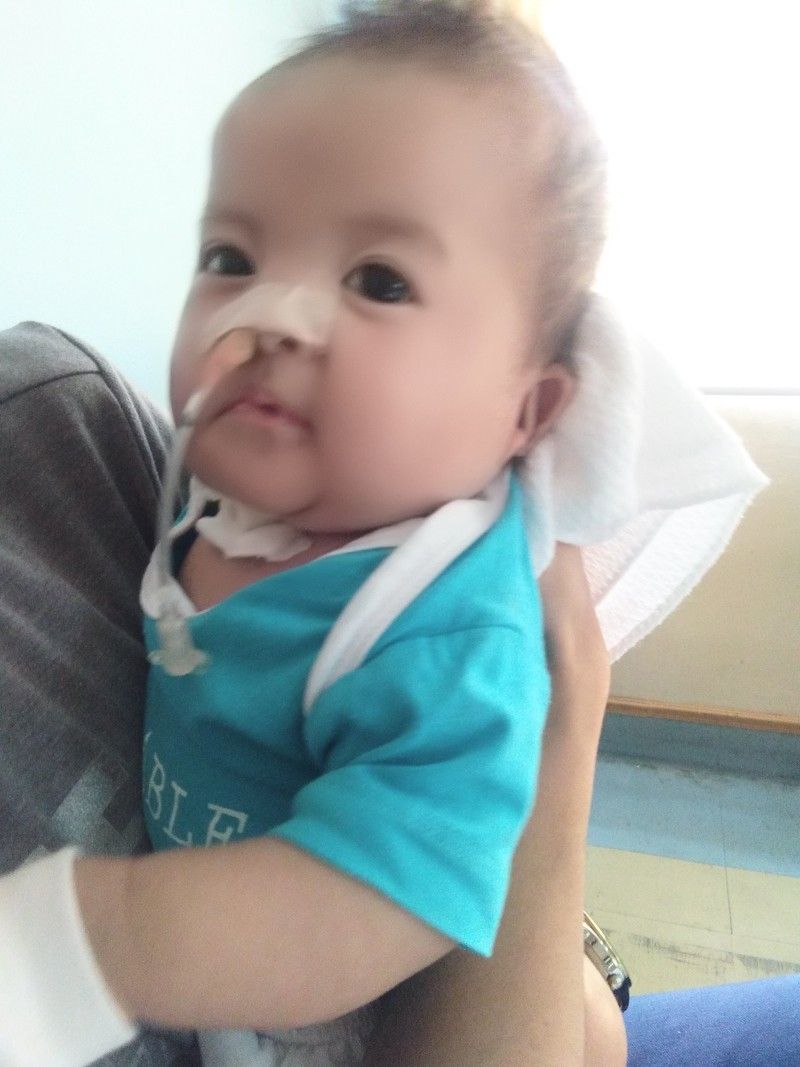 Matteo Guisic, now almost two years old, was born with CHARGE Syndrome, a rare congenital disorder that affects the eyes, heart, nose, brain, genital organ and ears of a newborn child.
Help baby Matteo Guisic hear
(The Philippine Star) - May 5, 2019 - 12:00am
MANILA, Philippines — Parents will do anything for their child – especially if the child was born with multiple deformities that have rendered him deaf and mute.
Almost every aspect of his genetic disorder had been addressed, except his bilateral profound hearing loss.
Sustained by their love for their only child, Leonardo Guisic Jr., 30, and his wife Marianne, 29, hold on to a sliver of hope: a cochlear implant for their baby.
The operation could reverse Matteo's hearing and speech condition if he will be operated on by the end of next month. Now, the time to raise P1.6 million – for the operation of his left ear – poses a challenge to the couple whose "savings were already wiped out."
"We appeal to the kindness of people," Leonardo told Operation Damayan, the corporate social responsibility arm of The STAR.
Leonardo, from Camarines Sur, and Marianne, from Pampanga, now live in Cainta, Rizal.
The couple, both certified public accountants, expected a healthy baby when their 6.3-pound son was born on Sept. 10, 2017 at 12:10 a.m. in a hospital in Sta. Mesa, Manila. After all, Marianne had regular pre-natal checkup and took vitamins and food supplements during her pregnancy. The ultrasound and congenital anomaly tests showed normal results.
Their hopes were dashed when Matteo was rushed to the intensive care unit (ICU) 15 minutes after he was born "because he turned blue." It was discovered that Matteo was suffering from CHARGE Syndrome.
Twenty days later, the couple transferred their son to the Philippine General Hospital (PGH) for better care.
"He was born with coloboma of the eye (causing defects in his lens, iris or retina). His eyeballs did not move. His eyelids did not close on their own. With regular therapy, his eye condition improves," Leonardo said.
Matteo, Leonardo added, also has a heart defect – severe pulmonary stenosis "where the vein that delivers blood to the heart is blocked." This life-threatening condition was addressed when he was operated on in January 2018.
Matteo undergoes regular monitoring.
"Our baby also had bilateral choanal atresia; he was born without holes in his nose. He stayed for three months in the ICU because even after the nose operation, he still could not breathe. So he underwent a tracheotomy and now breathes through a hole in his neck," Leonardo says.
A baby born with CHARGE Syndrome is also prone to retardation of growth or development.
Matteo had microcephaly (small brain) and hydrocephalus when he was born.
"But he improves on that aspect because according to his doctors in PGH, those conditions will self-correct in time. And we really see improvements," Leonardo said.
Matteo was also born with genital problems like hernia, shrinking penis and undescended testes. A series of operations last January addressed these.
On top of CHARGE Syndrome, Matteo had laryngomalacia or congenital softening of the tissues of the larynx that made it hard for him to swallow and breathe. It had long been addressed, said Leonardo. He is fed through a nasogastric tube.
"A cochlear implant will help (cure Matteo's) bilateral profound hearing loss. It will also help him live close to a normal life. My wife and I have already embraced the fact that he will not be as normal as we want him to be," Leonardo said.
He noted that based on research, the best time for a child with CHARGE Syndrome to undergo cochlear implantation is when he is two years old and below.
"That's the best period so the child will not have difficulty developing his speech," Leonardo said.
"With God's grace, our son shows signs that he wants to fight his condition. He smiles from time to time. That's enough for us to keep going," Leonardo added.
The cochlear implant device costs P1.3 million for one ear. Another P300,000 is needed for operating expenses and professional fee for the doctors.
Leonardo said their resources are wiped out. He resigned from his job as chief accountant and general manager of small-medium enterprise to attend to his son. Now Leonardo does accounting and bookkeeping consultancy services.
Marriane also stopped working so she could be with Matteo at his therapy sessions four days a week.
"We are grateful to those who have helped us. Please help us still. Let your kindness heal our son," Leonardo said.
(If you wish to help, Leonardo and Marianne can be reached at 0905-3550437 and 0956-0977396. Generous hearts can also deposit in Marianne Cutiongco's BDO account #004180047171 or BPI account #3569232723; Matteo Guisic's BDO account #00508026 6296; or Leonardo Guisic Jr.'s Metrobank account #091-3-091-37101-5.)